2010s
2011: CMI C.O.R.E. Summer Bridge Program

A diversity initiative headed by the Center for Multicultural Initiatives, Collectively Oakland Retains Everyone (C.O.R.E.)
Summer Bridge Program
is a free, week-long residential experience on campus, designed to help new students bridge the gap between high school and college, while building relationships and honing academic skills. The Bridge Program is the first step in helping first year working-class and other minority students succeed at Oakland University.  After the Summer Bridge Program, CORE students meet with mentors weekly to facilitate academic  progress.  They  are also required to live on campus during their first year.
Image: CORE
See timeline of ...
2011: Women in Science and Engineering at Oakland (WISE@OU)

In September, National Science Foundation (NSF) awards Oakland University a four-year, $519,000
ADVANCE
grant to increase the number of women and underrepresented minorities in the STEM fields. According to the program's
website
, W.I.S.E. has four institutional goals:
Increase diversity of search pools
Ensure that an increased percentage of new STEM tenure-track faculty are women or are from under-represented populations
Ensure that an increased percentage of tenured STEM faculty are women or are from under-represented populations
Ensure that each academic unit has a percentage of women or under-represented populations at full professor level
Image: WISE@OU Celebrating Faculty Achievements
See timeline of ...
2012: OU Female Engineering Faculty

For fall 2012, the  American Society for Engineering Education ranks Oakland University 4th in the country for percentage of women tenure-track/ tenured faculty in engineering. See "
Engineering by the Numbers
" (p.30).
Image: WISE@OU
2013: OU Minority Enrollment 2013
The OU Office of Institutional Research and Assessment reports a minority student population of 4,012 in its Fall 2013 headcount. This represents roughly 21% of the total student population. This number does not include possible minorities among  the 1,013 unreported students.
African American = 1, 768
Asian/Pacific Islander =1,010
Hispanic = 528
Native American = 188
Foreign Nationality = 486
For more information, please consult Office of Institutional Research and Assessment
Student Profile
.
See timeline of ...
2013: Women as Majority of OU Student Population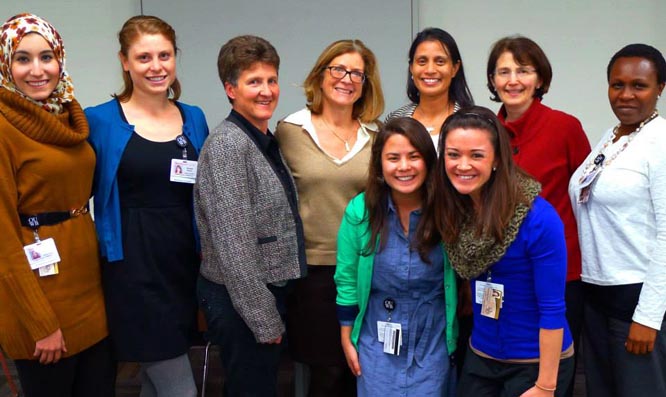 According to the OU Office of Institutional Research and Assessment,
20,169 students enrolled in the fall 2013 semester
.  Approximately 66% are women.  This percentage seems to reflect 
gender enrollment statistics
compiled by the National Center for Educational Statistics.
Undergraduate students
Male: 6,820
Female: 9,774
Graduate students
Male:  1,412
Female:  2,163
Image: OU Women medical students

Photos courtesy of the Oakland University Archives.
Project credits: original research by Johnnie Blunt; updates by Dominique Daniel and Cheyanne Kramer
In providing access to its collections, the Oakland University Archives and Special Collections acts in good faith. Despite the safeguards in place, we recognize that mistakes can happen. If you find on our website or in a physical exhibit material that infringes on an individual's privacy, please contact us in writing to request the removal of the material. Upon receipt of valid complaints, we will temporarily remove the material pending an agreed solution.