1980s
1981: Black Profiles Booklet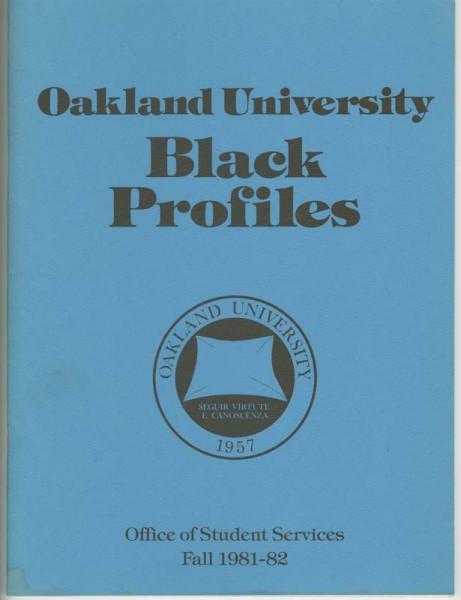 Dean of Students Manuel H. Pierson approves the production of "Oakland University Black Profiles," a booklet of OU African American student leaders, faculty, and staff. Distributed on October 27, 1981, this publication was compiled to facilitate solidarity and academic success within the OU African American student population.
Image: Oakland University Archives
See timeline of ...
1983: The Women of Oakland University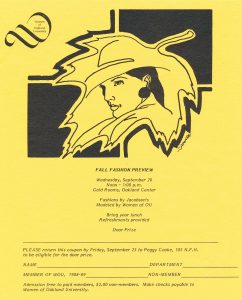 Image source: Women of OU collection, Oakland University Archives
The Women of Oakland University became an organization to replace the University Women's Club.
The by-laws of the organization were sent out with the first newsletter. They read in part "The purpose of Women of Oakland shall be 1) to promote a spirit of community among women associated with Oakland University, and 2) to provide service to Oakland University. These purposes shall be effected by offering educational, cultural, service and social opportunities to members of the organization."
Members paid dues and were able to become part of smaller subcommittees. These smaller "interest groups" put on events of their own, ranging from aerobics, baby-sitting exchanges, book exchanges, crafts, sports, and forums for women's issues. All meetings for the organization were held at Meadow Brook Hall.
1988: Hispanic Heritage Month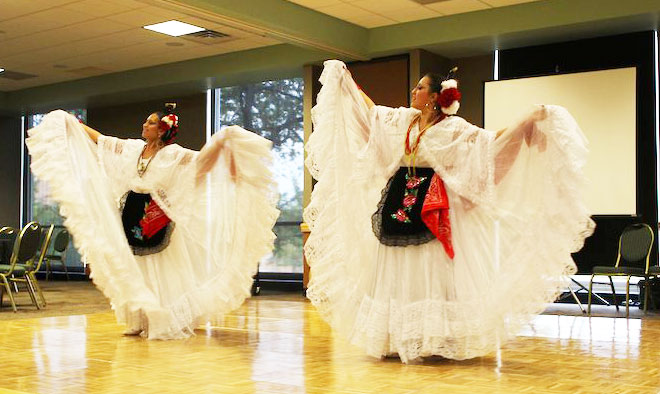 On September 15th, Hispanic Heritage Week is expanded to a month long celebration (see information on the
Center for Multicultural Initiatives website
). A dance performance from the
2012 OU Hispanic Heritage Month
is featured above.
Image: Hispanic Celebration Month
See timeline of ...
1989: OU Affirmative Action
According to the 
May 10th Board of Trustees Meeting minutes
, Dr. John De Carlo, Vice President of Government Affairs,  motioned the Board to approve an affirmative action policy that would facilitate diversity among the University's staff and faculty. The motion was approved.

Photos courtesy of the Oakland University Archives.
Project credits: original research by Johnnie Blunt; updates by Dominique Daniel and Cheyanne Kramer
In providing access to its collections, the Oakland University Archives and Special Collections acts in good faith. Despite the safeguards in place, we recognize that mistakes can happen. If you find on our website or in a physical exhibit material that infringes on an individual's privacy, please contact us in writing to request the removal of the material. Upon receipt of valid complaints, we will temporarily remove the material pending an agreed solution.