Author Metrics

Citation Searching
Citation tracking is one way to assess the impact of articles in scholarly journals. An article is assessed by counting the number of times other authors mention it in their work. Researchers do citation analysis for several reason:
find out how much impact a particular article has had, by showing which other authors have cited the article in their own paper
find out how much impact a particular author has had by looking at the frequency and number of his/her total citations
discover more about the development of a field or topic (by reading the papers that cite a seminal work in that area)

Finding citations
There is no single citation analysis tool. The most comprehensive citation searching resources are:
Scopus (OU database) - heavily sciences less
Web of Science - (OU database) - social sciences, art & humanities
Google Scholar - all fiels, includes books and conference presentations
Discipline databases JSTOR, CINAHL ect.
While the resources are continually expanding their scope, no tool contains all articles and citations and one resource may perform much better for one researcher than another.
*Details on searching different databases view Who has cited my work guide.


Measuring citations
What is the h-index?
The h-index measures the impact of a particular researcher rather than a journal. It takes into account the number of papers published and the number of citations received by these papers resulting in a single number rating.

Limitations of h-index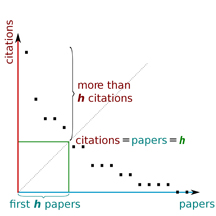 Only calculates the h-index of an author based on the scholarly articles included in that database, so h-scores will be different per tool
Does not include books
H-index can not be compared across disciplines


*For more on citation analysis and h-index see the UIC Libraries guide.