Article Metrics and Altmetrics
Article level metrics (ALM) track the reach, use and reuse of research outcomes – from articles and figures to datasets and code – to help guide understanding of a work's influence.
Altmetrics is the creation and study of new metrics based on the social web for analyzing, and informing scholarship. Altmetrics data includes:
usage
social bookmarking and dissemination activity
citations
media and blog coverage
discussion activity and ratings
ALM and altmetrics can be tracked a number of ways, publishers often have author dashboards and will send regular updates about articles you have published with them. Online communities such as Academia also track and send updates.

Databases are starting to display ALM and altmetrics data along with article information. Scopus uses the Altmetric.com score, Ebsco databases now include PlumX Metrics. Different products uses different data points.


Tools: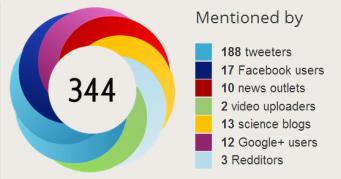 >Altmetric.com browser bookmarklet - drag the "Altmetric It!" button into your browser menu bar, find your published article and click the button to display the altmetric information.
>Impact Story - a free tool supported in part by the NSF. You create a profile and track your almertic data.
>The Metrics Toolkit - provides evidence-based information about research metrics across disciplines, including how each metric is calculated, where you can find it, and how each should (and should not) be applied. Also, examples of how to use metrics in grant applications, CVs, and promotion dossiers.

Considerations about different metrics:
There is a lot of discussion in the scholarly community about how best to determine research impact. If a research article is published in the top journal that only a few universities can afford to subscribe to and gets 5 citations does it have a higher impact than if a research article is published in a 'lower tier' journal but gets 50 citations?
Perhaps this article is downloaded 100 times, viewed 1,000 times and is talked about by hundreds of people on twitter? Does it still have less impact than the top tier journal article?
Impact factors, h-index and other metrics are all attempts to measure research impact, which some feel equates to research quality. Combining these metrics will provide a more complete story, one that is unique to a researcher and may not easily be compared to another researcher, even within their own field.

Read more: