Robert Gaylor Collection
This page is the product of research by Rose Walsh for an internship in Fall 2016.
Bob Gaylor, a passionate librarian and collector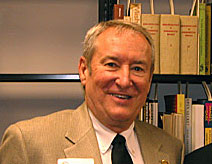 Robert Gaylor began working at Kresge Library as a reference librarian in 1965. Over his 37 years there he held many different positions in addition to reference librarian, such as Associate Dean for Public Services and Archives Librarian.
His favorite position was working in the archives, as he loves working with and collecting materials. He used to go over to the Oakland Center and pick up any flyers and brochures that the student organizations were distributing so he could add them to the archives' collection.
Over the years he also donated a number of rare books to special collections. In 1972 he founded a Hotline Telephone Reference Information Office so students could call into the library for research assistance.
He lived in the gatehouse on the Meadowbrook Estate for 30 years, and threw various parties there and in the library itself s. One of these parties at the gatehouse was a drag queen fundraising event which raised around $2000 to buy TVs for the gay hospital ward in Metro Detroit.
In 1976-77 he was president of the Michigan Library Association. In 1984 he founded the Oakland County Literacy Council as an organization to help the teach illiterate adults in Oakland County to read, and in order to help fund the organization Gaylor also started the Motor City Food and Wine Festival.
Throughout his life, Robert Gaylor has always had a passion for reading, literature, and working to make information available to anyone who seeks it. He has collected materials, volunteered at various libraries and organizations, raised money to help educate others, as well as started his own organization l advocating for literacy as well as LGBT causes.
15 years into retirement he continues to collect potential materials to add to the Gaylor Collection and to volunteer with various libraries and organizations.
Developing a GLBT collection

As he developed his collection of LGBT materials, Gaylor says he collected "anything and everything," often from places such as New York City, San Francisco, and Houston while he traveled across the country for various conferences. Gaylor has made a point of collecting materials from all sides, so that those using the collection for research could form their own opinions.
He has managed to collect the entirety - or near entirety - of the works of many of the authors included in the collection. Periodicals such as the
Cruise
magazine were available at local gay bars, which Gaylor would visit weekly to pick up the latest edition for his collection. Other magazines and newspapers he subscribed to in the 1960s to 1980s and he continues to receive some of those publications to this day.
A large part of the fictional works were given to him by his friend, Bernard Oppenneer, who was also a librarian and a collector of gay mystery novels.
To Gaylor, having the physical copies of these materials in their original forms is very important as the format does have an impact on how someone experiences the material. His hope for the collection was to make these materials accessible, whether for a formal research project, self education, or even just leisure reading.
(Text by Rose Walsh, based on an interview of Bob Gaylor, Fall 2016)
The Gaylor collection in context


Following World War II, Americans became increasingly interested in psychology and in 1948, the Kinsey reports presented the results of a study of the sexual habits of Americans. One feature was the 0-6 scale that claimed to be able to measure levels of homosexual behavior. The first Diagnostic and Statistical Manual, Mental Disorders (DSM), published in 1952, included homosexuality as a disorder.
During the 1950s, with the rising tensions of the Cold War and the years of McCarthyism, the gay community was also targeted as people who were likely communist. Under what is known as the Lavender Scare, mass investigations took place to identify and fire homosexuals found working for the government because it was thought that they couldn't be trusted with state secrets.
Yet, in 1951, the Mattachine Society was founded in Los Angeles by Harry Hay. The goal of the organization was to unify and protect the gay community, as well as to attempt to inform the general public about gay culture in the hope that it would result in more tolerance and acceptance. However, the tense political context caused the Mattachine Society to focus on similarities between different groups and to avoid the topic of sex, eventually resulting in the group no longer considering itself as a gay organization but merely as an organization "interested in the problems of homosexuality."
The 1960s were slightly better for the gay community. Previous obscenity and sodomy laws began to be dropped, gay literature and media of all kinds began to work their way into popular culture, and more gay organizations sprang up. But police raids on gay bars also increased, causing tension that contributed to the events of the so-called Stonewall Riots of 1969. On June 28th of that year, the Stonewall Inn - a gay bar in Greenwich Village, New York - was raided by police. Those who weren't arrested decided to protest the discrimination and illegality of gay bars.
The violent demonstrations continued the following night. Because of their impact, the Stonewall Riots are typically considered to be the start of the gay rights movement. The aftermath of Stonewall featured the founding of numerous new organizations, such as the Gay Liberation Front, the National Gay Task Force, and Senior Action in a Gay Environment. Gay organizations also began to push for legislation to repeal homophobic laws and establish laws for equal treatment and rights. One of the most significant victories on this front was the 1974 DSM's removal of homosexuality as a mental disorder. But the lesbian community struggled, trying to figure out if they should align with traditionally male gay community, push for a louder voice and advocacy from the women's movement, or break off into their own entity. Each of these avenues was pursued.
Gay literature and gay prominence in the fine arts also expanded during the 1970s and 1980s.
Gay newspapers and magazines
were founded throughout the country, and many sold at regular newspaper stands alongside traditional publications. They focused on the news about the gay rights movement that mainstream media was typically reluctant to cover, as well as things like book reviews, advice columns, and community events.
Gay publishing companies also began to emerge, publishing books that many other companies refused to accept. Alyson Publications was one of these, founded by Sasha Alyson in 1977 and releasing its first book in late 1979. At first Alyson acted merely as a distributor for other publishers, but by 1981 he had begun to directly publish books, with a focus on LGBT topics. In addition, mainstream organizations started offering awards specifically for gay subfields, such as the American Library Association's Gay/Lesbian Book Award.
Nevertheless, the 1980s AIDS epidemic caused a strong backlash against the gay community. The disease was new to the medical community, and in the early days it was thought to only afflict homosexuals.The gay community became increasingly concerned as more and more of people's friends and loved ones fell ill and passed away due to the disease. Its spread threatened the entire community's way of life and reputation. Gay bathhouses began to be shut down, a lack of knowledge on transmission of the disease led to fears about coming in contact with homosexual individuals, and many gay organizations began to quiet down. But funding for AIDS research grew as the death toll rose.
At the same time, in the 1980s gay fiction reached its heyday as more publishers accepted the work of gay authors and works with gay themes. Gay authors were less apprehensive about including homosexuality in their works and began to produce gay-themed works in a wide variety of genres. They also had more success getting published. Since positive portrayal of homosexuality was rare and some aspects were illegal at the time, the gay community relied on these literary outlets for representation.
The 1990s saw further acceptance for both the gay community, and AIDS victims. The 1990 Americans with Disabilities Act included AIDS as an invalid reason for discrimination. In 1993, President Bill Clinton tried to fully repeal the ban on gays and lesbians in the military, but faced so much opposition that he had to settle for the "Don't Ask, Don't Tell" policy. This unsatisfactory solution set the tone for the rest of Clinton's presidency: in some ways notable progress was made in the fight for gay rights, but there were also significant setbacks. For example, in 1996 the Defense of Marriage Act was passed, but not the Employment Non-Discrimination Act. In 1998 the first openly lesbian Congresswoman, Tammy Baldwin, was elected.
As the 21st century began, legislation and lawsuits involving gay rights intensified throughout the country. Vermont made same-sex civil unions legal in 2000, and by 2010 five other states, and Washington, DC all made marriage between same-sex couples legal. In 2003, Lawrence vs Texas declared that sodomy laws were unconstitutional, which affected Texas along with 13 other states. In 2008, California Proposition 8 passed, banning same-sex marriage in a state that was home to many people in the LGBTQ+ community who had made significant progress in gaining acceptance and equality both locally and nationwide. This resulted in the beginning of the NOH8 campaign where celebrities advocated for gay rights, and these efforts in conjunction with others led to the repeal of Prop 8 by the California Supreme Court in 2010. Late 2010 and early 2011 brought the end of both Don't Ask, Don't Tell and DOMA. More recently, on June 26, 2015, the US Supreme Court ruled that prohibiting same-sex marriage was unconstitutional under the 14th Amendment.