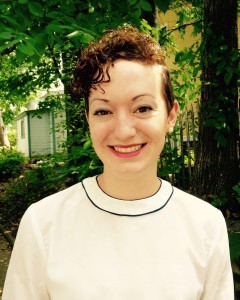 Emily Spunaugle
Assistant Professor
Humanities Librarian
Library Liaison for English, Cinema Studies, and the Honors College
Email: spunaugle@oakland.edu
Phone: 248-370-2498
Office: 246 Kresge Library
Want to meet in person? You can make an appointment or email me to find a better time.
About Me
As a humanities librarian, I partner with professors and students to provide unique one-shot and embedded instruction sessions for classes taught in the Department of English, the Cinema Studies Program, and the Honors College. I also select books and resources for these departments and work to make the library's collections in these areas more familiar, visible, and accessible.

In addition, I provide reference services at Kresge Library's reference desk, as well as individual research consultations by appointment.
Research Interests
Library history, print culture, book history, Soviet-Era academic libraries in America, Russian Constructivism and Soviet culture
Educational Background
Doctorate of Philosophy in English, Wayne State University (Detroit, MI), in progress

Master of Science in Library Science, University of North Carolina-Chapel Hill, May 2015

Master of Arts in English, Loyola University Chicago, December 2013

Bachelor of Arts in English, Olivet Nazarene University (Bourbonnais, IL), May 2012
Current Research
My current research stems from my coursework at WSU, and OU's Marguerite Hicks Collection of writings by and about women, from the 17th-19th Centuries. Specifically, I'm working on an article tentatively titled "Redressing Readership and Recovery: Mary Morgan's Lost Occasional Poem," featuring an 18-page chapbook written "by a lady" from the Hicks Collection, but not included in ECCO, ESTC, or listed in major bibliographies, nor held elsewhere per OCLC. After investigating the printer's output (combined with clues in the paratexts of the osier poem and confirmed by archival evidence), I've concluded the poem was written by Mrs. Mary Morgan, known for her 1795 travel narrative A Tour to Milford Haven, in the year 1791-best known, perhaps, for its description of Elizabeth Montagu and her Sandleford Estate. The inaccessibility of the osier poem has limited scholarly reception of Morgan as solely a travel writer, disregarding the intertextuality of her published oeuvre and post-publication circulation.
For a sneak peak at this and other treasures in the Hicks Collection, visit Anonymous Women's Writings in Oakland University Special Collections.
Scholarship
"Fruits of Retirement," Encountering the Rare Book, exhibit and catalogue by Andrea Eis, p. 62.
Selected Scholarly Presentations
"Book Brawn and Book Smarts: Recovering the Labors of the Book Object." Encountering the Rare Book, exhibit curated by Andrea Eis, OU Art Gallery, September 2018.
"Saving Uncle Tom: Revaluing Research Collections in the Material Turn." Popular Culture/American Culture International Conference, Indianapolis. March 2018.
"Copyright Notice: Louis Zukofsky, Paul Zukofsky, and Modernist Poetics." The Louisville Conference, University of Louisville. February 2018.
"'We perused your MS. / with boundless delight': Reading Zukofsky's "A"-8 Then and Now." Midwest Modern Language Association, Cincinnati. November 2017.
"Speculative Histories of Soviet Texts Subject to the Foreign Agents Registration Act." States of the Book Conference, West Point Military Academy, September 2016.
Selected Professional Presentations
"Primary Resources for Engaging Instructional Environments," Center for Excellence in Teaching and Learning, Oakland University,  April 2018.
"Teaching with Rare Books," OU-EMU Instructional Exchange, December 2017.
"Fast Track to Finishing Your Dissertation" Graduate Office, Kresge Library, Oakland University with Amanda Nichols Hess, January 2017.
"Rare Books Preservation on a Shoestring: Oakland University's Special Collections," Southeast Michigan League of Libraries, Dominique Daniel. March 2017.
"Connecting the Virtual with the Vault: Using Rare Books in Tandem with Early English Books Online." IFLA Information Literacy Satellite Conference, DePaul University, Chicago, August 2016.
"Items Overdue: Condition Assessment of Oakland University Library's Special Collections," Conservation and Collections Care Camp, the University of Michigan, May 2016.
"Challenging the 'Three Peer-Reviewed Articles' Assignment: Using Library Instruction to Advance Transformative Learning in Your Classroom." OU/Windsor Teaching and Learning Conference, Oakland University, May 2016.
Grants
Summer Archival Research Grant, WSU English Dept., Winter 2018.
OU Faculty Research Grant, Winter 2018.
OU Educational Development Grant, Winter 2018.
Graduate Professional Scholarship, WSU, 2018-2019.
Graduate Professional Scholarship, WSU, 2017-2018.
"Oakland University Archives and Special Collections Preservation Assessment," submitted with D. Daniel to National Endowment for the Humanities, 2017.
Finalist. Digitization of Pontiac Press, 1960s. DigMich Newspaper Preservation, 2018.
Awards and Honors
Faculty Recognition Luncheon for Teaching, 2018 Honoree.
Professional Development
"Teaching the History of the Book," taught by Michael Suarez, S.J., Rare Book School, July 2018
Book History Workshop at Texas A&M University, May 2017
University Senate Committees
Chair, Senate Library Committee, 2018-2020.
Member, General Education Committee, 2018-2020.
Member, Senate Library Committee, 2016-2018.
Professional Activities and Affiliations
Literatures in English (LES) Conference Program Planning Committee, New Orleans 2018
Literatures in English (LES) Conference Program Planning Committee, Chicago 2017
Library History Round Table (LHRT) Member at Large, 2017-2019
Rare Books and Manuscripts Section member, 2015-present
Library Committees and Groups
Research Forum, co-creator, 2018
Committee on Instruction, 2016-present
Journal Club, 2015-present
Created by MH / Updated on October 26, 2018 by MH