Marguerite Hicks Collection of Women's Literature
The Marguerite Hicks Collection documents the literary production of women, or about women, in the United Kingdom in the 17th, 18th, 19th, and early 20th centuries, with the strongest holdings for the 17th and 18th centuries. Some American female writers are also represented. The collection has significant research value and will be of interest to students and faculty in history, women's studies faculty and English among other fields.
Access
Access is available by request and by appointment only.
To prepare for your visit you can browse and search the collection online.
History of the collection
Marguerite Hicks, for whom the collection is named, collected books that were written by or about female authors. She became interested in this topic while doing a seminar paper for the late Dr. Robert Babcock of Wayne State University. He asked her to continue her interest and expand it into a master's thesis. In 1923, in preparation for her doctoral research, she started collecting books written by female English authors of the 17th and 18th centuries. She looked for the titles listed in a 1920 scholarly study by Myra Reynolds of the University of Chicago, The Learned Lady in England, 1650-1760. For years she successfully corresponded with book sellers across England and Scotland. Unfortunately, orders from England became extremely difficult during World War II. Some shipments were lost enroute at sea. Her extensive collection was acquired by Kresge Library in 1971.
Scope of the Collection
Of the 913 volumes, 77 were printed in the 1600s, 276 in the 1700s, 426 in the 1800s and 114 in the 1900s. However, some of them are newer editions of earlier books, and the strength of the collection lies in its numerous 17th and 18th century works. Parts of the collection are quite rare and may even be unique. Much of the collection is in fragile condition and does not circulate.
The collection includes works by the first English women who adopted authorship to earn a living such as Aphra Behn, Eliza Haywood, and Delarivier. Manley. In the 17th century it became somewhat socially acceptable for women to write. However female authors often faced public criticism, so many used pseudonyms, relied on men's names or just wrote anonymously – which causes many problems of attribution. While women authors gained recognition in the 18th century, some topics remained controversial, like women's condition, which many books in the Hicks Collection take a stand on.
More generally all the genres and themes of writing are represented in the collection. Many of these works, such as letters, autobiographies, diaries and memoirs, provide wonderful vignettes into life in 17th and 18th century England. There are also books on life in colonial and 19th century America.
Here are some highlights:
Cooking and domesticity | Child education | Self help | Children's literature | Drama | Poetry | Novels | Letters |
Diaries, memoirs and autobiographies | Women's rights | Political satire | Periodicals | Women's history
Cookbooks and other books on domestic life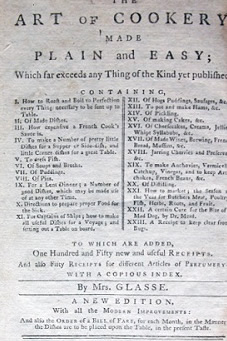 Hanna Glasse, The Art of Cookery made Plain and Easy (1747)
Hanna Glasse (1708-1770) was probably the most popular cookery writer in England.
Elizabeth Raffald, The Experienced English Housekeeper (1773)
A successful cookbook with recipes "written purely from practice."
Eliza Leslie, Miss Leslie's New Cookery Book (1857)
Eliza Leslie (1787-1858) was an American who adapted popular English manuals for the American household.
Child education manuals
Dorothy Leigh, The Mothers Blessing (1623)
Published posthumously, this was the most frequently reprinted of 17th century maternal advice English books.
Self-help books, etiquette and marriage manuals
Eliza Haywood, The Wife and The Husband (1756)
These two conduct books were published by Eliza Haywood (1693 - 1756), one of the most versatile and controversial writers of her time.
Children's literature
Sarah Trimmer, A Series of Prints Taken from the New Testament : designed as Ornaments For Those Apartments in Which Children Receive the First Rudiments of Their Education (1790)
A writer and critic of British children's literature, Sarah Trimmer (1741-1810) advocated the use of pictorial material in educational books for children. She edited a hugely popular set of children's pictorial books.
Drama
Eglantine Wallace, The Whim: A Comedy in Three Acts (1795)
The play was prohibited the stage by the licenser.
Poetry
Elizabeth Rowe (1674 – 1737)
Between 1693 and 1696 she was the principal contributor of poetry to The Athenian Mercury, the publication of the Athenian Society. Her poems were widely circulated well into the 19th century, on both sides of the Atlantic.
Mary Scott, The Female Advocate (1774)
The poem by Mary Scott (1751-1793) celebrates female writers, such as the Duchess of Newcastle, Anne Killigrew, Lady Chudleigh, Sarah Fielding, Charlotte Lennox, Catherine Talbot and Mrs Barbauld.
Elizabeth Barrett Browning (1806-1861)
She was considered the foremost female poet in her day. Her political and religious poems were widely circulated in Victorian England and America.
Novels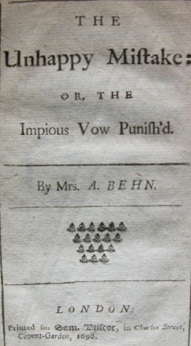 Aphra Behn (1640-1689) was a writer and novelist. Her masterpiece, Oroonoko, was based on her observations during a stay in Surinam and depicted the evils of slavery.
A prolific poet, Jane Barker (1652-1732) did not become known as an entertaining novelist until the publication of Love Intrigues; or, the History of the Amours of Bosvil and Galesia (1713). The novel tells the story of an adolescent girl's coming of age. Due to popular demand, it was reissued several times, including again in 1743, along with another novel, Exilius, in the two-volume The Entertaining Novels of Mrs. Jane Barker.
Eliza Haywood (1693 - 1756) published about 70 single works, many of them works of fiction, from 1719 to 1756 .
Letters
Dorothy Osborne, Letters from Dorothy Osborne to Sir William Temple, 1652-54 (1888)
These letters by Dorothy Osborne (Lady Temple) (1627-1695) to her husband depict the town and country life of the Restoration period.
Rachel Russell, Letters of Lady Rachel Russell (1773)
These letters from Lady Russell (1636-1723) to her husband, published posthumously in 1773, provides a personal insight into 17th-century English domestic life.
Mary Wortley Montagu, Letters of the Right Honourable Lady M--y W----y M----e; written during her travels in Europe, Asia, and Africa (1785)
Mary Wortley Montagu (1720 - 1800) held literary and artistic gatherings at her homes in England. She also visited French salons in 1776. Samuel Johnson dubbbed her "Queen of the Blues" because of her patronage of learned women bluestockings such as Elizabeth Carter. She wrote literary essays, and her letters were published after her death in 1809. Montagu's most important legacy was to help create a public identity for women as intellectuals through her own scholarship and her encouragement of other women.
Diaries, Memoirs, and autobiographies
Lucy Hutchinson, Memoirs of the Life of Colonel Hutchinson (1808)
These memoirs, which were not published until 1806, offer an account of Lucy Hutchinson's husband's service to the Parliamentary cause during the Civil War.
Margaret Cavendish, Duchess of Newcastle, Life of William Cavendish, duke of Newcastle, to which is added the true relation of my birth, breeding and life
The Duchess of Newcastle's autobiography offers the picture of the life a great, rich family.
Mary Rich, Memoir of Lady Warwick : also her diary, from A.D. 1666 to 1672
Strongly influenced by the Puritan emphasis on self-examination, the Countess of Warwick (1624 - 1678) kept a journal in which she recorded her daily routine and spiritual progress (1666–77). Excerpts were published in 1847.
Feminist writings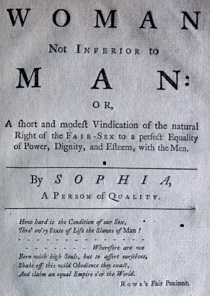 Sophia, Woman Not Inferior to Man (1670)
An unknown woman using the pseudonym of Sophia wrote this pamphlet that challenged male supremacy. It was promptly followed by one written by a man claiming that a man was superior to women. Infuriated, Sophia fired back with Woman's Superior Excellence over Man.
Mary Astell, A Serious Proposal to the Ladies, for the Advancement of their True and Greatest Interest (1701)
Miss Mary Astell (1668-1731) was a political writer and religious philosopher, as well as an advocate for the education of women. Her Serious Proposal, published anonymously, proposed the establishment of a religious institution for women's education.
Elizabeth Cellier, Malice Defeated
This book tells the story of Elizabeth Cellier (active 1680), a midwife of high repute. She fought for the founding of a school to give midwives the best possible training. Her cause was defeated, but she started a movement towards the better preparation of midwives. A Catholic, she was falsely accused of plotting to assassinate leading Protestants and was charged with high treason. She was acquitted and published a brief account of the so-called "meal-tub" affair. This led to a second charge of libel, for which she was sentenced to pay a fine of 1000 pounds and to stand 3 times in the pilory.
Mary Robinson, A letter to the women of England on the injustice of mental subordination (1799)
An actress and writer, Mary Robinson (1758-1800) was known in her late life as "the English sappho". She also wrote novels and feminist treatises. She was the first public mistress of the Prince of Wales, later to be George IV.
Political satire
Delarivier Manley (1663-1724)
Delarivier Manley was a novelist, poet, editor and critic, who was well known in her lifetime as a political satirist for the Tory party. With the death of Queen Anne in 1714, and restoration of Whig supremacy, Manley turned away from politics.
Anna Letitia Barbauld, Eighteen Hundred and Eleven (1812)
Mrs. Barbauld's most notorious political poem, this is a deeply pessimistic reflection on English culture after several years of war with Napoleon, and it brought down a firestorm of negative criticism.
Early English periodicals for women
The Female Spectator (1744 - 46) was the first periodical written for women by a woman.  It was edited by Eliza Haywood and presented social and domestic issues to women readers, Kresge Library has volume 3.
Women's history
Women's history developed as a genre in the late 18th century in Europe and America. Women's history books usually insisted on women's specific traits and the importance of domesticity. For example Thomas Heywood's Gunaikeion, or, Nine bookes of various history concerninge women (1624) deals with marriage, adultery and other feminine topics through the ages. William Alexander's The History of Women from the Earliest Antiquity, to the Present Time ( 1779) is written in plain and simple language that less educated women can understand.
The collection also includes books on women in Asia such as Mary Frances Billington's Woman in India (1885) or Reverend Houghton's Women of the Orient: an account of the religious, intellectual, and social condition of women in Japan, China, India, Egypt, Syria, and Turkey (1877).
American works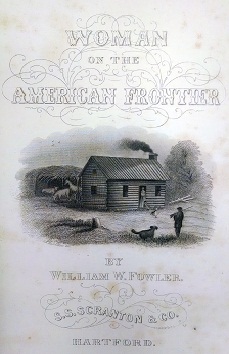 American female authors from the colonial to Victoria eras are also well represented:
Peggy Dow, Vicissitudes in the Wilderness (1833)
Born in Massachusetts, Dow (1780-1820) published her journal in which she relates her life with her husband, the itinerant Methodist preacher Lorenzo Dow.
Fanny Kemble, Journal of a Residence on a Georgian Plantation in 1838-1839
A well-known British actress, Fanny Kemble (1809-1893) married a wealthy Georgian plantation owner in 1834. During the Civil War she published her journal, a detailed and ferocious account of slavery, especially the conditions of slave women.