Billie S. Farnum Papers (1957-1967)
Billie Farnum is a one-term Democratic Congressman who served in the 89th Congress in 1965-1966, during the Great Society years. The collection was acquired on May 6, 1968, at the initiative of Mr. Farnum and Oakland University Chancellor Varner. The collection covers the 1957-1967 period and includes personal files, Michigan office files, legislative files, subject files, office and media files, political and campaign files, as well as routine constituent correspondence and casework.
Biography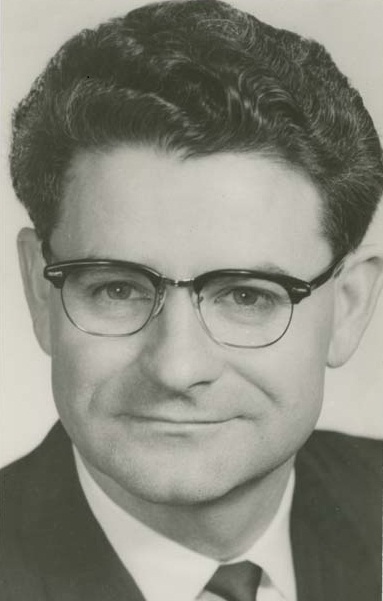 Billie Sunday Farnum was born on April 11, 1916 in Saginaw, Michigan, the son of Russell Frank and Ella May (Fullerton) Farnum and was raised in a farming community. He was named after the famous evangelist Billy Sunday.
He graduated from Vassar (Michigan) High School in 1935 but continued his education in the Civilian Conservation Corps and also took special education courses. From 1936 to 1952 he engaged in union activities and was a shop steward to an international representative for the United Automobile Workers.
Farnum's political career was launched with his appointment as administrative aide to Senator Blair Moody. Other appointments quickly followed: Assistant Secretary of State of Michigan (1957-1960); Auditor General of Michigan (1961-1964). He also served as Deputy State Chairman of the Michigan Democratic Party in 1960-1961 and was a delegate at the Democratic National Convention in 1956, 1960, and 1964.
In 1964 he was elected as a Democratic Congressman in the newly created 19th Congressional District of Michigan and served one term (1965-1967, in the 89th Congress). He defeated his Republican contender by almost 70%. However, Farnum failed to be re-elected in 1966, losing to Jack McDonald. It is likely that the backlash against the Vietnam War and civil rights contributed to his defeat, as Farnum was an ardent advocate of both causes. Four of his fellow Michigan freshman Congress members – known as the Five Fluke Freshmen – were also defeated.
While in Congress, Farnum served on the Appropriations Committee - a rare appointment for a freshman.
After his term, Farnum served as the Deputy Chairman of the Democratic National Committee in 1967-1968 and a member of the Waterford Board of Education (1969-1970). He also owned and managed a consulting firm. He was elected secretary of the Michigan Senate in 1968 and served in that capacity until his death in 1975. He was a powerhouse in Democratic politics in Michigan. After his death a state office building in Lansing was named after him.
Farnum married Maxine DeCoe in 1936 and they had three children. He belonged to the Eagles, Elks and the Shriners. His religious affiliation was Congregationalist.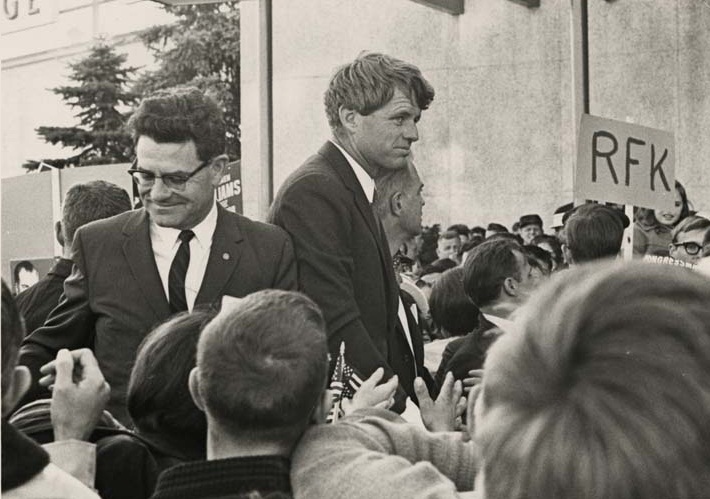 Congressman Farnum with Senator Kennedy at Oakland University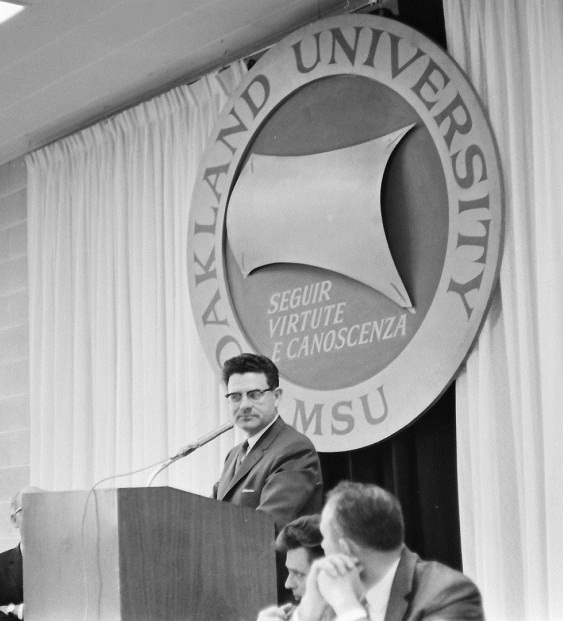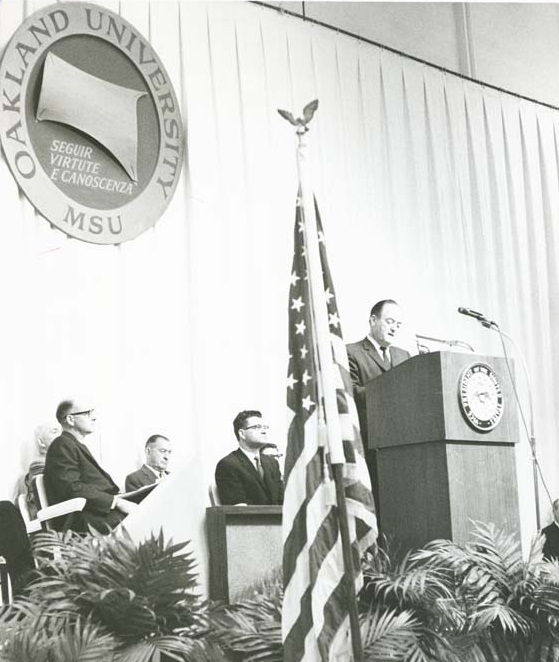 Farnum with Vice-President Hubert Humphrey at OU, October 22, 1966
Scope and content note
The collection is arranged in ten series.
Series I: The Personal and Biographical Files include personal correspondence, correspondence with organizations Billie Farnum was a member of, and biographical information. Of note is a summary list of federally funded projects he brought to Michigan while in office.
Series II: The Michigan Office Files (1959-1964) series includes materials from Billie Farnum's time as Assistant Secretary of State of Michigan (1957-1960) and Auditor General of Michigan (1961-1965). Other materials document his service for the Michigan Democratic State Central Committee in the first half of the 1960s.
Series III: The Legislative Files series documents the legislative activities of Congressman Farnum in the 89th Congress. It contains materials on the bills he sponsored, as well as his voting record. There is also extensive correspondence with other Congress members and with officials in other federal government agencies and Michigan state agencies regarding bills and other legislative issues. Folders may also contain some correspondence with organizations and constituents.
Series IV: The Subject Files series includes correspondence with constituents on bills and issues of the day, sometimes with supporting documentation; it also contains files of background information gathered by the Congressman's office. Occasionally legislative correspondence and materials can be found too. This series documents the day-to-day activities and fields of interest of Congressman Farnum. Although the subject files contain significant constituent correspondence, they are different from the Constituent Correspondence series in that they include substantive comments and often detailed and individual responses from Farnum.
Series V: The Office Files series documents the daily activities of the Congressman's office, including his schedules.
Series VI: The Press Files contains invitations and events Congressman Farnum attended, as well as speeches, press releases, and newsletters. Also included is Farnum's personal reference files (namely handwritten cards with talking points).
Series VII: The Political and Campaign Files series documents Congressman Farnum's political activities while in office, especially his work with liberal Democrats in Congress and in Michigan. The series also contains various materials related to Billie Farnum's campaigns for Congress in 1964 and 1966.
Series VIII: The Routine Constituent Correspondence series houses the letters Congressman Farnum received from constituents who shared their ideas or submitted requests. Unlike the constituent letters found in the Subject Files series, the correspondence included here deals with personal, individual matters and has little political content.
Series IX: The Casework and Academy Appointments series represents work done by the Congressman's staff in Washington and in his local office on behalf of individual constituents who were struggling with the red tape and bureaucracy of federal agencies. The files are organized alphabetically by last name.
Series X: Photographs and Audio Files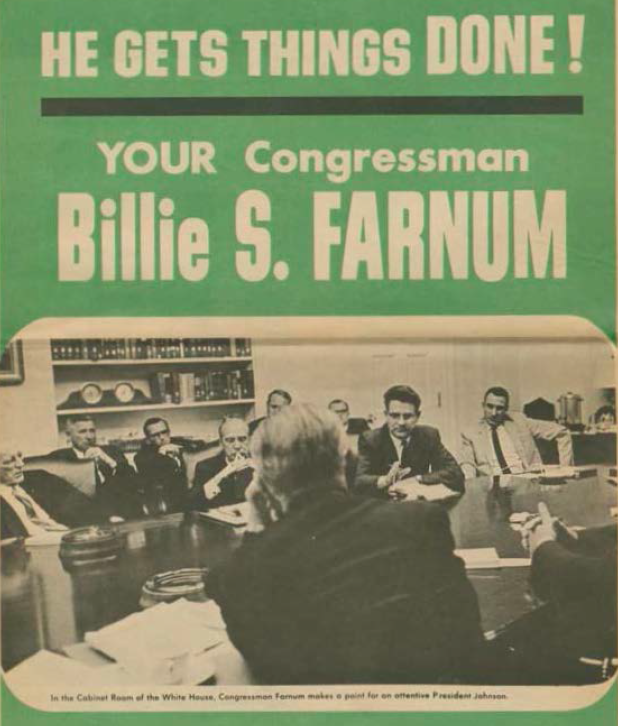 For more information
Inventory available at the Oakland University Archives.
Billie S. Farnum, Biographical Dictionary of the United States Congress.
Helen W. Berthelot, Win Some, Lose Some: G. Mennen Williams and the New Democrats (Wayne State University Press, 1995).
Exhibit
Making Health Care Affordable: 50 Years of Health Care and the U.S. Congress
An online exhibit showcasing items from the Michael J. Rogers Congressional Collection and the Billie S. Farnum Papers.
Credits
Finding aid by Dominique Daniel (03/01/2015)
Inventoried with the help of Shirley Paquette and Emily Benoit.