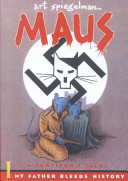 Graphic Novels Collection
Graphic novels, comic books and comic strips are important and fast-growing areas of popular literature and culture.
We have graphic novels in our circulating collection on the 3rd floor.
Graphic novels may be checked out for 3 weeks (with 1 renewal) by currently-enrolled students, faculty and staff only.
graphic novels and comic books
Recommend a Graphic Novel
Created by SVL & MH / Updated on March 5, 2020 by Shawn Lombardo & Mariela Hristova