Growth at Oakland University
Exhibit in the lobby of Kresge Library, March 3-June 21, 2014
Oakland University has grown dramatically since it opened its doors to students in 1959: from 570 students the first year to over 20,000 in 2013-2014; from 3 original buildings to over 40 across the 1500 acres that comprise the OU property.
With growth came exciting opportunities and perplexing challenges for OU administration, faculty, staff and students. Members of the OU community have all experienced the impact of OU's growth first hand. This exhibit explores some of its aspects: the campus, buildings, academics and student life.
Campus
OU has historically been accessed mostly by car. Roads, buildings and other campus infrastructure were strained by the growing student body and traffic volumes. Preservation of historic buildings on university property and conservation of the university's abundant natural resources had to be balanced with the growing needs of students, faculty and staff. The availability and ease of parking has also been an issue since the 1970s.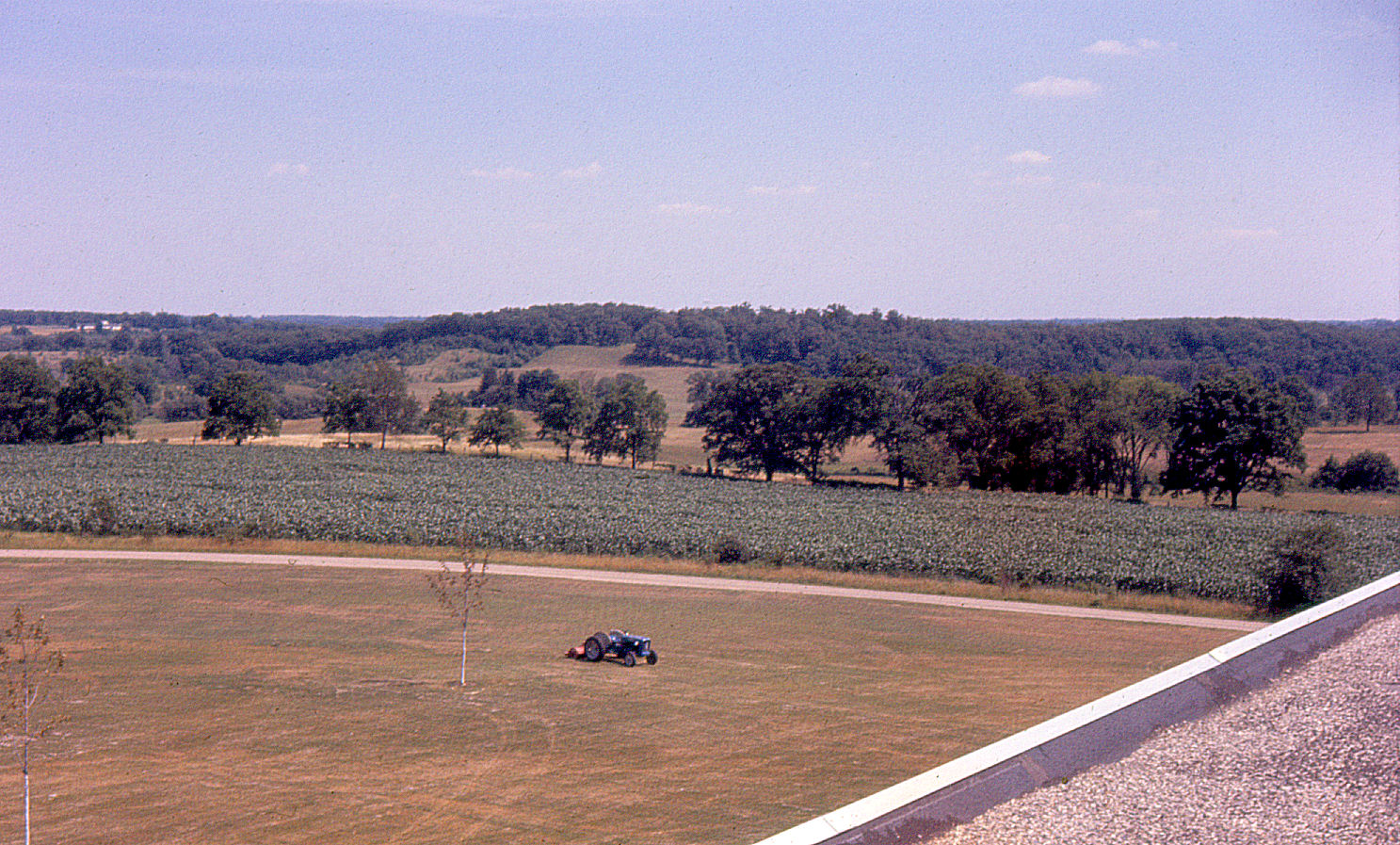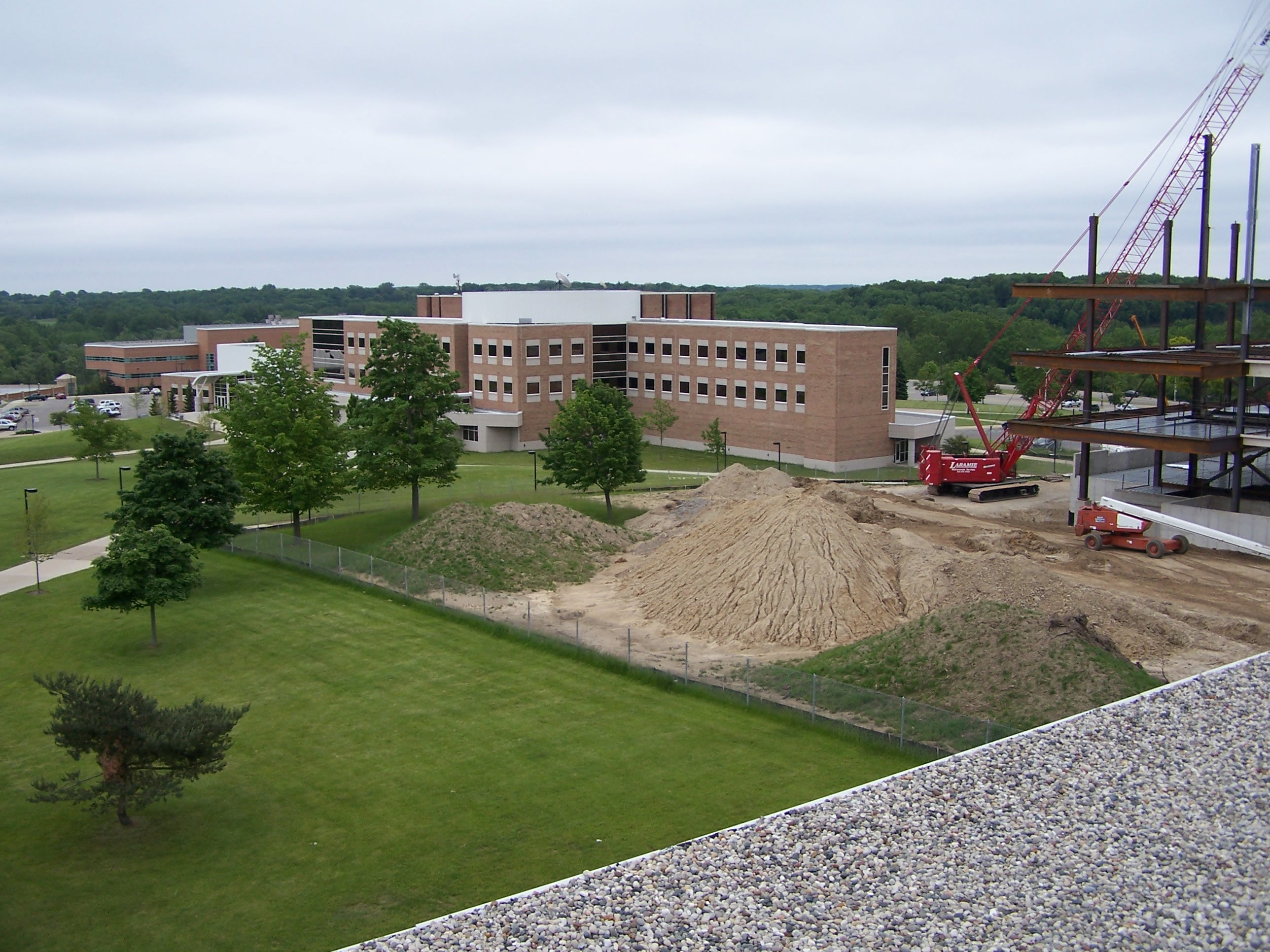 View from the top of Kresge Library, 1963 and 2013.
- photos courtesy of Tom McAllister
Roof top photographs then and now
Charter Class alum Tom McAllister took the "then" photographs in August , 1963.  While a student at OU Mr. McAllister was employed part-time working in the Physical Plant Department.  The shots featured in the exhibit were captured on the roof tops of Kresge Library and South Foundation Hall.   
The corn field in the photo shows that part of the Meadow Brook Estate was still farmed in 1963.
When he came back for the Charter Class reunion in 2013 he took "now" photos from the same spots.
Buildings
Although the number of buildings on campus has increased steadily since 1959, the 1960s was the decade that saw the most dramatic development. Building styles have evolved over time, with brick, precast concrete and glass being the dominant materials. Buildings have grown taller and offer unique landmarks, like the tower of the Science and Engineering Building. Recent buildings like Elliot and Pawlley Hall tend to be more distinctive, with greater attention to detail.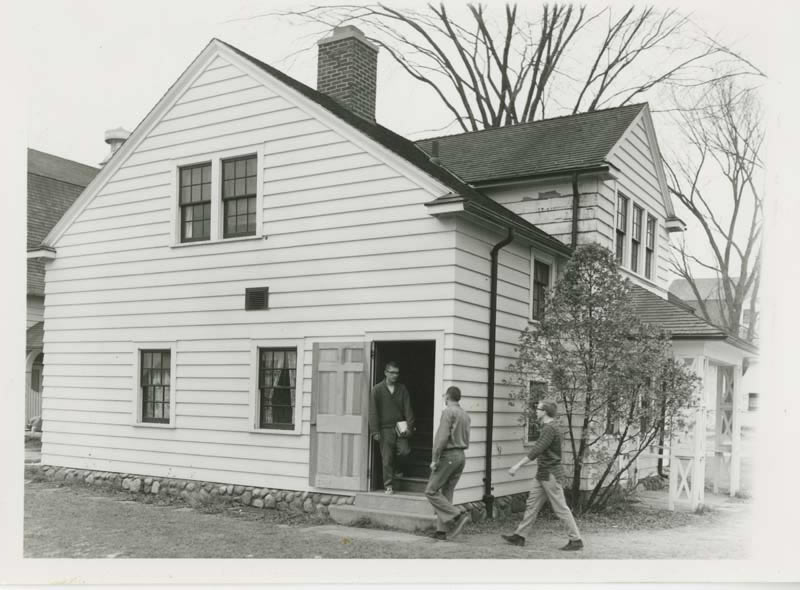 Early male student housing - photo courtesy of OU Archives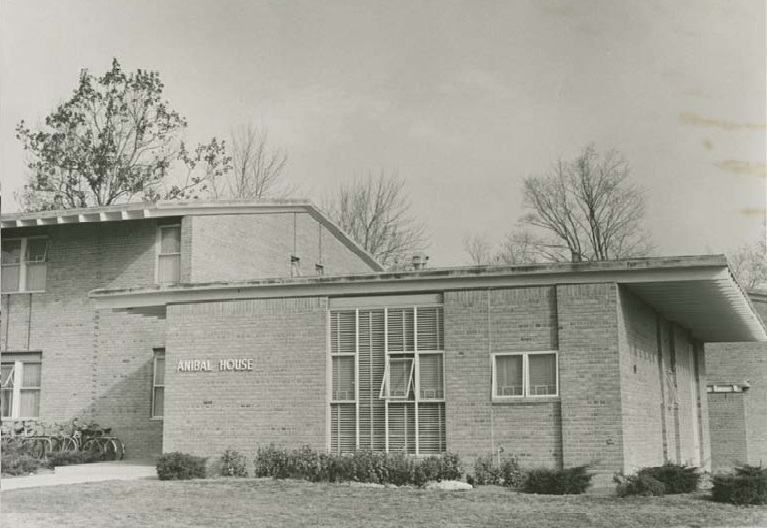 Anibal House - photo courtesy of OU Archives
Early years student housing
Before the first dormitories were built on campus, housing included a converted farm office building,  a wing in the newly constructed Hannah Hall and an off-campus location known as Upland Farms. 
Construction began in 1961 for the residence halls designed to accommodate 192 students and later named Anibal and Fitzgerald.   
Academics
The first graduating class in 1963 included 146 students, but by 1970 the 1000 graduating students mark was passed. In 2007 for the first time OU graduated over 3000 students. As student enrollment has grown, the faculty has increased from around 20 to over 1000. OU offered its first graduate programs for 66 students in the Fall of 1965 and now has some 125 graduate offerings at the master's and doctoral level.
Student life
There have always been many active student organizations on campus. Intercollegiate athletics were banned until 1964. The first intercollegiateprograms were cross country, swimming, indoor track and golf programs, and it was not until Fall 1966 that an intercollegiate basketball program was started. Fraternities and sororities did not develop until 1979 but OU now has 18 Greek institutions. Political activism peaked in the late 1960s, but cultural, social and other activities have continued to flourish.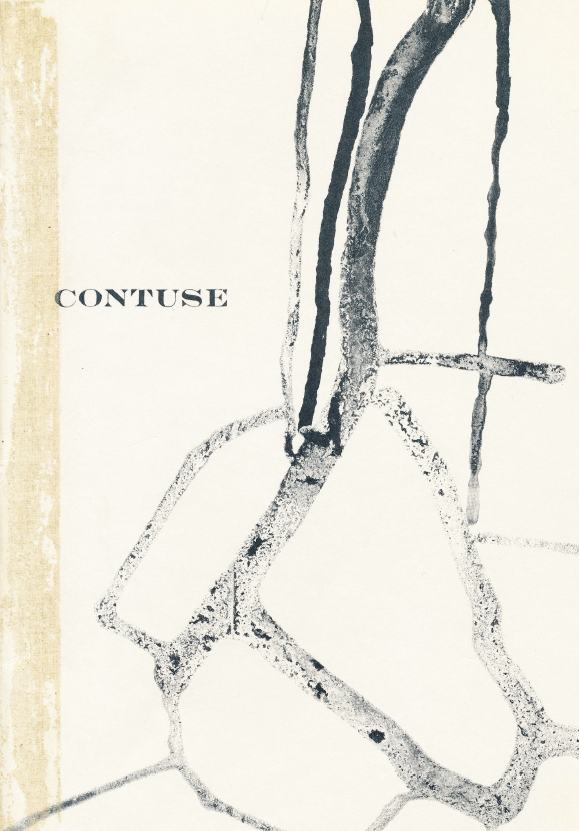 Student Publication Contuse
Among a number of OU student publications produced in the 60's and early 70's one in particular caused a stir on campus due to the use of four letter words and offensive language. 
After a number of years as an annual publication the Administration informed the University Publications Board that Contuse would no longer be supported by the University.  The student literary magazine changed its name to Kontuse and survived long enough to produce several more issues.
All photos courtesy of Oakland University Archives.
Last updated 03/30/2014
For questions, contact Dominique Daniel (daniel@oakland.edu)