John Dodge Farmhouse
Built: 1898 | Type: Meadow Brook Estate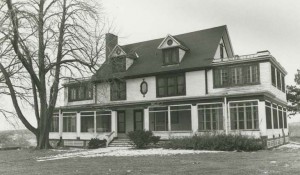 Quick Facts
Building construction: 1898, James L. Higgins (previous owner of property)
Cost: $50,000 at its original purchase; renovations and upkeep over the years were not to exceed $315,000
Construction: Various renovations undergone in the 1970s and 1980s in an effort to bring Dodge Farmhouse up to current safety codes
Funding: A $200,000 special maintenance allocation was provided by the State of Michigan in support of efforts to renovate the house. The farmhouse is in current use as an administrative and faculty office building.
Namesake: John F. Dodge, first husband of Oakland University benefactress Matilda Wilson.
History
In 1908, automotive pioneer John F. Dodge and his wife Matilda purchased an impressive acreage on which to build their lives together.  Included on this land was the Classic Revival clapboard farmhouse, which became known as the Dodge Farmhouse. As their lifestyle and family expanded, the Dodges made significant renovations to expand the house for usage as a weekend retreat. John Dodge passed away in 1920, leaving Matilda as inheritor of the estate. Following her marriage to Alfred G. Wilson in 1925, Matilda and her new husband resided in the farmhouse during the construction of Meadow Brook Hall, the Tudor-style mansion in which they would live out the rest of their lives together.
It was maintained by the family as a residence until the university opened it as offices and classrooms for the Continuum Center and other  departments.  It retains status as a listing on the Federal Register of Historic Places.
Photos courtesy of the Oakland University Archives.
Created by Mariela Hristova / Updated on May 24, 2019 by Mariela Hristova