Oakland University in 1967
Lobby of Kresge Library, June - September, 2014
Exhibit in honor of the "Hong Kong Travelers" - a group of OU students who studied in Hong Kong in Fall 1967.

Learn about the Hong Kong trip and explore the campus as it was in 1967!

OU students are welcomed in Taipei, Taiwan
The Hong Kong trip
In Fall 1967, 44 Oakland University students went on a study abroad tour in Asia. They spent some time in Japan and Taiwan, then stayed in Hong Kong for a semester's class work. On the way back they stopped in the Philippines and Hawaii.
The group was headed by Henry Rosemont, instructor in philosophy, and Edward L. Buote, instructor in Chinese. They taught courses like Chinese language, Chinese studies, Chinese literature, diplomatic history of Asia, and Asian philosophies and religions.
The trip gave the young students "new relationships and significant ideas" – as one of the participants wrote to Chancellor Varner. It increased their awareness of world politics and cultures.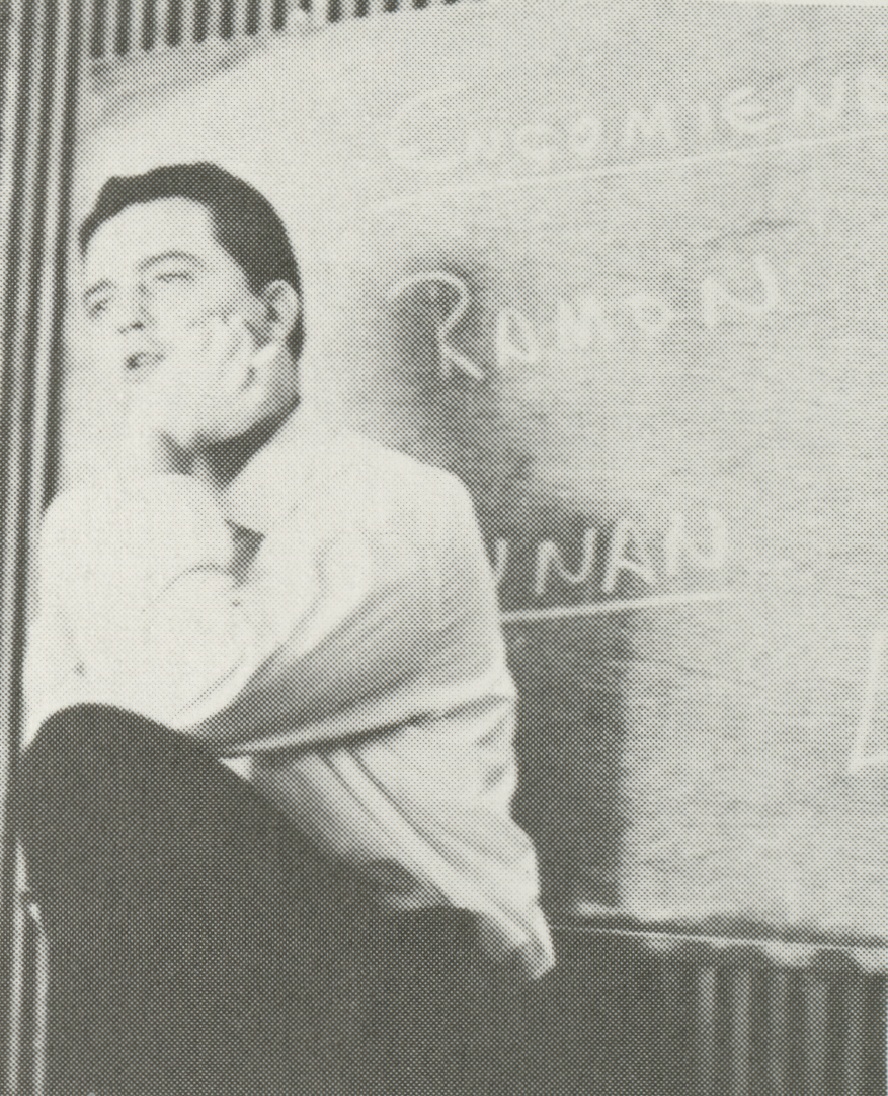 Henry Rosemont, philosophy instructor, 1967
Through the Fall of 1967 OU student David Black wrote a column "From the Orient" in the Oakland Observer, reporting on his experience during the trip.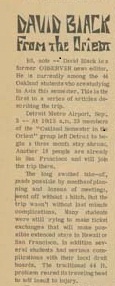 During their trip some students maintained a correspondence with Chancellor Varner, OU's leader.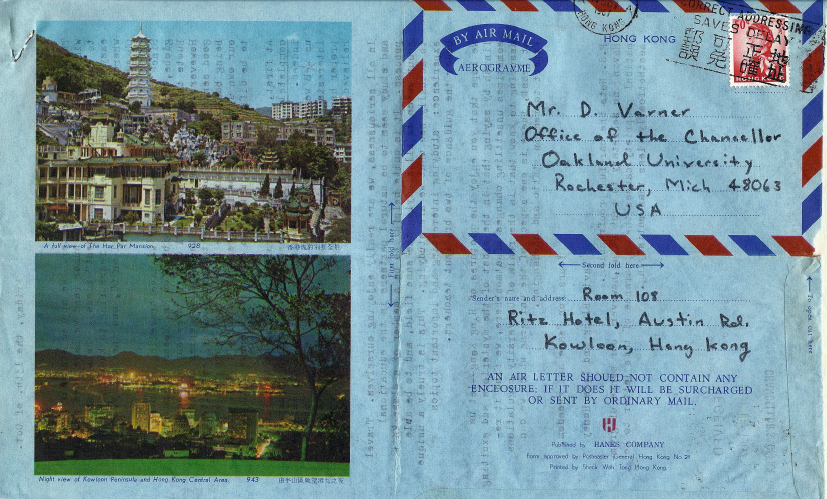 OU in 1967
Oakland University was not yet 10 years old, but a lot had changed since its founding in 1959.
Matilda Wilson, who had donated the land and money to establish the campus, passed away in September 1967. That semester, Oakland reached its highest enrollment so far, with 3,896 students, including 305 in graduate programs.
The university consisted of 14 buildings on the main campus, with Dodge Hall, the Student Health Center and Hamlin Hall – OU's largest residence hall yet –  under construction.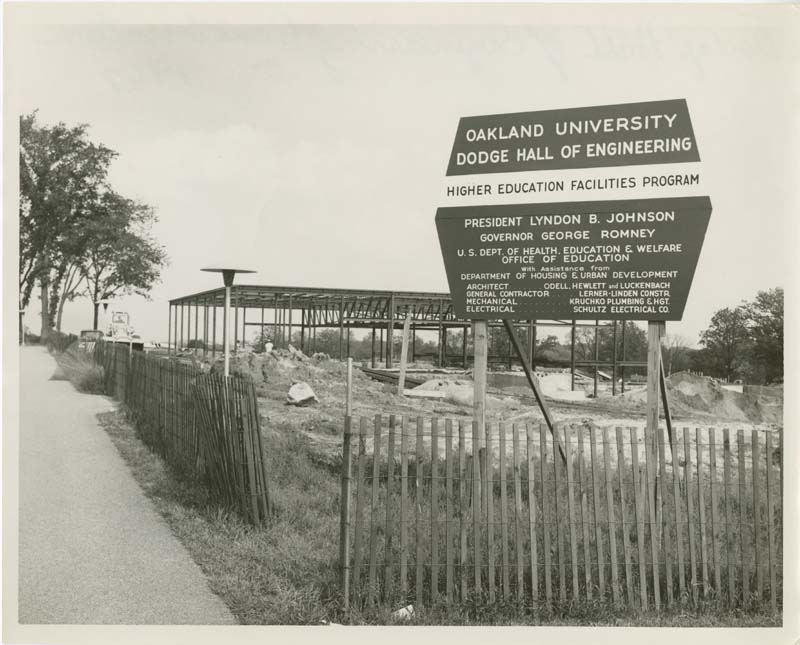 Construction of Dodge Hall of Engineering, 1967
Student organizations were thriving, like the new Association of Women Students and the student newspapers like the Oakland Observer. All in all there were 67 clubs and organizations. OU students could attend dances, concerts and lectures, and participate in events such as the Miss OU Pageant and the Winter Carnival.
 Intercollegiate sports teams had full schedules in cross-country and soccer in the fall, basketball and swimming during the winter) and golf during the spring.
At the same time, anti-Vietnam war protests, civil rights issues and student activism were on the rise on campus. A Commission on Student Life was formed to recommend ways to improve student conditions.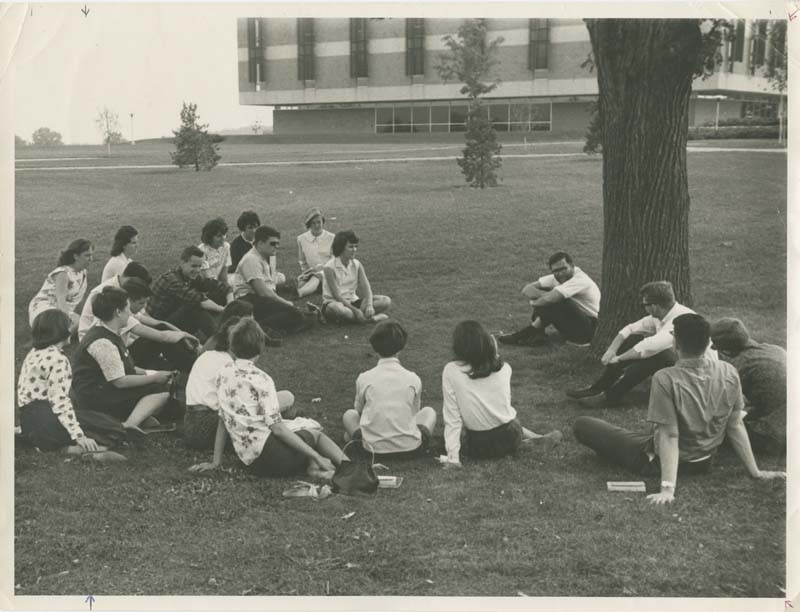 Outdoor class by Kresge Library, 1968
Asian studies at OU
Since it enrolled its first classes in 1959, OU included in its curriculum a strong emphasis on non-western cultures, in its Area Studies program. In 1961 a leading China scholar , Charles O. Hucker, was recruited to direct the program. Chinese language courses were initiated the following year.
In 1965 Oakland University was awarded a grant of $20,000 by the U. S. Office of Education to establish a Language and Area Center for Chinese Studies. Under the direction of Robert C. Howes, associate profesor of history, the Center enabled Oakland University to expand and diversify its offerings in Chinese studies. In 1968-1969 a Chinese major was created.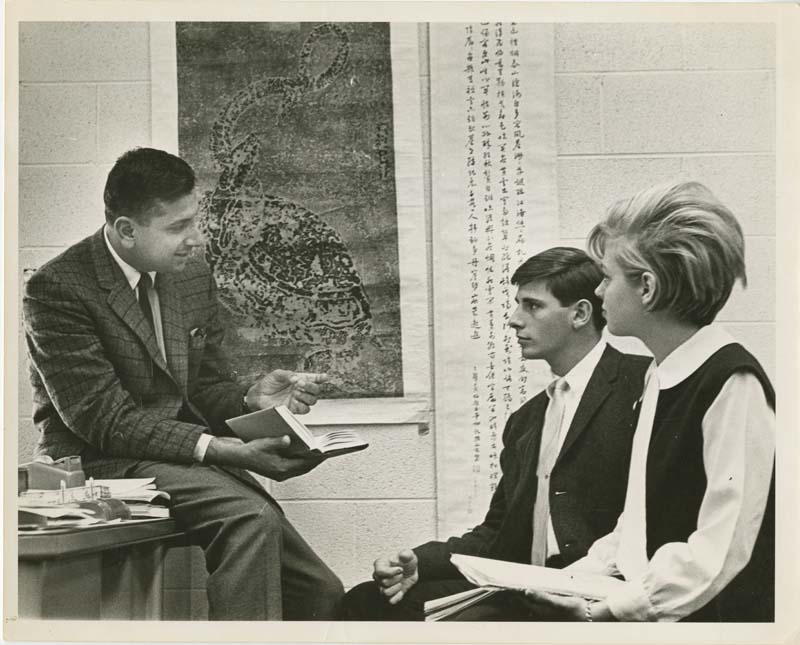 Professor Tagore at an Area Studies (Chinese) class
All photos courtesy of Oakland University Archives.
Last updated 05/30/2014
For questions, contact Dominique Daniel (daniel@oakland.edu)