Special Collections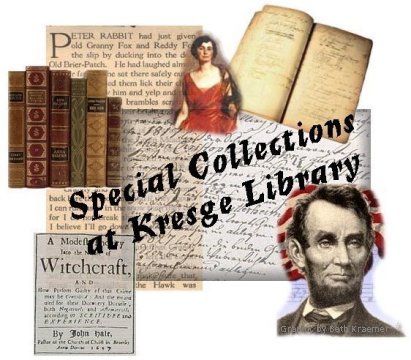 Oakland University has a number of Special Collections which include rare books along with manuscript collections.
Most of the materials in Special Collections are listed in the Library Catalog.
Access to the collections is restricted and by appointment only. Please fill out the Access Request Form if you wish to use any of the materials in these collections.
Anglo Irish Collection
Mr. Royce Butler, former head librarian at Oakland University, secured a small 200 volume collection of Anglo Irish materials. Most of the collection consists of Irish periodicals from the late 1800s. The collection also includes some original play scripts by Irish authors.
Bass Collection
This is a collection of around 600 volumes that are noteworthy for their fine bindings. The content of the collection is varied; the value lies in the excellent examples presented of the book binder's art.
Professor Jane M. Bingham, a retired education professor at Oakland University, is an expert on children's literature. She amassed this collection of historic children's books, periodicals, and artifacts over a number of years. The collection is non-circulating and is located on the north end of the 2nd floor of Kresge Library, beyond the microforms. The books are arranged in chronological order so that researchers can actually see how children's books developed over the decades. The collection also includes a section of reference books related to children's literature.
Book Room
This is the largest of Oakland's special collections and consists of around 3000 volumes which have been deemed valuable because of their individual value or because of the uniqueness of the book; for example, some items are autographed, some have special significance to OU. The collection is particularly strong on Michigan history and American literature.
China Gift Collection (326-328 Kresge Library)
This collection of over 400 contemporary books on China has been made possible through the generosity of Opal Redman. Ms. Redman, a retired Detroit school teacher, went to China first in 1990 to train teachers of English and eventually coordinated the efforts of the SEHS Chinese Summer Language Institute at Guizhou Normal University in Giuyang, China for many years. She is the author of "The Ripple Effect" and co-author of "Change and Growth in the Oakland/Guizhou Program" in which she talks about her experiences with the Guizhou - Oakland partnership.
Books and book chapters published by Oakland University faculty are available in the circulating collection and are searchable via a keyword search for "Oakland University Faculty Collection"
Frederick L. Black Papers
A collection of materials regarding the death of John Wilkes Booth and his burial. Mr. Black was a lawyer hired by Henry Ford I to research the assassination of Abraham Lincoln and the death of John Wilkes Booth. Mr. Black spent four years researching this topic. The collection consists of some twenty boxes of photocopies of articles on the topic as well as signed affidavits of interviews with individuals who were involved with the conspiracy. In addition, Mr. Black was the editor of the Dearborn Independent and wrote a manuscript regarding this topic that has never been published. The Black papers were purchased for the library from William Springer who was the editor of New Center News.
Mr. Springer is the same collector that amassed the Lincoln material in Special Collections.
The collection contains many titles of historical significance related to GLBT lives.  Fiction and non-fiction works are available, covering a wide range of disciplines such as religion, philosophy, history, psychology, sociology, politics, literature, and the arts.
Mrs. Margaret Hicks was a former English literature professor at Wayne State University and a book collector. She collected books by women writers from the time when women were not supposed to be educated, much less to become writers. This unique collection of approximately 900 titles is exceptional. Many of the items are one of a kind and scholars from around the country come to study this collection. Items date back to the 15th century.
Dr. Thelma James was a professor at Wayne State University for many years and accumulated a large collection of folklore materials. Her donation of some 650+ volumes is strong on the folklore of various countries and on witchcraft.
Robert Malcomson was a movie enthusiast and built a collection of film books, magazines and film memorabilia. After his death in 1999, Kresge Library obtained his wonderful collection of approximately 500 books and movie journals through the efforts of English professors Robert Eberwein and Brian Murphy. The books are now part of the general circulating collection and can be identified by a keyword search for "malcomson gift"
A variety of 19th century and early 20th century Oakland County historical records are kept in this collection. See also the papers of Eugene Mack (1845-1940), a prominent farmer and business and civil leader of Addison Township, in Oakland County.
This is probably the foremost collection at Oakland University and one of the strongest collections on the Civil War in any Michigan library. Mr. Springer was the editor of the New Center News published in Detroit and was an avid collection of Civil War materials. The collection consists of 2000 volumes, lots of original materials, and the "Black Papers." Mr. Black was an attorney that Mr. Henry Ford I hired to investigate the death of John Wilkes Booth. There are also a number of artifacts in this collection.
This is a collection of the master's and Ph.D. theses that have been written by Oakland University graduate students. The over 1000 theses can be found by doing a Subject Search in the library catalog for 'oakland university dissertations'.