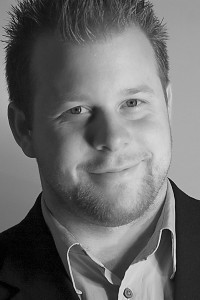 Shawn McCann
Assistant Professor, Kresge Library
Business and Web Services Librarian
Email: mccann@oakland.edu
Phone: 248-370-2456
Office: 240 Kresge
Office Hours: Wed 2-4pm & Thu 9-10am by appt.
Research Interests
Library website accessibility, gamification of library instruction, active learning, library support for video games, digitization, library and museum collaboration.
Publications
Peacock, R., McCann S. (2020). Accessibility is not a feature: An analysis of common accessibility errors on academic library websites. College and Undergraduate Libraries. Manuscript in preparation.

McCann, S., Nichols Hess, A., Greer, K. (in press). Connection and critical questions: Adapting learning communities for online credit-bearing information literacy courses In Schaub, G., McClure, H. Engaging students through campus libraries: High impact learning models. 

McCann, S., Peacock, R. (2019). Be an Ally for Accessibility: Tips for all Librarians. College & Research Libraries News, 80(5).

Greer, K., & McCann, S. (2018). Everything Online Is a Website: Information Format Confusion in Student Citation Behaviors. Communications in Information Literacy, 12(2), 150-165.

McCann, S. (2009). Game genres demystified. Library Journal, 134(1), p. 56.

McCann, S. (2009). Game ratings rundown. Library Journal, 134(3), p. 85.

McCann, S. (2009). Systems showdown. Library Journal, 134(7), p. 73.

McCann, S. (2008). Not just for boys anymore. Library Journal, 133(19), p. 51.

Trzeciak, J, McCann, S., Martin, M. (2006). Collaborative Approaches to Designing Effective Digital Image Databases for the Study of Three-Dimensional Museum Collections. OCLC Systems and Services. 22(4), 263-282.
Presentations
A gift given is a gift received: Improving instruction through design thinking, LILAC 2013, Manchester England,3.26.13

On cloud 9: Using Google to make assessment a breeze, LILAC 2013, Manchester England, 3.25.13

Help them help themselves: Developing interactive tools to help faculty deal with copyright and fair use, Michigan Library Association Annual Conference, Detroit MI, 11.8.12

Constructivist Cosmo: 2 oz. discovery learning, 1 oz. peer instruction, a dash of Skype. Shake. Serve over ice, LOEX 2012, Columbus OH, 5.5.12

Tell them, and they forget.  Teach them, and they remember.  Involve them, and they learn -- Incorporating active learning into information literacy, LILAC 2012, Glasgow Scotland, 4.12.12

The Story of the Beautiful: Freer's Peacock Room Recontextualized, HASTAC, Ann Arbor MI, 12.2.11

Cross Cultural Interchange and Aspirations of Universality: The Peacock Room in 1908, An Online Interactive Colloquium, 5.11.11

Video Killed the Radio Star, but it Made my Library Awesome. OLA Superconference. Toronto ON, 2.26.10

Improving on Excellence: Looking Beyond Information Literacy to 21st-Century Educational Paradigms and Virtual Worlds. ACRL. Seattle WA, 3.15.09

Nerds of a Feather: Gaming and Virtual Worlds in Academic Libraries. OLA Superconference. Toronto ON, 1.30.09

Virtual Libraries.  Canadian Library Association Annual Meeting.  Vancouver BC, 5.21.08

Transforming Information Literacy: Do We Have the Skills? WILU. Kelowna BC, 5.16.08

Libraries in Second Life: The McMaster Experience. BCNet.  Vancouver BC, 4.22.08

Keynote: Video Games and Literacy. Frontier College Literacy Conference. Hamilton ON, 4.5.08

Virtual Worlds & Libraries. Internet Librarian. Monterey CA, 10.30.07

Second Life and Government. Government of Ontario Town Hall Meeting. Toronto ON, 11.23.07

Web & Library 2.0: the basics. Kalamazoo Public Library Staff Development Day. Kalamazoo MI,  11.9.2006

Web Site Accessibility and the OPAC. Michigan Innovative Users Group Fall Meeting, Birds of a Feather break out session. Detroit MI 10.7.2005

Digital Diversity: Building multicultural digital collections.  Michigan Library Association Annual Meeting. Grand Rapids MI 10.26.2005

Digitizing Michigan: An update on statewide digitization projects.  Michigan Library Association Annual Meeting. Grand Rapids MI 10.26.2005

Library/Museum Collaboration in Detroit: A summary of three-dimensional artifact digitization.  Coalition for Networked Information. Phoenix AZ 12.5.2005

Collaborative Approaches to Designing Effective Image Databases for the Study of Three-Dimensional Museum Collections.  Interactive Technologies 2005.  Washington DC 8.24.2005

Digital Dress: A model for library/museum collaboration.  Joint Michigan Museum Association/Association of Midwestern Museums Annual Meeting.  Grand Rapids MI 10.22.2004
Education
Wayne State University, Detroit  MI
Master's Degree in Library and Information Science (MLIS), May 2003

Lake Superior State University, Sault Ste. Marie  MI
B.S. in Business Administration, May 2001
Created by MH / Updated on July 22, 2020 by MH