Donor Impact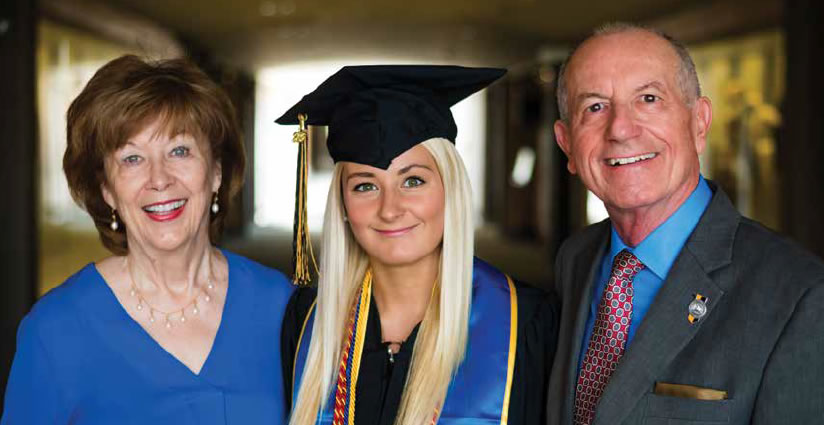 Phillip and Barbara Williams
Phillip and Barbara Williams are leaders. Throughout the years, the couple has shown an extraordinary level of support and commitment to the Kresge Library.
Phil's path to Oakland University began when he became a paper boy for the Pontiac Press, now known as The Oakland Press. Delivering news and information to his community helped pave the way for Phil to attend OU. The paper granted Phil a full-ride scholarship and he enrolled.
Phil met Barb at OU at the Kresge Library in the 1960s. It was a small campus back then with just a handful of buildings. Phil can remember when construction began on what would become the Kresge Library. When the Kresge Library was about to open, Barb was still in high school, but Phil was on campus and joined other students in the "great book push," helping to move all the volumes of books and other materials to the new building. He enjoyed the fun and camaraderie of being part of this pivotal moment in campus history.
The Williams never forgot the importance of the Kresge Library to their education. That is why they have consistently given to support the library through the years. In the early 1980s, Phil and fellow alum, John Mills, led the fundraising effort to raise more than $1 million to build the alumni wing, a project that would double the size of the Kresge Library. For Phil and Barb's contributions, there is a room named in their honor which houses a part of the special collections. And in a perfect twist of fate, Phil's former employer and benefactor, The Oakland Press, has since donated past issues of the paper. The Kresge staff will digitize those historical newspapers for the archive, beginning with issues from the 1960s — the same era that Phil and Barb started their OU journey.
Today, Kresge still holds a special place in the Williams' hearts and minds. Their daughter and son-in-law are also alumni. Their granddaughter, the third generation of the family to attend OU, graduated this year.
Today, the Williams continue to champion Kresge Library, recently establishing a named endowment that will provide support for Kresge archives in perpetuity and further enrich their family legacy at Oakland.
History and change at any university does not happen without alumni who are true to their school. The Williams have shown through their leadership and generosity that giving to the Kresge Library reverberates across the campus, benefitting students, faculty and the community.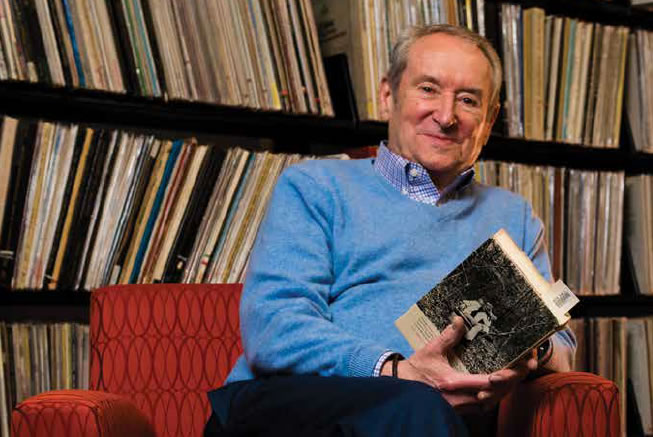 Robert Gaylor
Robert Gaylor is the living history of Kresge Library. Employed there for 38 years, Robert made it his life's work to track the history of everyday life at Oakland University, as he invested heavily in creating and maintaining the library archive.
"When I came to Oakland in 1964, there were no computers," recalls Robert. "As associate director of public services, I started the University archive. It was my love, and that's where I wanted to be. I would go to the Oakland Center and collect all the materials and the student newspaper and save it. No one else was preserving the history in that way. We didn't have anything, it wasn't formal. Now it is formalized and all departments on campus donate their back files."
Throughout his time at the University, Robert kept his interest in the archives alive, spending most of his time collecting and maintaining all the documents. He is proud of his contributions to Kresge Library and innately understands that the collection and preservation of documents and artifacts is part of both the library's responsibility and character. It was his life's work, in fact, that led him to make a significant donation of LGBTQ literature. The Gaylor collection includes approximately 5,000 pieces collected by Gaylor since the 1950s.
"Oakland University was basically the only job I ever had," says Robert. "This is my University, I was there for 38 years and I felt that's where the collection should go. I'm pleased to see so many people using these works. And now that Oakland University has a minor in LGBTQ studies, it will be used even more."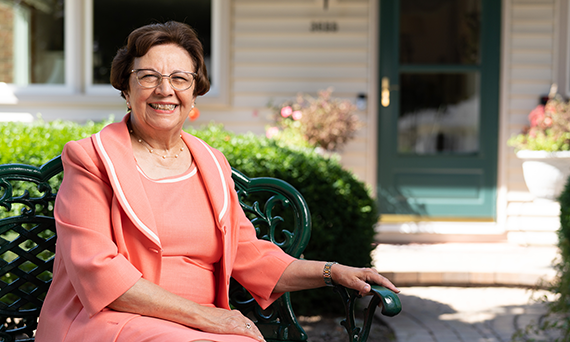 Beverly Miller
Oakland University charter class member Beverly (Bev) Donato Miller has enriched the OU libraries with the gift of a presentation practice room to help students in all majors sharpen their communication skills and prepare to excel in a competitive working world.
The Miller Family presentation practice room is specifically designed to support students in preparing for class presentations, public speaking opportunities and interviews. Funding provides soundproofing, video equipment and other necessary technology for the room. In recognition of the generous gift, Oakland University named the space to honor Miller and the legacy of her all-OU graduate family – husband Ronald, son Robert and daughter Katherine.
Miller, who graduated with a Bachelor of Arts in French and a secondary education teaching certificate in 1963, taught school for several years before returning to OU to become a certified paralegal. Prior to retirement, she spent 10 years working for the Oakland County Friend of the Court.
"I wanted to give something lasting that will be useful for students as they move forward in achieving their goals. I think everybody should have the opportunity to perfect their presentation skills before they leave college," says Miller.
Miller's love of libraries began early in life when she would walk to her neighborhood library as a young student. At OU, she and her late husband Ronald – also a charter class member – helped to establish the Charter Challenge Endowment at Kresge Library. Miller would later serve her community by becoming an Auburn Hills Library Board of Trustees member, a position she has been elected to three times. "Libraries are the heart of a campus and also the heart of the community," says Miller.
Miller is grateful that a Rotary Club of Pontiac scholarship paid her tuition and books, allowing her the financial means to attend Oakland University while she lived at home and worked 20 hours a week. "I received such a good education and I always wanted to find a way to pay the scholarship back," says Miller.
With student health and safety in mind, the Miller family presentation practice room will open when COVID-19 restrictions related to the sharing of space and equipment are lifted. Kresge Library looks forward to offering the presentation practice room for reservation by students as soon as possible