Literature to Film Book Club
"The film was nothing like the book!"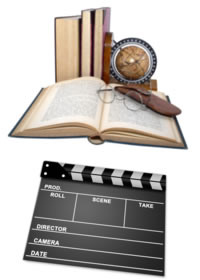 Much of today's cinema is inspired by classic, modern and contemporary literature, but how often do filmmakers stay faithful to the book that's the inspiration for their film?
Join the Oakland University Alumni Association and the Kresge Library for a stimulating and unique approach to the classic book club, as the Literature to Film Book Club explores the transition and interpretation of literature on the silver screen. Members read the monthly book prior to watching the movie as a group, followed by a lively discussion on themes, details, and fidelity to the book.
Where: room 225B in Kresge Library
When: first Tuesday of the month at 6pm (usually ending around 9pm)
For more information, please contact:
2018-19 Book-Film Schedule
September 4, 2018 -Hidden Figures by Margot Lee Shetterly


October 2, 2018 - Turn of the Screw by Henry James (Film: The Innocents)


November 6, 2018 - Silence by Shusaku Endo


December 4, 2018 - Of Mice and Men by John Steinbeck


January 8, 2019 (2nd Tue) - Our Souls at Night by Kent Haruf


February 5, 2019 - The Railway Man by Eric Lomax

March 5, 2019 - Wonder by RJ Palacio


April 2, 2019 - The Danish Girl by David E Bershoff


May 7, 2019 - In the Heart of the Sea by Nathaniel Philbrick


June 4, 2019 - Rebecca by Daphne du Maurier