Literature to Film Book Club
"The film was nothing like the book!"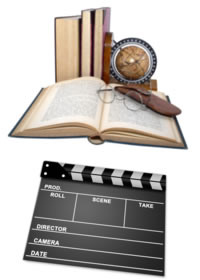 Much of today's cinema is inspired by classic, modern and contemporary literature, but how often do filmmakers stay faithful to the book that's the inspiration for their film?
Join the Oakland University Alumni Association and the Kresge Library for a stimulating and unique approach to the classic book club, as the Literature to Film Book Club explores the transition and interpretation of literature on the silver screen. Members read the monthly book and watch the movie prior to the virtual meeting. At the meeting, there will be lively discussion on plot details, themes, and the movie's fidelity to the book.
Where: Virtually (contact Anne Zacharias for meeting link)
When: first Tuesday of the month at 6pm (usually ending at 7pm)
Contact:Anne Zacharias at switzer2@oakland.edu for meeting link or more info.
2020-21 Book-Film Schedule
Sept 1 - The Mountain Between Us by Charles Martin

Oct. 6 - Jane Eyre by Charlotte Bronte

Nov. 3 - Still Alice by Lisa Genova

Dec. 1 - The Price of Salt by Patricia Highsmith (Film: Carol)

Jan. 5 - MASH: A Novel About Three Army Doctors by Richard Hooker (Film: MASH)

Feb. 2 - The Wife by Meg Wolitzer

Mar. 2 - Call Me by Your Name by Andre Aciman

Apr. 6 - The Zookeeper's Wife by Diane Ackerman

May 4 - Pride & Prejudice by Jane Austen

Jun 1 - The Lost Child of Philomena Lee by Martin Sixsmith (Film: Philomena)