OU Libraries is Celebrating International Open Access Week!
October 20-24, 2014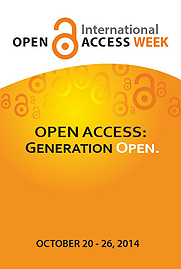 In our second year participating in this international event, OU Libraries will be hosting three events to raise awareness about open access and open educational resources.

*Open Access (OA) is free, immediate access to scholarly information online, along with the right to use and reuse that information however you need.
Hosted Events:
Monday, October 20 from 3:00 - 4:00pm
SPARC and the World Bank Kick off: Generation Open
Hosted Live-stream
Gather with colleagues to participate in the broadcast and kick off celebration

Light refreshments will be available.

Recording of the webinar


Tuesday, October 21 from 12:00 - 1:00pm
Open Access Update: New Mandates and What They Mean for You
A brief presentation looking at OA in 2014 including updates on new legislation and mandates. A great opportunity to ask questions and discuss issues with colleagues.
Brown bag event. Bring your lunch, light refreshments will be served.

Thursday, October 23 from 11:30 - 1:00pm
Open educational resources (MedEdPortal, Merlot) & eTextbooks
A brief presentation discussing OER's and experiences with publishing in OA portals.
Brown bag event. Bring your lunch, light refreshments will be served.


All events will be held in Kresge Library 242 Metlilda room
If you have any questions, please contact Julia Rodriguez, juliar@oakland.edu

We hope you'll join us for these exciting events!