This year's Annual Maurice Brown Poetry Reading is hosting Molly Peacock. She will be reading selections from her poetry in Banquet Rooms A and B of the Oakland Center (campus map--#13) on Wednesday, September 29, 2010, at 4:30 p.m. The reading is open to the public. Admission is free. Refreshments will be served.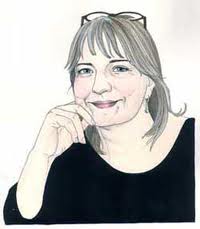 [
Drawing by Lara Tomlin
]
Molly Peacock is the author of six books of poetry including Second Blush, published in 2008, and Cornucopia: New and Selected Poems, 1975-2002. Her new book about the remarkable 18th-century botanical collage artist Mrs. Delany, The Paper Garden: Mrs. Delany Begins Her Life's Work at 72, will be published in Canada in October and in the United States in April. Her poems have appeared in The New Yorker, The Nation, The New Republic, The Paris Review, as well as The Best of the Best American Poetry and The Oxford Book of American Poetry. She is also known for her appearances on Wisconsin Public Radio's "Here On Earth with Jean Feracas." [much of this information comes from fishouse.org]
Ms. Peacock is a faculty member in Spalding University's [Louisville, Kentucky] Brief-Residency MFA in Writing program. A past president of the Poetry Society of America, she has been "an honorary fellow at The Johns Hopkins University, served as Poet-in-Residence at The American Poets' Corner, Cathedral of St. John the Divine, in New York City, and received awards from the Danforth Foundation, the Ingram Merrill Foundation, the New York Foundation for the Arts, the National Endowment for the Arts, and the Woodrow Wilson Foundation." Peacock war born in Buffalo, New York, attended the State University of New York at Binghamton and Johns Hopkins University, where she received an M.A. [from information found at Poets@org]
[Drawing by Lara Tomlin}

This reading is sponsored by the Department of English and the College of Arts and Sciences as a tribute to Professor Maurice Brown, who taught in Oakland University's English Department from 1961 until his death in 1985. The Maurice Brown Collection of Contemporary Poetry in Kresge Library also honors his memory.
For more information, contact the Department of English, (248) 370-2250, www2.oakland.edu/english

---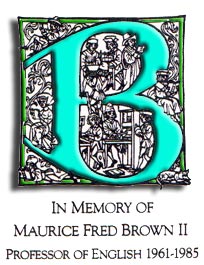 Books at Kresge Library by Peacock (click on link for library location/availability):
Cornucopia : new and selected poems, 1975-2002
Original love : poems
Second blush : poems
Take heart : poems
Other Books, related to Peacock, at Kresge Library (click on link for library location/availability):
Women Poets on Mentorship [includes essay by Rebecca Wolff on Peacock]
Oxford Book of American Poetry [includes poems by Peacock]
Face to face : women writers on faith, mysticism, and awakening [includes essay, "The Soul House" by Peacock]
Sampling of her poems "online":
Chance
Couple Sharing a Peach
Two poems: The Flaw and Why I Am Not a Buddhist
several poems are available online from Fishouse.org [Of Night, The Silver Arrow, Picnic, Marriage, The Flaw]
Other Online Resources
Molly Peacock's web site
Molly Peacock: Biography, Career, and Poetry
Molly Peacock Interviewed by Derek Alger, October 21, 2008
Archives of "Here On Earth with Jean Feraca"--programs where Peacock appeared
Biographical/Critical essays from Dictionary of Literary Biography [available on campus; available remotely to OU faculty, staff, and students]
"Molly Peacock" by Carolyn Meyer, in New Formalist Poets. Detroit: Gale, 2003
"Molly Peacock" by Annette Allein, in American Poets Since World War II, Third Series. Detroit: Gale, 1992.
---