Durward Belmont (Woody) Varner

OU'S First Leader
Text by Nadji (White) Reynolds, Chancellor Varner's Executive Assistant, 1959-1965
Durward Belmont (Woody) Varner became the first Chancellor of Michigan State University - Oakland (the future Oakland University) in January 1959 and he led the young university through 10 years of growth and success.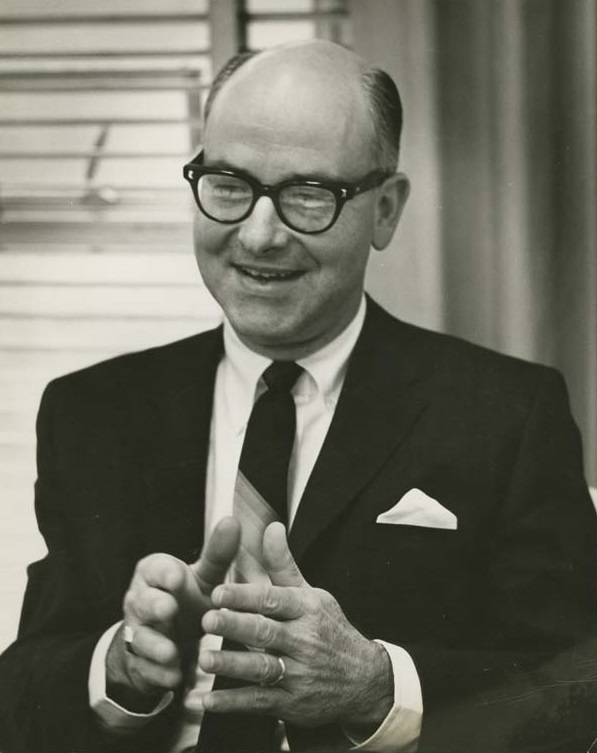 A "small town" Texan's journey to Michigan
Woody's journey from central Texas to Southeast Michigan prepared him well for the challenge of being the builder and first Chancellor of Oakland University. He was born in Cottonwood, Texas on January 1, 1917, the youngest of seven children. His father was his first teacher in the small school as well as being the superintendent of schools. Woody graduated as valedictorian not once but twice when he had to repeat his senior year at a larger school to pass exams to enter college.
His small-town roots were so obvious that many years later the sociologist David Riesman said to him, "Let me make a guess with you, Varner." Riesman said, "I'm going to guess you grew up in a small town." "I confess it's true," Varner said, "but I didn't think it still showed." Riesman explained, "I can tell by the way you react to other people. People who grew up in small towns didn't have any sense of class distinction—everybody's on the same level."
Woody picked cotton as a youngster and worked in the oil fields as a young man. He entered Texas Agricultural and Military College (Texas A&M) in 1936, graduating in 1940 as valedictorian with a B.S. degree in Agricultural Economics and as second lieutenant. He had served as class president and as captain of the basketball team.
After graduation he entered the business world as the Assistant to the President of the Federal Land Bank of Houston. This time in civilian life came to an end when he was drafted in 1941 for service in World War II. He spent five years as a member of the 6th Tank Destroyer Group in VIII Corp of General Patton's Third Army. As the Army fought its way across Europe from Normandy to meeting the Russians at the Elbe River in Germany, the soldiers saw the devastation and horrors of war.
Once again in civilian life in 1945, Woody was Assistant Dean of Students at Texas A&M until leaving for the University of Chicago in 1946 where he earned an M.A. degree in Agricultural Economics in 1949. That led to his being hired that year at Michigan State University as an Assistant Professor of Agricultural Economics for Extension Services. From 1952 to 1955 he was a Professor of Agricultural Economics for Extension Services, Assistant Dean of Agriculture and Director of Cooperative Extension Services. In 1955 MSU President John Hannah appointed him Vice President of Off-Campus Education and Director of Continuing Education.
The birth of Oakland University
On October 4, 1957 the USSR launched Sputnik, which caused shock and alarm in the United States that the Soviet system could excel over the U.S. in science and especially rocketry. That was followed on November 3 with Sputnik-2. Especially humiliating to the U.S. was the December 6 launch of a U.S. Vanguard rocket that exploded. To many this represented a triumph of the Soviet educational system and that the U.S. educational system was second-best. That concern became the focus of re-examination. A report called the Pursuit of Excellence produced by the Rockefeller Brothers Fund seemed to confirm the necessity for a new public seriousness about education.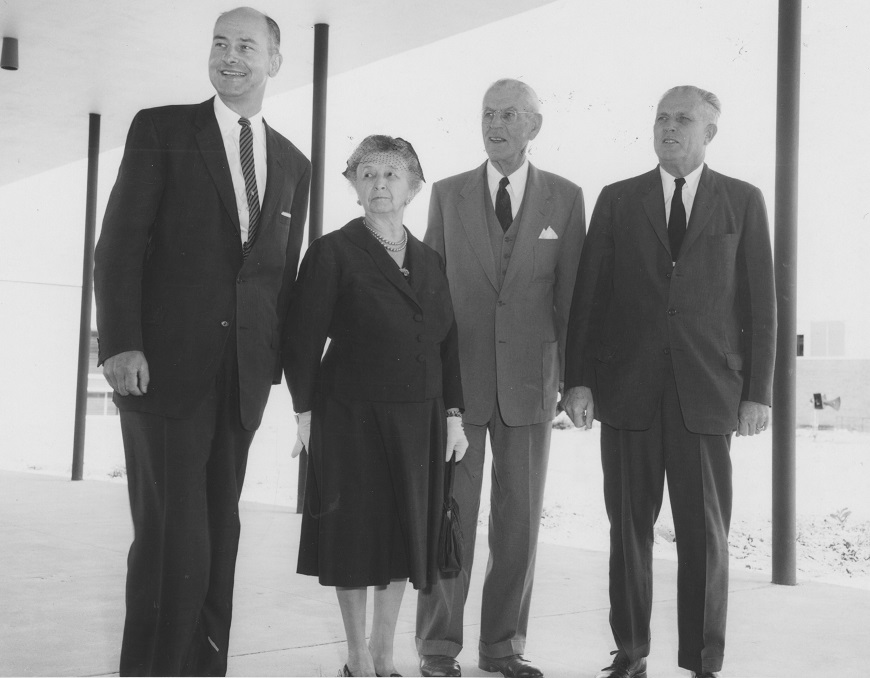 From left to right: Chancellor Varner, Matilda and Alfred Wilson, President Hannah of Michigan State University.
Also, in 1957, Mr. and Mrs. Alfred G. Wilson contacted President Hannah with an offer to give to MSU their 1,400-acre estate near Rochester for the purpose of building a new college. President Hannah, along with Vice Presidents Tom Hamilton and Woody Varner, gathered leaders in science, education and liberal arts at forums during 1958 and 1959 to design the curriculum for this new educational institution to be called Michigan State University Oakland.
Learn more about the foundation of MSU-O.
Groundbreaking for the first buildings was held on May 2, 1958, and they were named North and South Foundation Hall to honor the MSUO Foundation made up of corporate and union leaders, educators, and other prominent citizens who gave of their time, talent and financial resources to have a visible sign that the school was going to be a reality.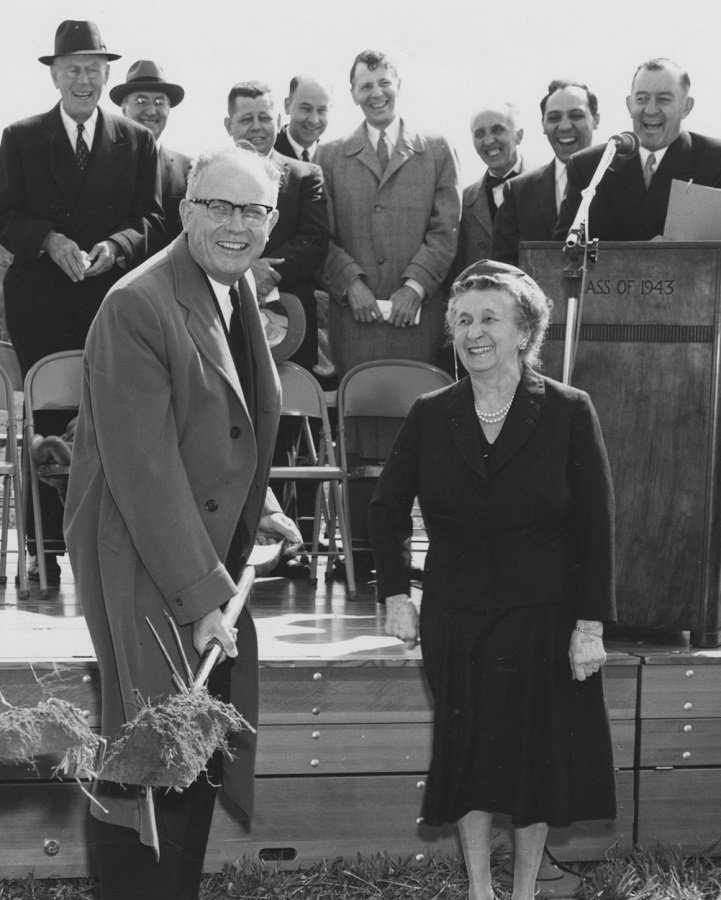 Durward B. Varner (center back) watches as Mrs. Wilson breaks ground for the first MSUO building on May 2, 1958
Woody was appointed the first Chancellor in January 1959. He had honed his diplomacy skills while working with the Governor and legislature to get appropriations for MSU and later MSUO. Those skills served him well in putting together the various volunteer committees he formed to get MSUO under way. He knew exactly who to call upon for which job he needed their help on, and he got it.
For example, he found a natural bowl on the estate where he wanted to build a music/cultural festival, later named the Meadow Brook Music Festival featuring the Detroit Symphony Orchestra. The committee he put together responded enthusiastically and raised the funds to build the festival amphitheater.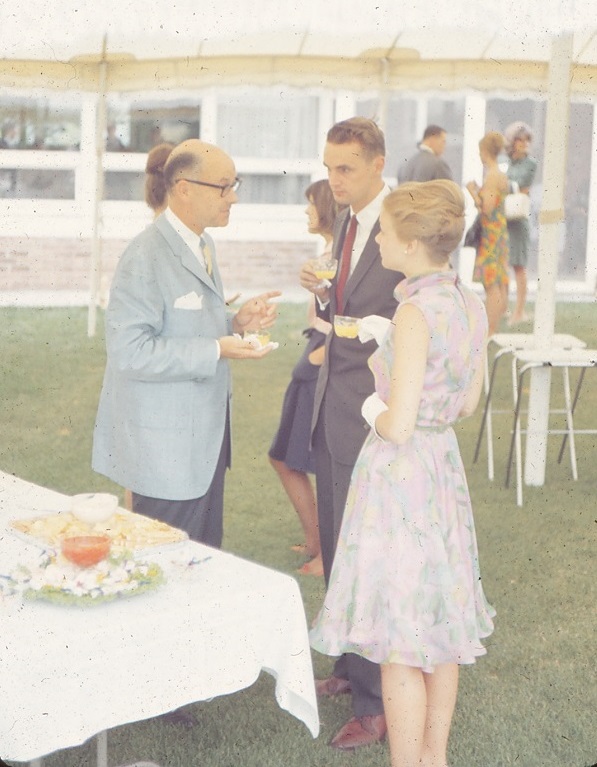 An empathetic and visionary leader
Chancellor Varner supported the development of local community colleges. He understood that not all young people were interested in a four-year college education and that the skills taught in community colleges were valuable. If a student desired more education after two years, MSUO would be nearby to provide that.
He supported a diverse student body, encouraging minority students to come to MSUO.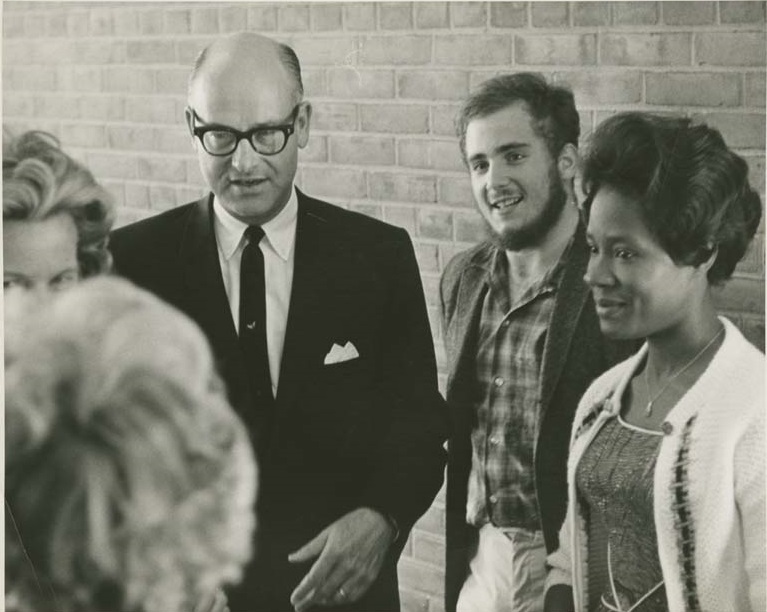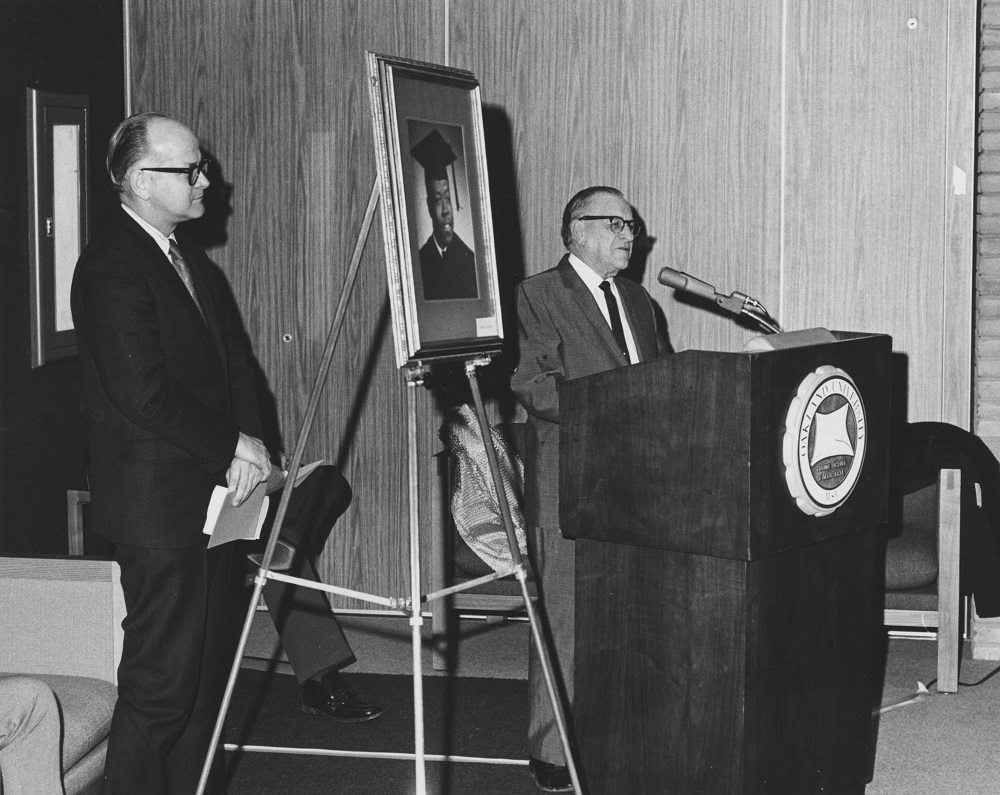 Chancellor Varner at the dedication of the Isaac Jones scholarship, 1968
He wanted to assist students who needed help paying their fees by offering them jobs as student assistants and by building a scholarship fund.
The early emphasis on intramural sports has been attributed to Mrs. Wilson, but Woody knew that sports such as football had become a major influence in the college experience. The emphasis at MSUO was to be on education with sports available but not the major theme of campus life. Because of that strong focus on education at that time and the publicity it generated, Woody received correspondence and calls from all over the country from those establishing new educational facilities. The MSUO-style educational program was viewed as offering the best hope of resolving higher education's massive problems.
North and South Foundation Halls were finished in time for the first class in September 1959 and furnished in a no-frills style. Woody had attracted 23 young faculty members for this Charter Class, many of them PhDs from top American universities. That first class graduated in 1963, and the graduates landed good jobs all over the country.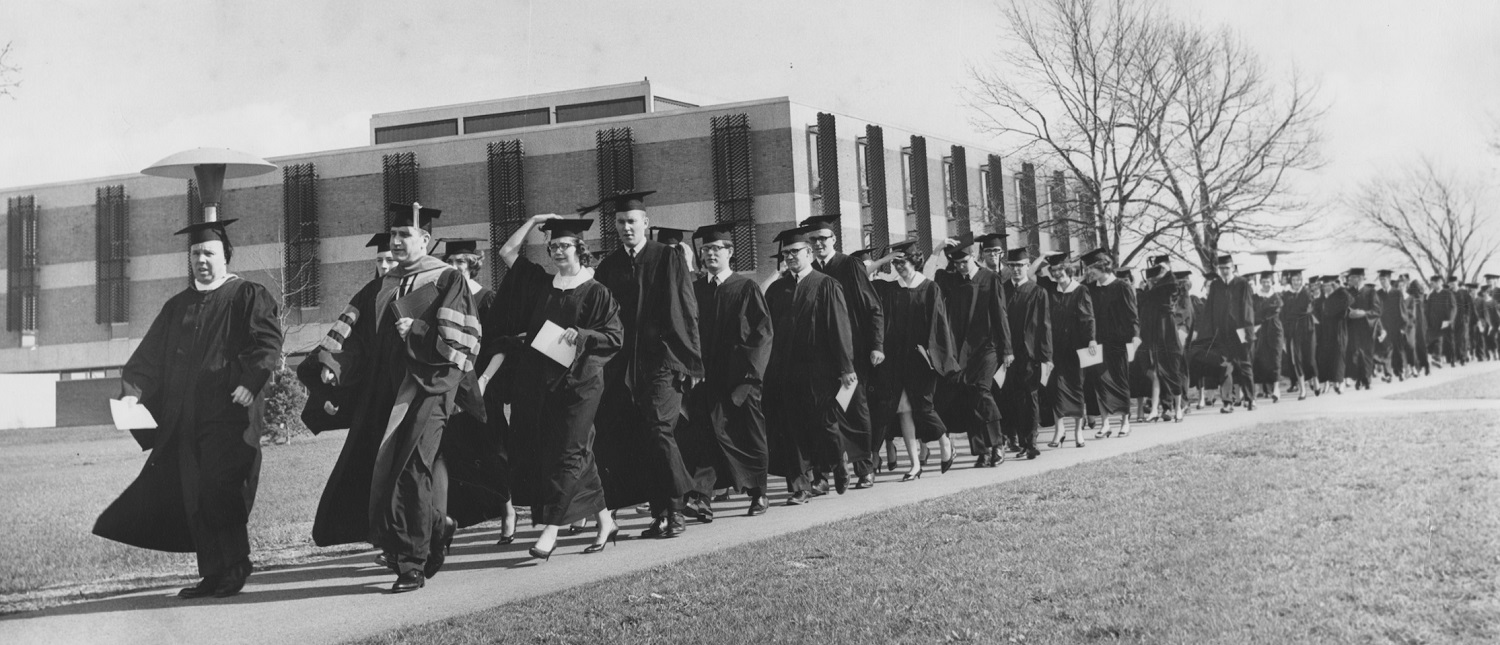 OU grows under Woody's leadership
In 1963 the name was changed to Oakland University and in 1970 OU was granted independence from MSU. The university continued to grow under Woody's leadership for several years.
He considered himself a gardener:
"I like to grow things and a university was a great thing to grow."
He resigned in 1969 accepting the position of President of the University of Nebraska because he felt that his greatest contribution to OU had been made and that it was time for new leadership to provide the energy and creativity for the next decade.
After several years at the University of Nebraska and the NU Foundation, Woody died on October 30, 1999.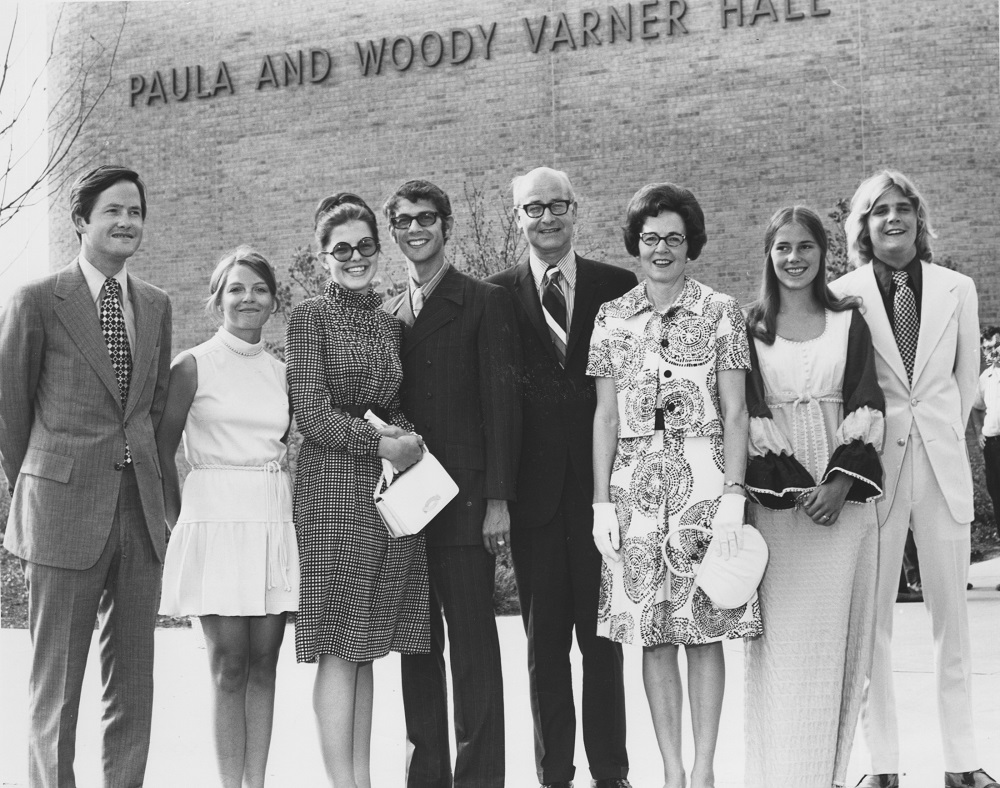 The Varners at the dedication of Varner Hall, July 9, 1971
"Don't split, Woody!"
Final note by Dominique Daniel
Woody was sorely missed by the OU community.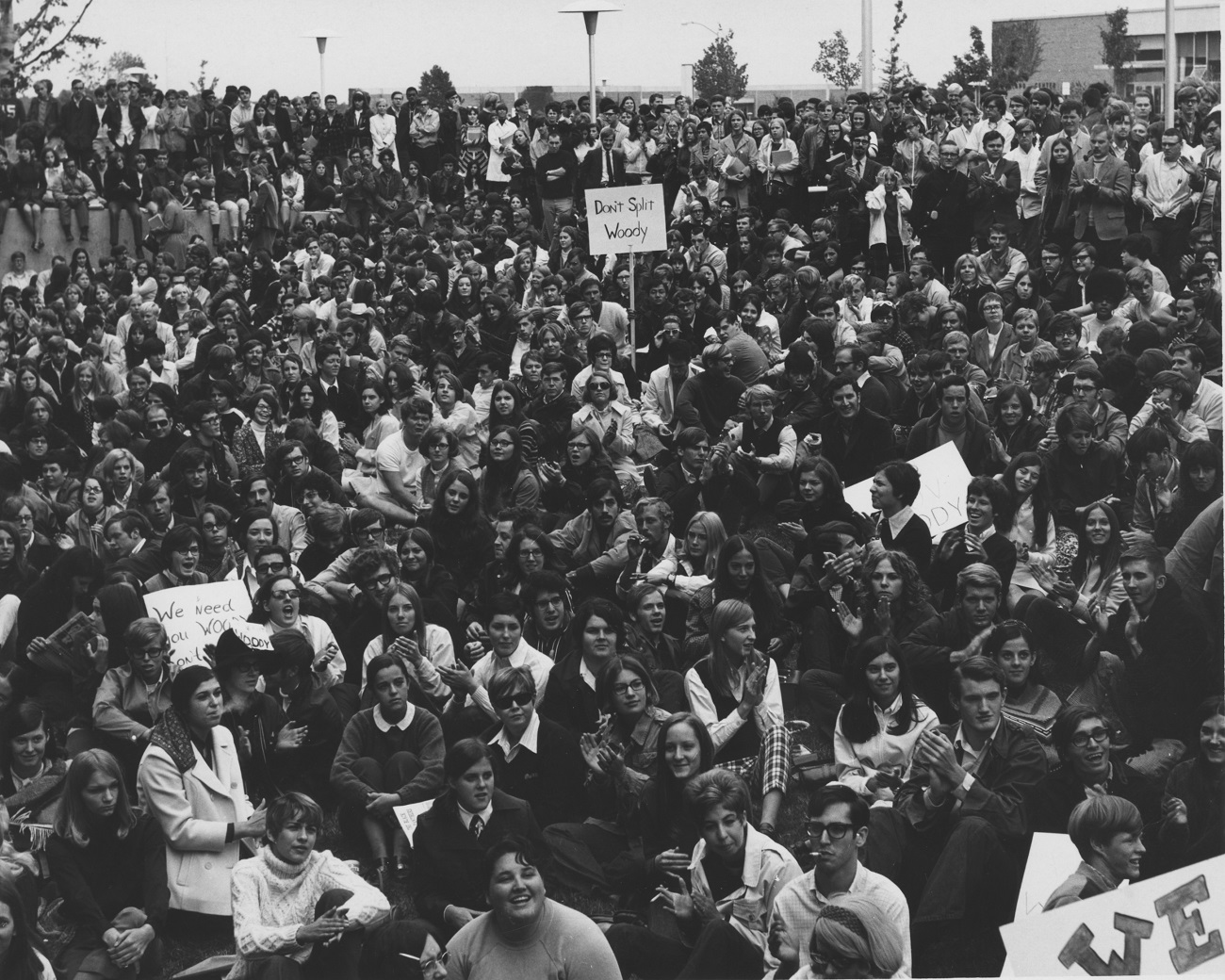 By the time Woody Varner left, there were 20 new buildings on campus.
The student body had grown from 570 to 6,000 and faculty from 23 to 238.
OU offered countless cultural events, especially the Meadow Brook Music Festival and Meadow Brook Theater.
In September 1969 hundreds of students, faculty and staff turned out for a massive "Keep Woody at OU" rally as rumors spread that the MSU trustees were considering him for the MSU presidency. Over 3,000 signed a petition asking him to stay.
Nevertheless, OU's beloved first Chancellor left a few weeks later.
Additional Resources
Interview with Durward B. "Woody" Varner, OU Chronicles
Other OU Chronicles tell stories about Chancellor Varner
Texas A&M University Corps of Cadets, Lt. Col. Durward B. "Woody" Varner '40
Nadji White Reynolds, "Memories of MSUO"
D.B. Varner, "All Men Must Have Freedom" (April 1969 Commencement speech, reprinted in the Detroit Free Press, May 9 1969)
Credits
All images are from the Oakland University Archives
Text and images: Copyright Oakland University