Introduction
Born from the innovative and industrious minds of Oakland University's founding fathers, the Meadow Brook Music Festival boasts a history as varied as it is remarkable. 
Since its founding in 1964, the Festival has been through a variety of stages — enjoying a rapid ascension from winsome idea to cultural icon, followed by a worrying decline and careful yet uncertain reconstruction.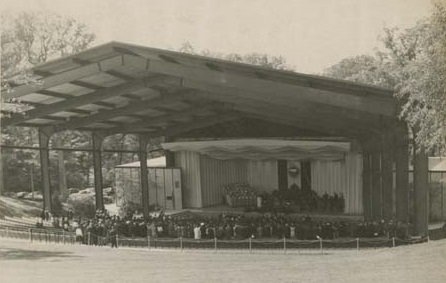 Though markedly divergent from the original intentions for its programming, the Festival continues to be a source of pride and satisfaction to not only the university but also the surrounding community, a testament to the determination of a beloved idea and the perseverance to bring that idea to life.
------
Credits
Research and text by Emily Benoit; edited by Dominique Daniel
All photos from Oakland University Archives
1963-1964: Conception, Planning and Development
Conceived by Chancellor Varner and planned by Oakland University administrators, the Meadow Brook Music Festival was supported by local business and community leaders. The goal was to give the public high quality classical music by the Detroit Symphony Orchestra in an exceptional outdoor setting.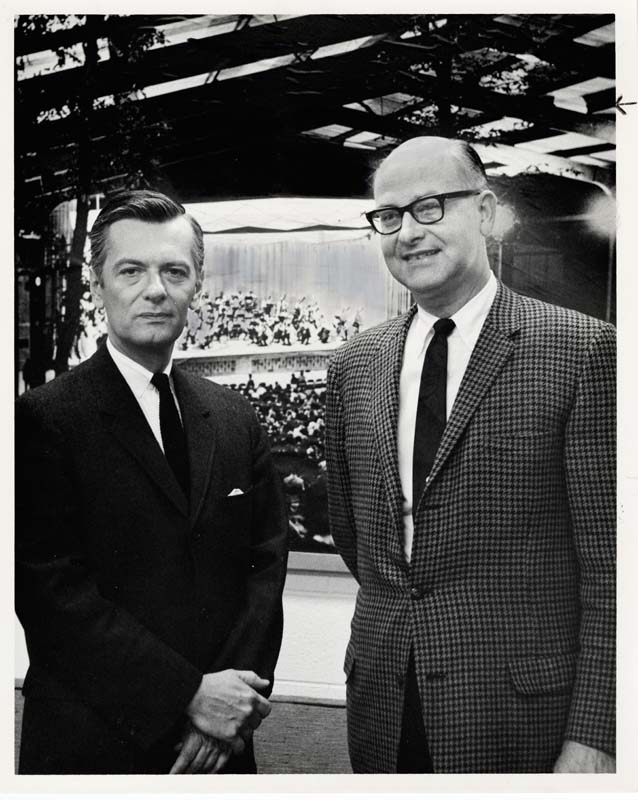 James D. Hick, Festival Manager, with OU President Varner at the Festival
December 1963:  The Meadow Brook Dream
Credit for the Festival's inception and success is due to a variety of individuals, the first being D.B. "Woody" Varner, Chancellor to Oakland University.  Having harbored visions of transforming the university into a cultural center for the performing arts, Varner sought partnerships with other like-minded individuals to bring this dream to reality. 
First to join the task force was Walter Collins, chairman of Oakland University's music program, who introduced the idea of an on-campus summer music festival open to the public. 
Collins maintained that a music festival featuring an accomplished orchestra would be well-suited to Varner's aspirations. And what better musicians to feature than the illustrious Detroit Symphony Orchestra (DSO)? 
February 1964:  Planning and Development
Jim Hicks, previous assistant manager to the DSO, stepped into the role of Festival manager.  He helped provide publicity which emphasized the historical, social, and economic impact the Festival would have on the community. 
Such outreach proved essential to obtain funding from local businesses. GM's Vice-President Semon Knudsen and his wife Florence became benefactors and strong supporters of the cause, lending their time and energy to head the Festival's executive committee. 
Positions on the executive board of directors were also filled by members of the leading automotive industries.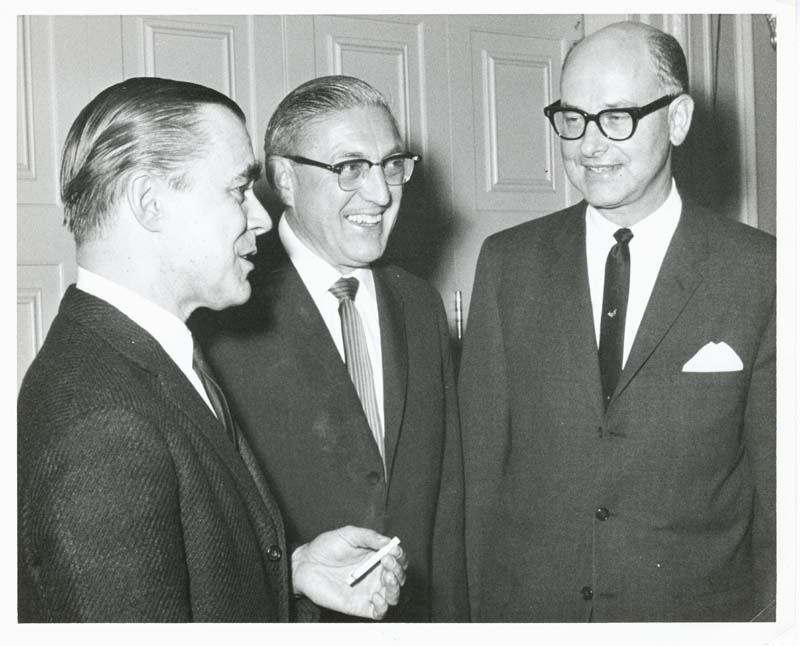 Woody Varner (right) with Sixten Ehrling (left) and Semon Knudsen (center), ca 1964
A Festival for everyone
Formal plans for the Festival were announced in February of 1964, followed by a ground-breaking ceremony on the 29th of the same month.  An artistic, affordable, and conveniently-located cultural experience was promised, as were informal dress codes and family style refreshments.  This would be an event that would delight both symphonic enthusiasts and casual listeners, providing wholesome family fun for people of all ages. 
It was noted, too, that financial support from the public would be neither sought nor required for the completion of the project, as many donors from the Detroit-area business community had provided much of the necessary funding.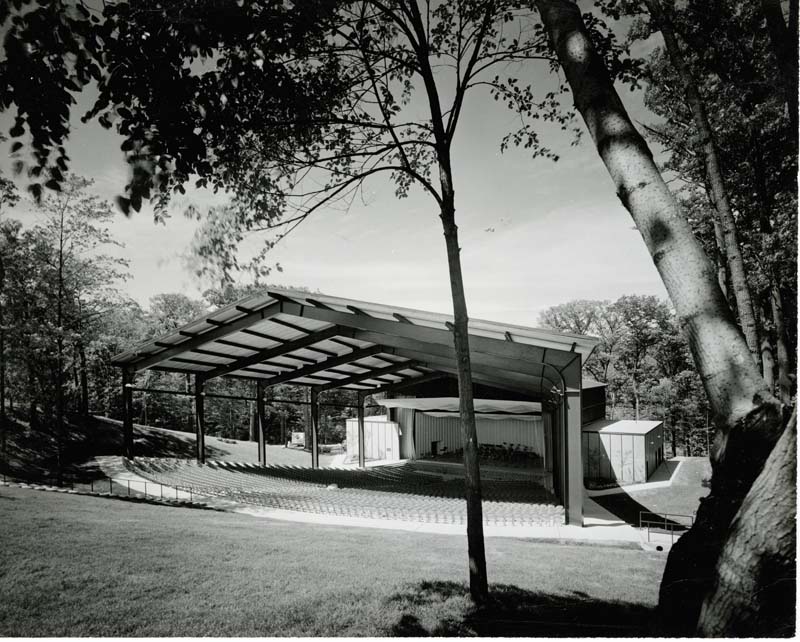 February-July 1964:  The Howard C. Baldwin Memorial Pavilion
It took only 2 months to arrange and finance the Festival. 
Concerts were to be held within a newly-engineered pavilion situated near the bottom of a wooded ravine, at the suggestion of Festival Committee Honorary Chairman Matilda Wilson, who lent her support and property to the project. 
Named in memory of Kresge Foundation former trustee and board member Howard C. Baldwin, whose Foundation funded the pavilion's construction, the Baldwin Pavilion was said to possess the finest quality acoustical se-tup of any outdoor sound system in the country. 
Its design and capabilities were crafted by designer and engineer Christopher Jaffe who created its "pre-tunable sound", a flexible fiberglass concert shell able to balance and adjust the sounds of the orchestra for maximal effect. 
5 months, from the ground-breaking ceremony in February to the end of July, marked the time it took to construct Jaffe's masterpiece.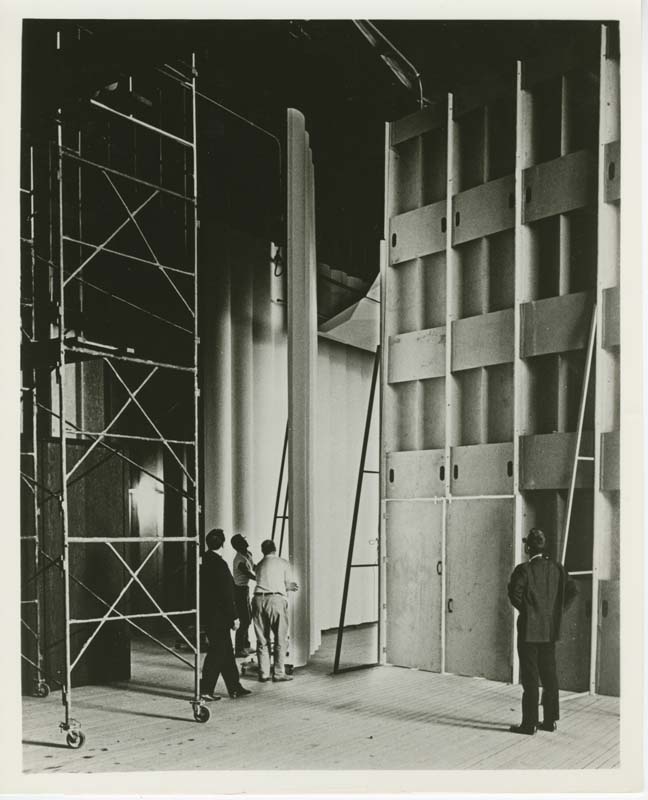 Christopher Jaffe's flexible fiberglass concert shell, 1964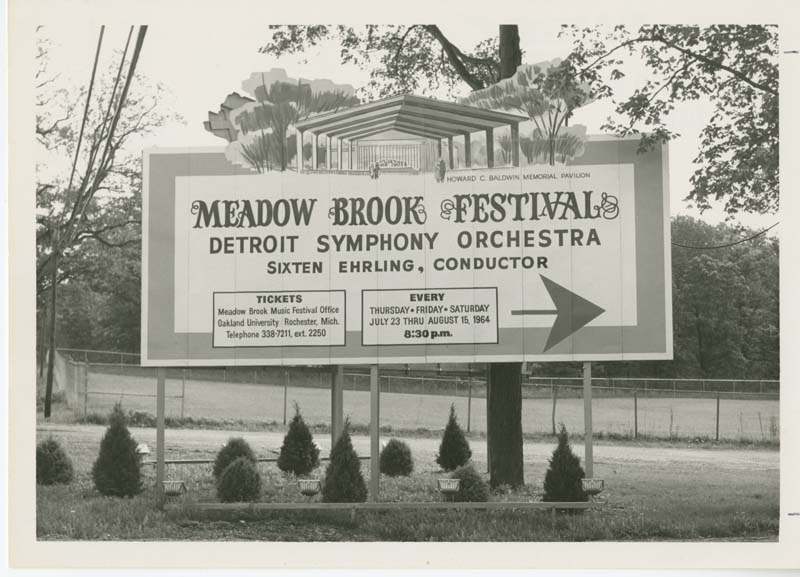 Meadow Brook Music Festival Signage , 1964
July 23, 1964:  First Performance
Varner and Howard Harrington, the orchestra manager at the time of the Festival's construction, would settle for nothing less than the best programming.  Audience demographics suggested a preference for symphonic music, and the Festival began its first season on July 23 with spellbinding symphonic selections performed by the DSO conducted by Sixten Ehrling.
Both the Festival and the DSO reaped the rewards of this symbiotic arrangement, as the DSO was well-compensated for its time and effort while the Festival benefited from the Orchestra's notoriety. 
The Festival then experienced a tremendously profitable 5-year "honeymoon" period, with over 40,000 guests in attendance per season and revenues at least 20 % higher than originally anticipated.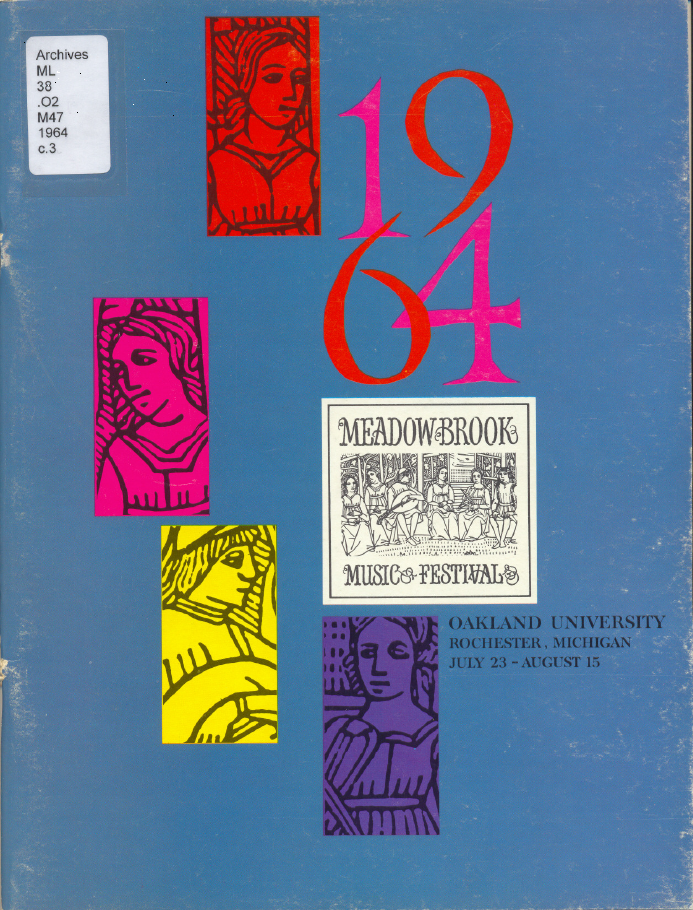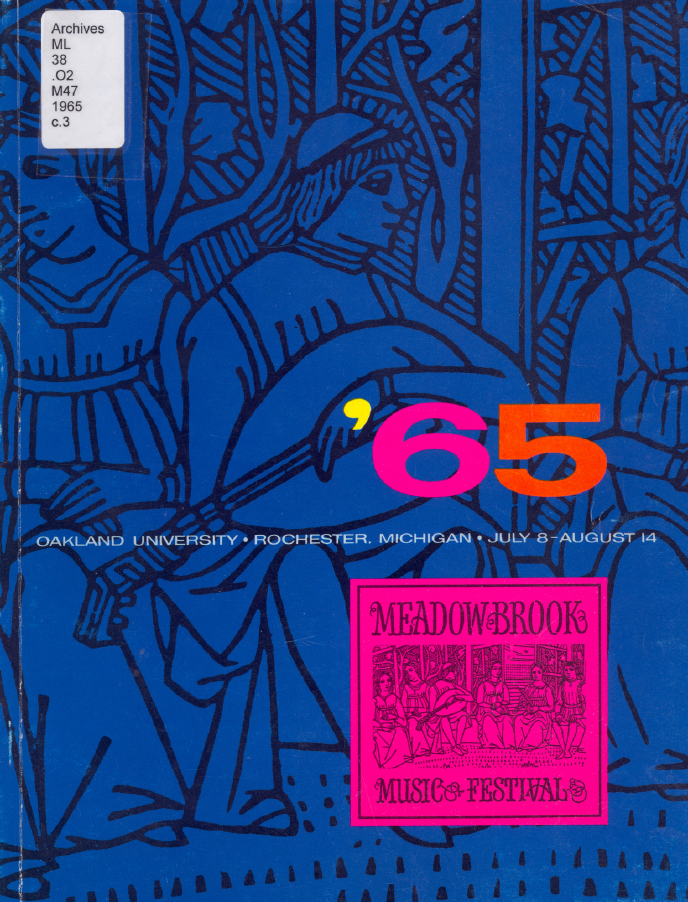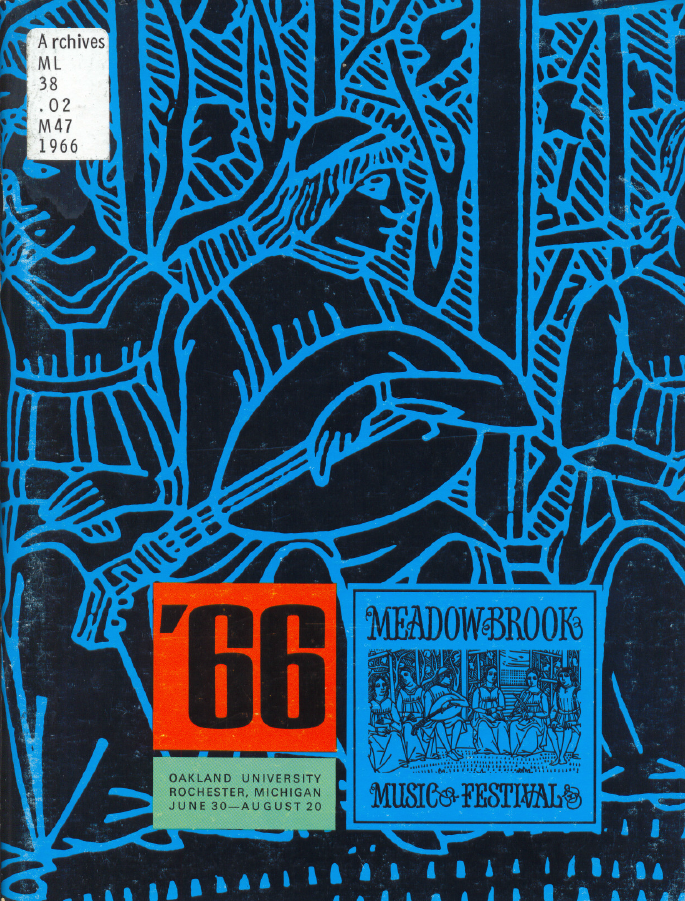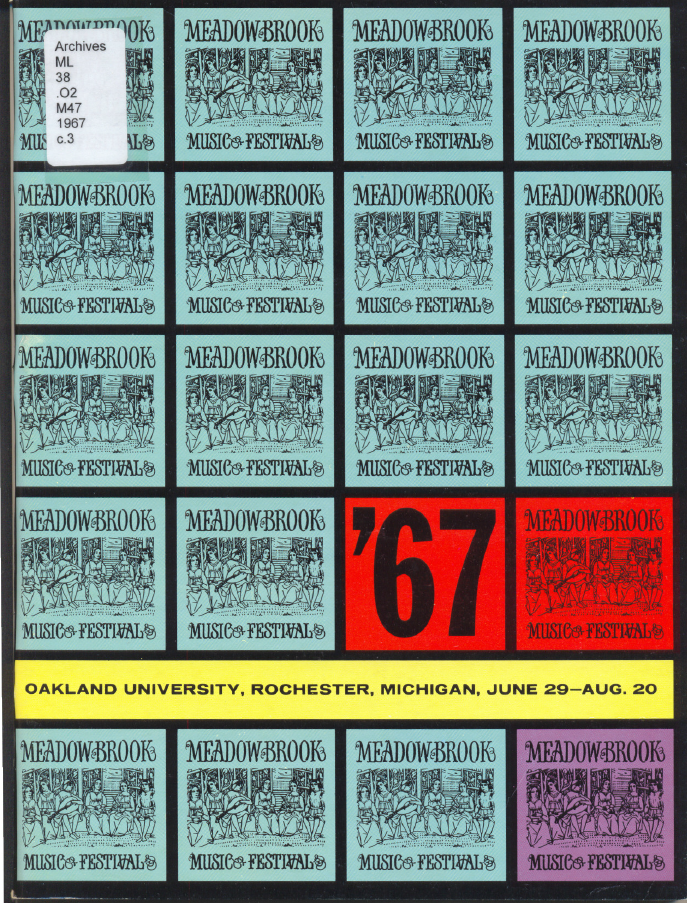 1964-1969: Early Successes and Challenges
1964-1966:  The "golden age" of the Festival
1964 through 1966 was Meadow Brook Music Festival's "golden age": attendance was high, and Varner and his executive team were proud of what they had accomplished against financial and time-restrictive odds. 
The Festival maintained its image of accessible cultural excellence that benefitted the campus community, the reputation of the DSO, and the pleasure and enlightenment of the public.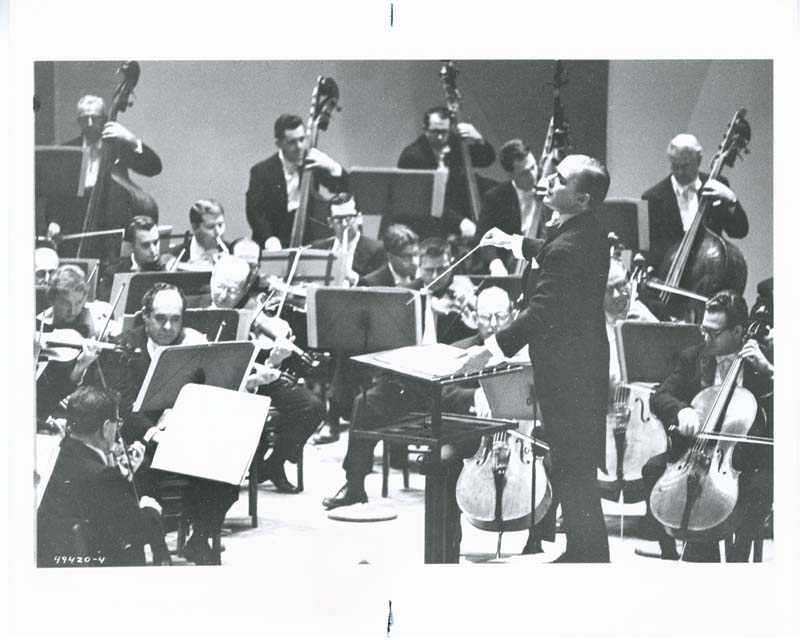 New developments included:
a Meadow Brook Summer School of Music, which allowed interested students to gain course credits under the tutelage of the art's most distinguished figures;
various commissions of contemporary music, the intent of which was to bring something new to the Festival and hopefully attract international attention;
guest performances by musical virtuosos such as cellist Gregor Piatigorsky, conductor Andre Kostelanz, and others. 
1967-1969:  a Slow Decline
The visions of the Festival founders may have remained constant, but those of the community did not.  Attendance and monetary support levels had begun an infinitesimal drop after 1965; public interest maintained a steady decline following the 1966 season. 
This gradual downturn was due in part to a lack of audience enthusiasm in the Festival's continual classical programming.  A symphonic experience available for public edification initially struck as an engaging novelty; unfortunately, it was unable to engage the attention of the general public for more than a few years.
Not only this, but attempts to bolster the Festival's status through diversified content and guest appearances eventually became more costly than they were profitable.  Ticket sales alone were not enough to support the growing costs of procuring entertainers, and the generosity of community and business donors could not be increased. 
Festival executives and administrators refused to seek financial support from the general public, or to raise ticket prices. 
As attendance levels continued to drop and contributors' financial support began to dwindle, the Festival Committee began to reassess its perceptions of how to promote and protect what it had worked so arduously to create.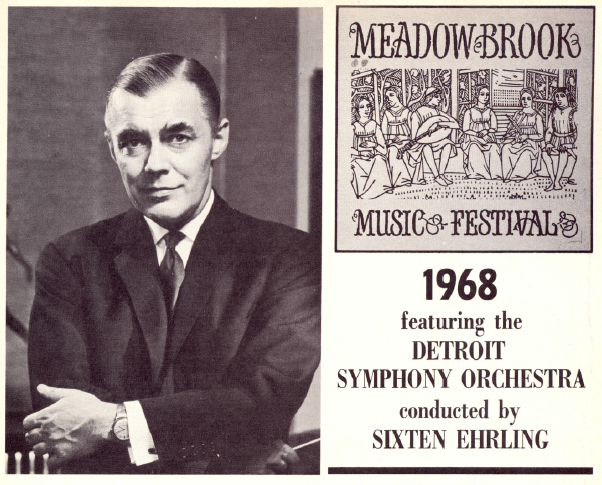 1969:  Salvation Efforts
Committee members were reluctant to alter the musical content from symphonic to contemporary, as to do so would be rejecting the cultural aspirations upon which the Festival had been founded. 
Corners were cut in the forms of the School of Music, which disbanded after 1969 due to lack of funding for scholarships and guest educators.  A Special Events Series was attempted, featuring pop music and artists that should have appealed to a more widespread audience. 
This salvage effort ended in failure, as the idea of a classically-programmed Festival turning to "pops" did not sit well with audiences.  Overall attendance had dropped dangerously, as had funding provided by the business community. 
The Festival could not risk sacrificing content or culture any more than it had attempted at the risk of becoming a shadow of its former state.  Its only hope was to turn its attention to the matter of audience development and the restructuring of its administration.
1970-1972: A Second Chance
Various executive staff members were brought on board to develop a "new look" for the Festival, and through these individuals a shot at redemption was offered.
New leaders
October 1969 saw the installment of several new executive staff members. 
John DeCarlo, appointed by Varner to serve as Assistant Chancellor for the Performing Arts, was instrumental in taking on a significant amount of Varner's workload as well as re-evaluating a variety of the Festival's financial and promotional expenditures.   
Elliot and Connie Estes were appointed Chairpersons of the Meadow Brook Festival Executive Committee. They shared DeCarlo's enthusiasm for Meadow Brook's continual renewal and growth.  Suspending any particular plans for the Festival for the moment, both DeCarlo and the Estes agreed that efforts be focused on the most pressing issues: funding and programming.
A final addition to the Meadow Brook executive team was Sandor Kallai, following Hicks' resignation as Festival manager in 1969.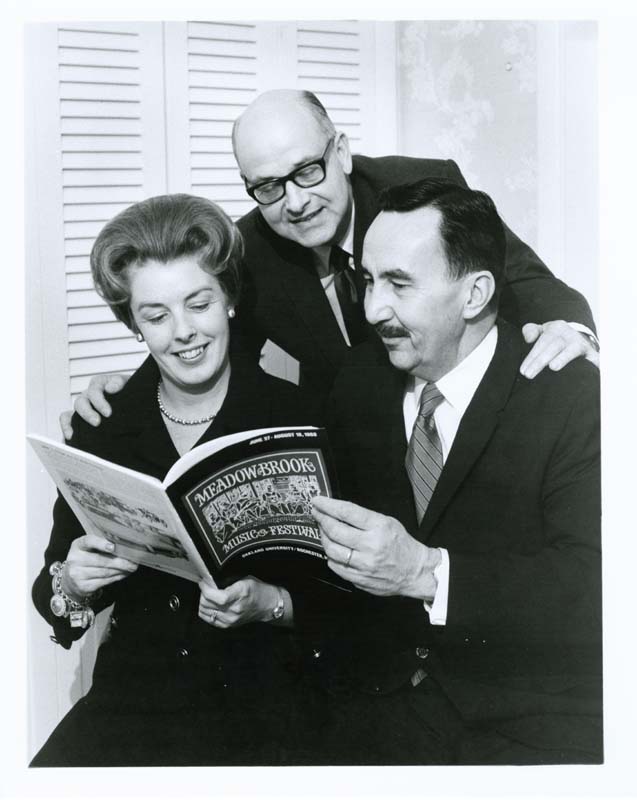 New programming
Though he acknowledged the significance of symphonic music selections as well as the founder's general dislike of "pops" music, DeCarlo realized that without some variation in programming the Festival would not survive. 
He proposed an alternative schedule as a compromise, a mixture of freshly-chosen symphonic selections provided by the DSO and one evening each of symphonic "pops" music and performances by current recording artists. 
With a broader range of genres from which to choose, it was DeCarlo's theory that audiences would be more inclined to turn out for the variety being offered. 
Sandor Kallai placed specific emphasis upon providing audiences with a current, popular format.  His rationale for this was due to his shared desire to preserve the classical formatting the Festival had been built upon: If a popular format was what got attendance levels up and tickets sold, it would prolong the life of the Festival.  In doing so, symphonic music would remain a part of that life for as long as it was intending to last.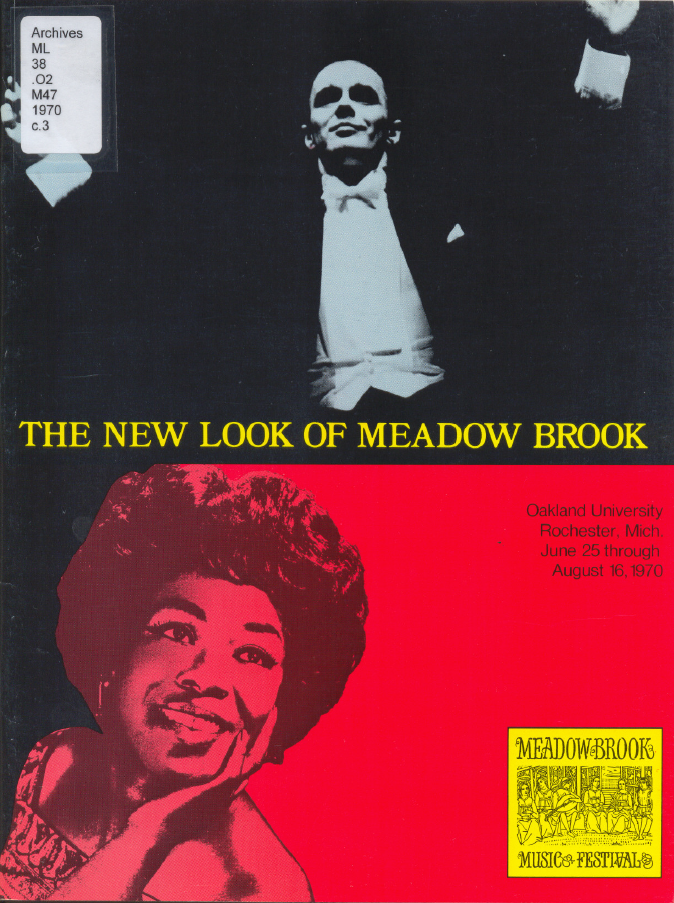 Advertising efforts increased and expanded, extending the Festival's mailing list to target a greater, more varied audience.  New contracts between the Festival and the DSO were drawn as well, redefining the relationship between both institutions. 
This was an effort which was met with initial reservations from casual audiences, purists, and critics alike, but the Festival team stressed the importance of change as a part of any process of growth. 
1972:  The Festival's Fresh Start
Under the diversified programming, the Festival began to thrive once again. 
Attendance levels increased slowly, then surely; performances began turning greater and greater profits; revenue provided through the "pops" programs was used to bring in contemporary performers such as Victor Borge and Sarah Vaughan while still featuring the requested classical programs. 
The Festival began relying less heavily upon the generosity of surrounding businesses and entered a new level of self-sufficiency. 
Programming diversified farther, featuring not only a wide range of musical talents but also dance and theatre performances as well. 
The grounds around the Pavilion were updated as needed, giving the Festival a new look to complement with its new format.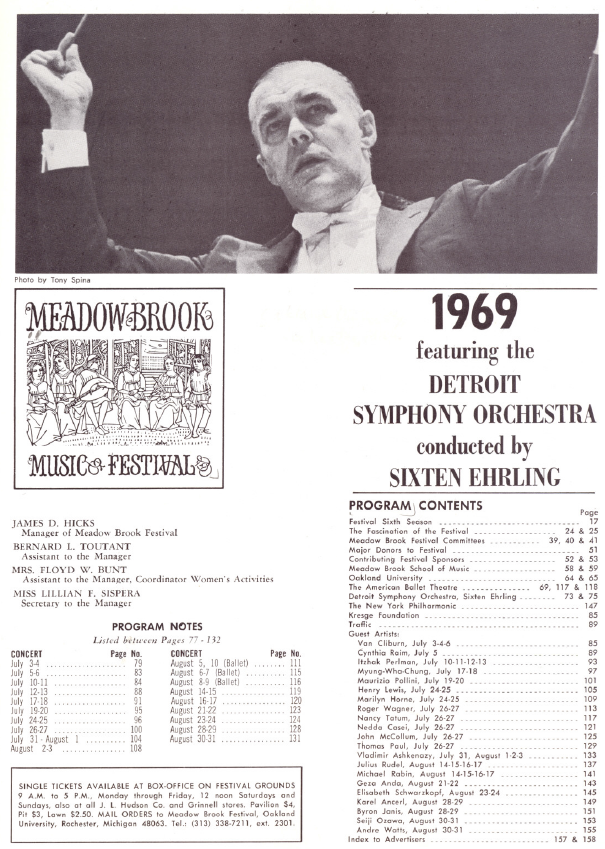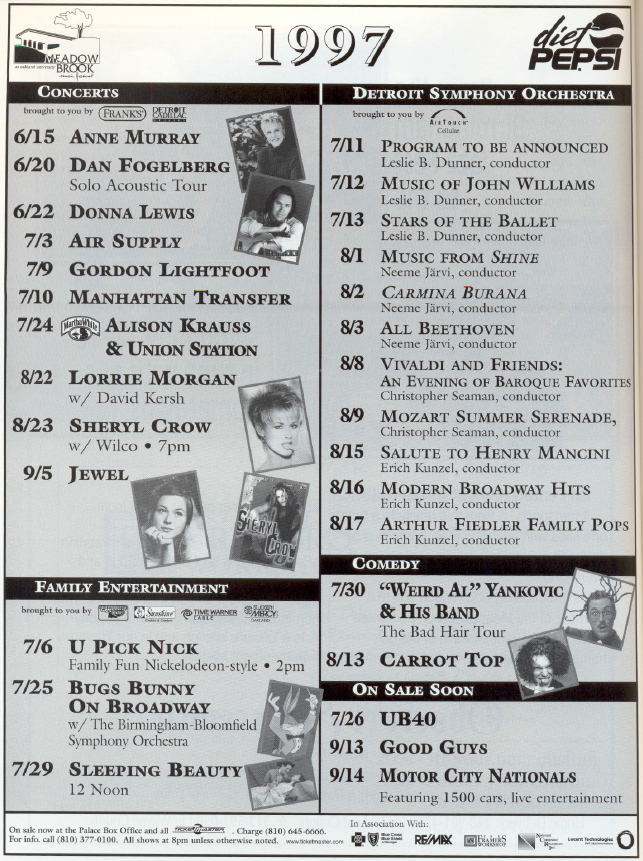 The Festival Today

While Meadow Brook Music Festival has changed from its initial conceptions in regards to programming, it has retained its status as a prominent cultural center within the musical community.    
Currently under the management of Palace Sports and Entertainment since 1994, the Festival has expanded even farther, upgrading its sound and electrical systems, increasing seating capacity, and adding a larger marquee to better accommodate a new generation of patrons and music lovers. 
Throughout the year, people of all ages are invited to experience the variety of performance arts—dance troupes, solo artists, rock bands, and family shows—that the Festival is proud to offer.
For More Information
Oakland University, OU Firsts
Daniel F. Ring, "The Encouragement of the Fine Arts at Oakland University: The Meadowbrook Music Festival, 1964-1972" (unpublished paper, Oakland University Archives - ML38.02 R5)
Meadow Brook Music Festival, Program Collection (Oakland University Archives)
Palace Sports and Entertainments, Meadow Brook Music Festival