Oakland Center
Built: 1959 | Type: recreational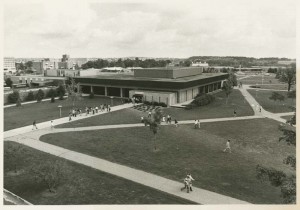 Quick Facts
Groundbreaking: January 1959
Building Dedication: December 1959
Cost: $523,683 for initial construction, with various editions made and financed over the years
Architect: Swanson Associates, Inc.
Construction: J.A. Fredman, Inc.; Schurrer Construction Co. for addition(s)
Funding:  for initial construction, Oakland County Board of Supervisors' pledge in assisting with payments to a federal loan through the Home Finance Agency
Specifications: 65,200 sq. ft. for initial construction, with various editions made over the years
History
The Oakland Center was one of Oakland University's initial constructions, designed to promote student recreation between long class hours in Foundation Hall.  The building was divided between a kitchen, cafeteria, and multiple student lounge spaces.  Initially proposed to accommodate 1,500 students, the OC was specifically designed to favor future expansion efforts as Oakland's enrollment increased. The first addition was built in 1961, only one year after the completing of the original building.
While the intention for the OC was to provide students with a place to relax and unwind, it also served as a center for meetings and events related to academics, culture, recreation, and student services.  With several meeting rooms able to accommodate lectures, guest speakers, and ceremonies, the OC hosted a variety of special events - from awards banquets and celebrity visits to poetry readings, art fairs, and weekly dances in the 1960s.
The basement level of the OC  includes a game room, student activities, services, and organizations offices, University bookstore, student radio station. Originally, it had a barber shop and a post office. The OC was also home to Charlie Brown's, a small concession shop which sold newspapers, magazines, snacks, and cigarettes from the 1960s until 1980. Operated by Edward "Charlie", both the stand and its owner were extremely popular with students, who frequented the stand for its convenience and charm.  Charlie Brown's closed after Brown's death in 1981, but remains a much-loved aspect of the OC's history.
Various architectural changes have altered the appearance of the OC, but it has nevertheless remained a popular, active hub for student life on Oakland University's campus.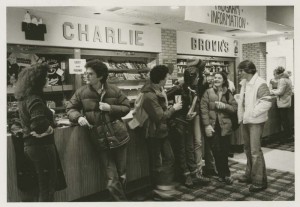 Students in front of Charlie Brown's, circa 1980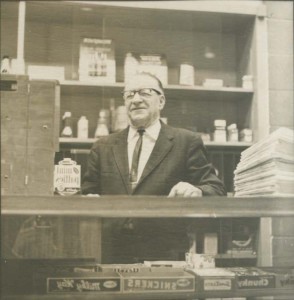 Ed "Charlie" Brown, behind the counter of his popular concessionary