Public Safety and Service Building
Built: 1975 | Type: administrative and auxiliary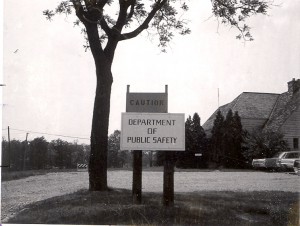 Quick Facts
Construction onset: September 11, 1974
Building Dedication: August 10, 1975
Cost: $920,000
Architect: Denyes and Freeman Associates, Inc.
Construction: F.W. Fordon Co.
Funding: Joint Capital Outlay Committee of the State of Michigan Legislature
Specifications: 24,500 sq. ft.
History
This on-campus utilities facility unites a variety of offices and departments responsible for the safe and successful facilitation of on-campus administration. The Department of Public Safety, University Services, and the Physical Plant are all under the Public Safety and Service Building's roof.
Photos courtesy of the Oakland University Archives.
Created by Mariela Hristova / Updated on May 24, 2019 by Mariela Hristova