Pryale Hall
Built: 1963 | Type: student residences, instruction and research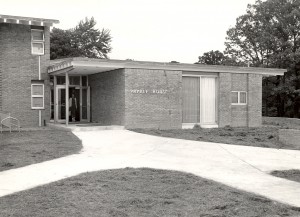 Quick Facts
Ground-Breaking Ceremony: November 6, 1962
Structure Completion: 1963
Cost: $335,731.93
Architect: L.G. Redstone Architects, Inc.
Construction:  Frank Rewold and Son, Inc.
Funding: Funding was provided through a $450,000 donation from the Pryale Foundation.
Specifications: 20,829 sq. ft.; capable of accommodating approx. 96 students
Namesake: Mr. and Mrs. Harry M. Pryale, residents of Bloomfield Hills. Mr. Harry M. Pryale served as president and board chairman of Baldwin Rubber Company of Pontiac at the time of the building's construction.  $345,000 of the $450,000 gift donated by Mr. and Mrs. Pryale was put towards the construction and furnishing of Pryale House; the remaining balance was put towards other miscellaneous campus projects.
History
Pryale House was the third residential student dormitory at OU. Like Anibal and Fitzgerald House, it was designed to create smaller, congenial groups and avoid big, impersonal dormitories. It was constituted of two wings of 48 students each, joined by a resident adviser's apartment. Unlike the other 2 halls, it was intended to be co-educational. A month-long strike of structural iron workers delayed its opening.
Pryale House has since been employed as faculty and staff offices, predominantly for the Psychology Department at Oakland University.  Psychology undergraduates or general education scholars will often find themselves heading over to Pryale Hall to serve as participants in graduate-level or faculty research projects, either as a class assignment or for extra credit.
Photos courtesy of the Oakland University Archives.
Created by Mariela Hristova / Updated on May 24, 2019 by Mariela Hristova