Pawley Hall
Built: 2002 | Type: instruction and research, administrative and auxiliary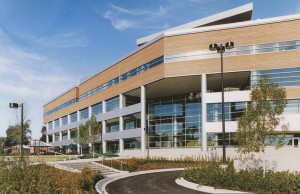 Quick Facts
Ground-Breaking Ceremony: April 18, 2001
Grand Opening Ceremony: October 18, 2002
Cost: $31.5 million
Architecture and Construction: J.M. Olson Construction
Funding: $23.6 million provided by the State of Michigan capital outlay budget; $7.9 million through the issuance of general revenue bonds.
Specifications: 132,406 sq. ft.
Namesake: Carlotta and Dennis Pawley. OU alumnus and Board of Trustees member Dennis Pawley made considerable donations to the university. In February 2002, the Pawleys funded a $1 million endowment to establish the Pawley Lean Learning Institute.
History
Oakland University's School of Education and Human Services was recognized in 2002 as the largest professional school campus-wide, with over 5,000 undergraduate and graduate students enrolled.  To bring it all under one roof Carlotta and Dennis Pawley Hall was designed, planned, and built in merely 18 months.
Pawley Hall contains 5 floors of classrooms, instructional labs, faculty and administrative offices, and the Educational Resources Lab, which allows students full access to electronic and physical books and materials needed for their teaching coursework.  Housed within Pawley's walls is the Lowry Early Childhood Center, a source of support and instruction to parents, students, and children who are seeking a safe and engaging environment in which to learn and grow.
Photos courtesy of the Oakland University Archives.
Created by Mariela Hristova / Updated on May 24, 2019 by Mariela Hristova