Elliott Tower
Built: 2014 | Type: recreational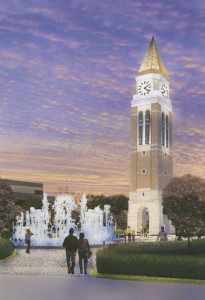 Quick Facts
Ground-Breaking Ceremony:  April 19, 2013
Building Dedication:  September 19, 2014
Cost:  $6.5 million
Architect:  Niagara Murano Architects of Rochester, MI
Construction:  The Verdin Company;bells and keyboards cast and built by the Royal Bellfoundry Petit & Fritsen (Netherlands)
Funding:  A gift of $6.5 million was given by OU benefactors Hugh and Nancy Elliott, who have contributed to a variety of University institutions and funds over the past 15 years.
Specifications:  151 feet tall; 49 bells
Namesake:  Oakland University benefactors Hugh and Nancy Elliott
History
Hugh and Nancy Elliott's affection for Oakland University began with their son Chad's 2007 graduation and impressive career as a member of Oakland's golf team.  This affection has culminated into nearly two decades of enthusiastic support of the University. Their desire to provide the University with a bell tower - which not only beautifies the campus, but also provide a common area for student meetings and organizations - was met with gratitude and enthusiasm by the University's governing members.  Completed in September 2014, the Elliott Tower includes 49 carillon bells and stands at 151 feet tall, making it one of the tallest bell towers on any United States university campus.
Dennis Curry, local carillonneur and longtime friend of the Elliotts, serves as the university carillonneur.
For more information, visit Oakland University Elliott Tower.
Photos courtesy of the Oakland University Archives.
Created by Mariela Hristova / Updated on May 24, 2019 by Mariela Hristova