Mike Rogers
Early Life
Mike Rogers was born on June 2, 1963 in Livonia, Michigan, the youngest of five sons. He spent most of his youth in Livingston County, growing up in Howell and Brighton. His father was a teacher, Brighton Township board member, and township supervisor. His mother was an executive director of the Brighton Chamber of Commerce for 25 years. Rogers graduated from Adrian College in 1985 with a degree in Sociology and Criminal Justice. Rogers co-founded EBI Builders, a construction company, with his brothers that year before joining the United States Army.
Military and FBI Service
Rogers served as a commissioned officer in the United States Army through the Reserve Officers' Training Corps. He held the rank of Second Lieutenant and became a company commander, serving from 1985 to 1989 in a forward maintenance company that pioneered the Army's new "light division" concept.
In 1989, Rogers attended the FBI academy and then joined the FBI as a special agent. In his five-year career at the FBI, Rogers investigated corruption cases in and around Chicago. His work led to the arrest and conviction of a local crime boss, as well as the town president (Betty Loren-Maltese) and a former chief of police (Emil Schulio) of Cicero, IL. Loren-Maltese and Schulio were arrested on charges of racketeering conspiracy, money laundering, fraud, and tax offenses, which involved the expropriation of $10 million in taxpayer money.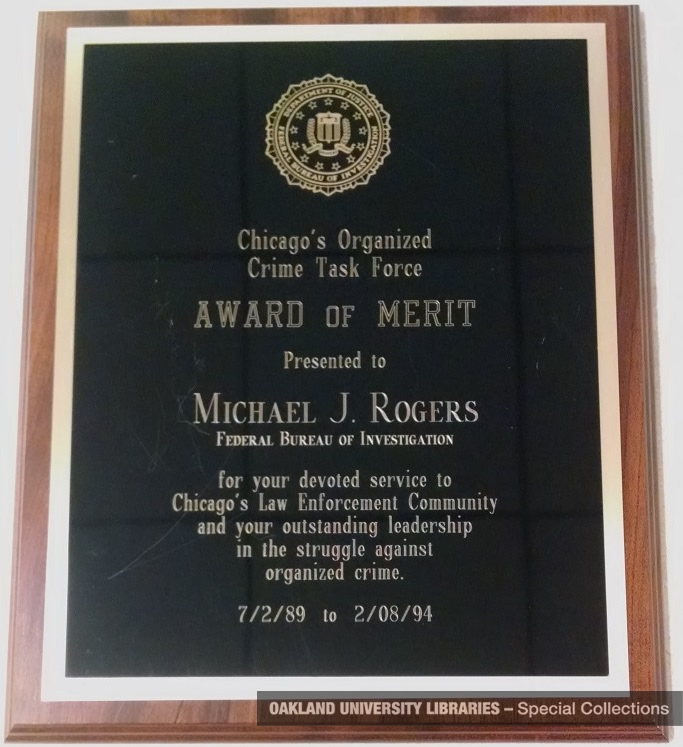 Michigan Senate
Rogers entered public service in 1994, running as a Republican for a Michigan Senate seat in the state's 26th legislative district. He at first ran against an incumbent, who later decided not to seek re-election. This district included Livingston County, Clinton County, and Shiawassee County. Rogers defeated Democratic challenger Mike Hatty that year and began the first of two terms in the Michigan Senate. With a legislative agenda focused on easing regulations on small business, protecting consumers from monopolies, and fighting Internet crime, Rogers was a key ally of Governor John Engler and an increasingly important figure within the Senate leadership. Rogers was placed on several committees and was the Chairman of the Senate Committee on Human Resources, Labor, and Veterans Affairs. He was elected by his peers to served as Majority Floor Leader between 1999 and 2000.
Rogers' chief accomplishments in the Michigan Senate included extending the Michigan Veteran's Trust Fund in 1995 (which provided grants to veterans in times of economic emergency), banning telephone "slamming" (telecommunications companies exchanging customer contracts without customer consent), and creating the Michigan Education Savings Account program, which allowed Michiganders to make tax-free donations to students' higher education expenses. Rogers attracted public attention during his Senate career as a result of other projects, as well. These included the introduction of a bill aiming to ensure compliance with federal marijuana possession laws by the city of Ann Arbor, which did not pass, and another bill  that required college students to vote in the same city in which their drivers licenses were registered, which did pass.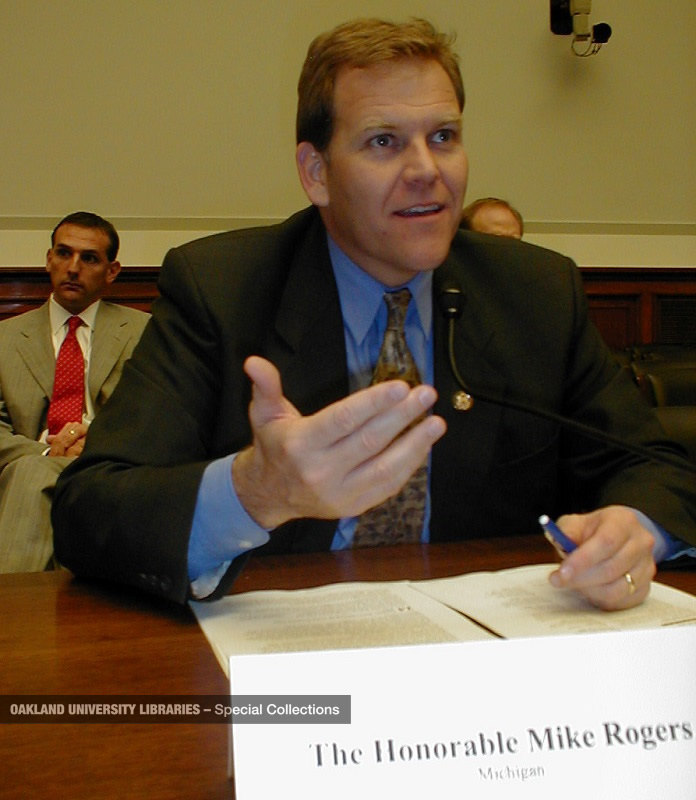 U.S. Congress
In 1999, Rogers announced he would run for Debbie Stabenow's seat in the United States House of Representatives. Rogers ran on a platform of protecting Social Security, modernizing Medicare, improving education, and strengthening the military. His Democrat opponent, Dianne Byrum, was a colleague of Rogers' in the Michigan Senate. The election in 2000 was characterized as amiable, but it was also unusually close, with Rogers winning by a mere 111 votes -- and only after a recount that lasted into December. The recount earned Rogers the freshman nickname, "Landslide Mike."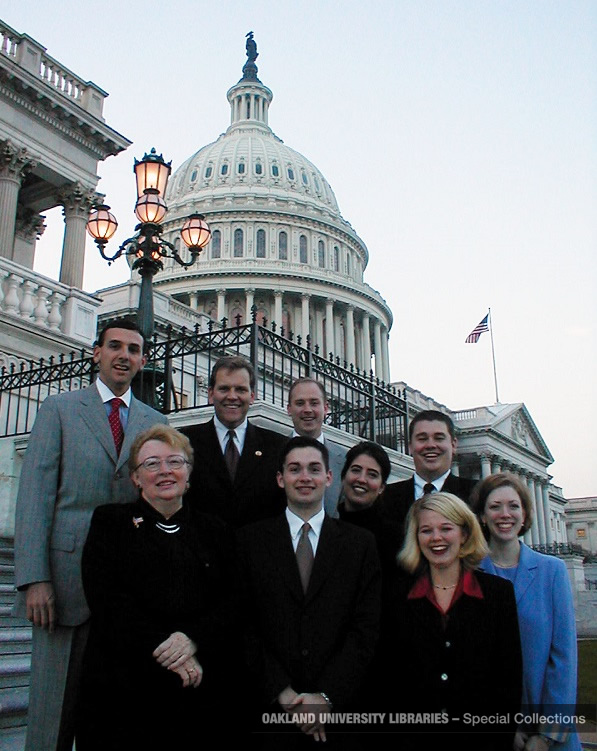 In the U.S. House of Representatives, Rogers was immediately recognized by the Republican leadership as a potential political star. He was made a deputy whip in February of 2001, and his plan for a national version of the Michigan Education Savings Account program was included in President George W. Bush's final tax cut proposal, which was signed into law. Rogers became a reliable ally for Bush from the beginning of his time in the U.S. House, supporting Bush's tax cuts as well as the President's education programs. This close relationship only increased after the attacks by Al Qaeda on the Pentagon and World Trade Center on September 11, 2001. Rogers – the only former FBI agent in Congress – became prized for his experience in law enforcement by the administration. He also became a leader on national security and foreign policy issues. He helped craft national security and foreign policy legislation in the aftermath of the 911 attacks, and became an expert analyst of the U.S. policy in Afghanistan and Iraq.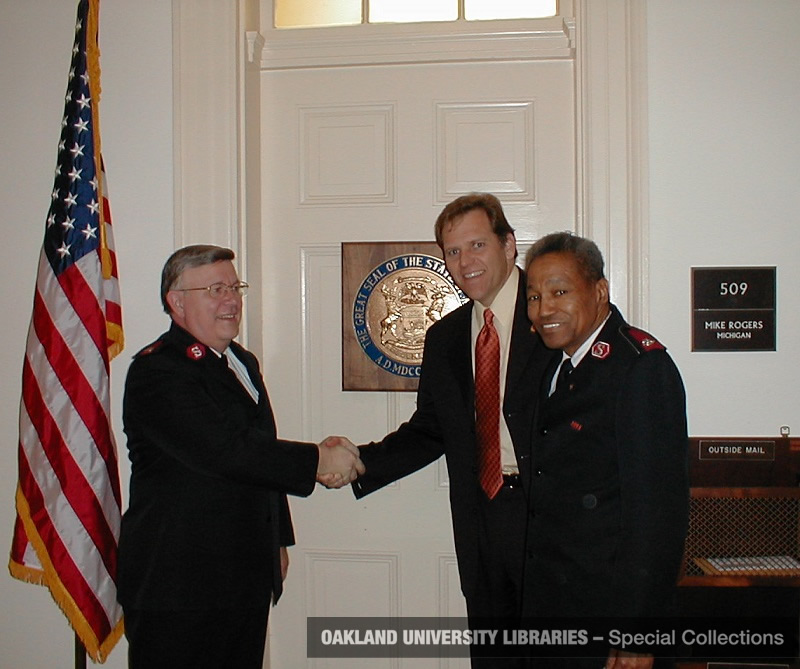 Rogers was a strong campaigner and remained popular in the district. Determined to hold onto the seat for which he had fought so close a battle in 2000, Rogers set a record for fundraising by a freshman Congressman, raising over $700,000 in under six months in 2001. With his grip on the 8th District secured through his fundraising acumen and favorable redistricting that he helped to shape, Rogers was never seriously challenged for his seat over his fourteen-year House career. He won three of his six reelection campaigns with over 60% of the vote, and the other four with over 55% of the vote. Rogers was recognized for his political know-how by the Republican leadership, which gave him leadership of the Republican National Committee's program for fundraising for close Congressional races (NRCC Battleground) in 2004, and an incumbency retention program in 2009.
Rogers sponsored or co-sponsored 106 bills in his fourteen years in the House of Representatives. He directed most of his efforts at health care and education legislation, but perhaps his most lasting achievement was the 2006 Respect for America's Fallen Heroes Act, which prohibited demonstrations at national cemeteries. This was a measure directed at the Westboro Baptist Church's protests in the vicinity of the funerals of American soldiers. Rogers also worked to fight oil-drilling in the Great Lakes, although he had to work out disagreements with Democrats in the House and Senate over the exact shape that such legislation should take.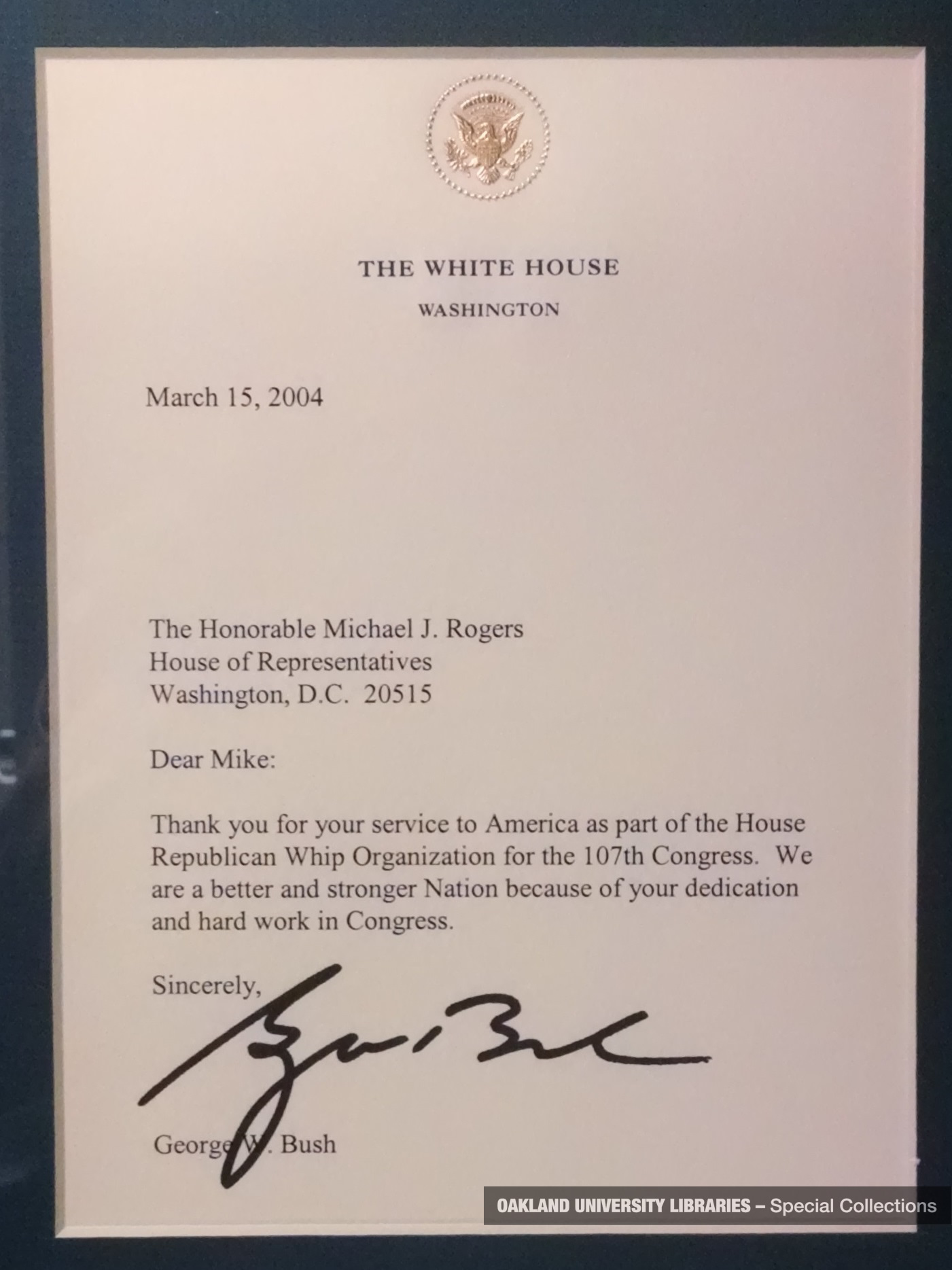 Chairman of the Permanent Select Committee on Intelligence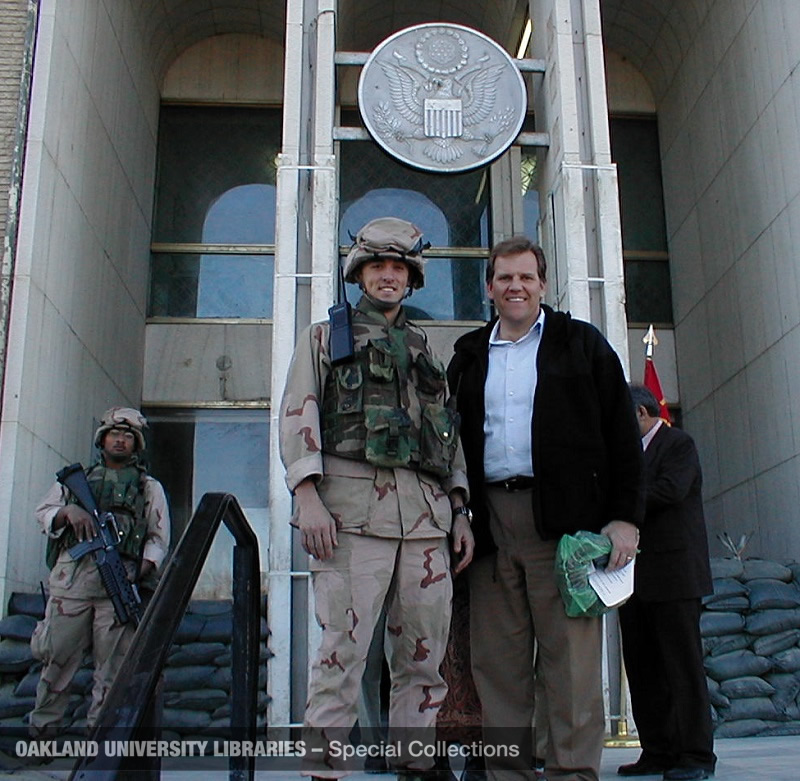 While the nation voted Democrat Barack Obama into the White House in 2008, Rogers continued to gain influence. For Rogers' decisive role in advising the White House on foreign policy, especially drone operations in Afghanistan in 2008, Republican House Speaker John Boehner awarded Rogers with the chairmanship of the House Permanent Select Committee on Intelligence in 2010. The committee is tasked with overseeing intelligence agencies such as the CIA and the National Security Agency. In Rogers' time as Chairman of the House Intelligence Committee, the committee was characterized by the press as an island of bipartisanship. Rogers, in collaboration with his committee member C.A. Dutch Ruppersberger, managed to pass the first intelligence-funding bill in five years (in 2011), and several others over subsequent years with wide bipartisan majorities.
Nevertheless, Rogers was a persistent critic of the Democratic administration under President Obama. A signer of the Americans for Tax Reform's pledge to refrain from supporting any increase in taxes, Rogers opposed Obama's tax increases throughout the President's two terms. Rogers also fought against the adoption of the Affordable Care Act in 2009, criticized Obama's plans to close the Guantanamo detention center in Cuba the same year, and in 2010 argued that the President's policies on interrogation techniques were too restrictive. In 2013, Rogers chaired a comprehensive intelligence committee investigation of the 2012 Benghazi attack on an American embassy which had resulted in the death of an American ambassador. While the investigation debunked several conspiracy theories concerning the intelligence community, Rogers continued to argue that the President and his administration's behavior had been incompetent and manipulative before, during, and after the event.
Retirement from Congress
In March of 2014, Rogers announced his decision not to seek re-election for Representative of Michigan's 8th District. Upon his retirement from politics in January of 2015, he began to host and produce a nationally syndicated radio program called "Something to Think About" on Westwood One. In May of 2016, CNN revealed that Rogers would host and produce a new television program on the history of American intelligence called "Declassified."
Timeline
| | |
| --- | --- |
| 1963   | born in Livonia, MI |
| 1977-1981   | Attends Howell High School |
| 1981-1985   | Attends Adrian College |
| 1985-1989 | U.S. Army service  |
| 1989-1994   | FBI Special Agent |
| 1994   | Defeats Mike Hatty for 26th District seat of Michigan Senate  |
| 1994-1998   | First Michigan Senate term |
| 1997   | Karen Simpson case |
| 1998   | Defeats Sylvia McCollough to win second term in Michigan Senate |
| 1998-2000 | Second Michigan Senate term (cut short by election to U.S. Congress) |
| 2000   | Defeats Dianne Byrum in US 8th Congressional District election by 111 votes. Recount finally ends in December. |
| 2001   | Pushes Education Savings Plan with President Bush   |
| 2001   | Appointed one of twelve House deputy whips |
| 2001   | Sets record for fundraising by a freshman Congressman |
| 2001   | Accompanies fact-finding mission to Israel |
| 2001   | September 11 attacks on the World Trade Center and Pentagon |
| 2001   | Consulted with President Bush on wiretapping practices/procedures after September 11 attacks |
| 2001-2014   | Operation Enduring Freedom |
| 2002   | Accompanies fact-finding mission to Afghanistan |
| 2002   | Wins second term, defeating challenger Frank Alpine  |
| 2002   | Selected to the House Energy and Commerce Committee |
| 2003-2011   | Operation Iraqi Freedom |
| 2003   | 8th District boundaries redrawn by Michigan legislature. Clinton County, southern Shiawassee County, and northern Oakland County added. Washtenaw County and Genesee County subtracted. |
| 2004   | Rogers picked to lead NRCC 2004 Battleground |
| 2004   | Wins third term, defeating challenger Robert D. Alexander  |
| 2005   | Fact-finding mission to Afghanistan |
| 2006   | Restructuring of Republican leadership in House |
| 2006   | Made Deputy Whip by Roy Blunt |
| 2006   | Wins fourth term, defeating challenger Jim Marcinkowski  |
| 2007   | Dispute with Congressman John P. Murtha over earmarks |
| 2008   | Plays role in convincing President Bush to allow expanded Predator drone strikes |
| 2008   | Wins fifth term, defeating Robert D. Alexander again  |
| 2009   | Heads NRCC incumbency retention program |
| 2010   | Affordable Care Act passed by US Congress  |
| 2010   | Wins sixth term, defeating challenger Lance Enderle  |
| 2010   | Made Chairman of the House Permanent Select Committee on Intelligence by House Speaker John Boehner |
| 2011   | American airstrikes on Libya |
| 2012 | Islamic militants attack the American Embassy in Benghazi, Libya, sparking controversy about the Obama administration's role in the response |
| 2012 | American airstrikes in Syria |
| 2012   | Wins seventh term, defeating challenger Lance Enderle again |
| 2013 | 8th District boundaries redrawn by Michigan legislature. Shiawassee County subtracted. More of Oakland County added. |
| 2014   | Rogers chairs Intelligence Committee report on Benghazi, finding no evidence of conspiracy by the Obama administration |
| 2014   | Announces retirement from US House of Representatives |
| 2015   | Retires from US House of Representatives |
| 2015   | Debuts radio show on Westwood One |