OU Libraries Timeline: events
1968: First Glyndebourne picnic
The first Glyndebourne picnic was held as a fund raiser by the Friends of the Library. The theme was 'My Fair Lady'. This year's picnic raised $2,117 for the library's collections, which went to fund the purchase of 16th and 17th century English literature. The picnics continued as fundraisers from 1968-1976 and resumed for a time during the 1980s.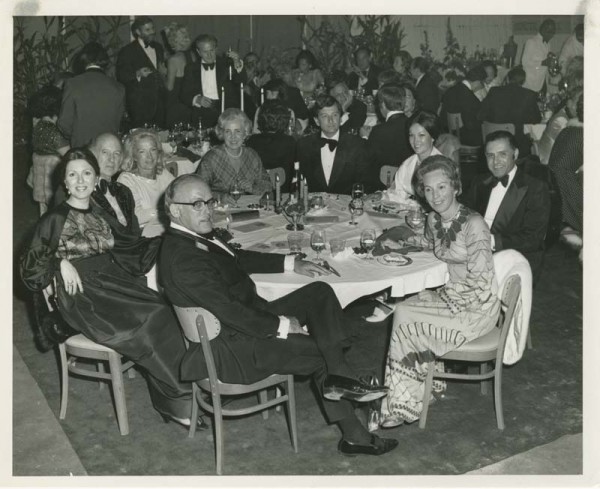 1970: Student protest
A group of students, protesting university policies on gender issues, environmental concerns, and military recruitment on campus, took approximately 2500 books from the library and held them at the Oakland Center as a way of attracting attention to their causes.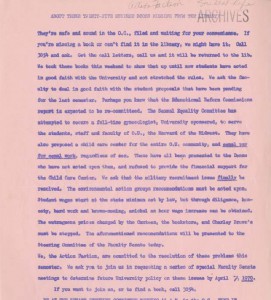 1971: OU La Raza Day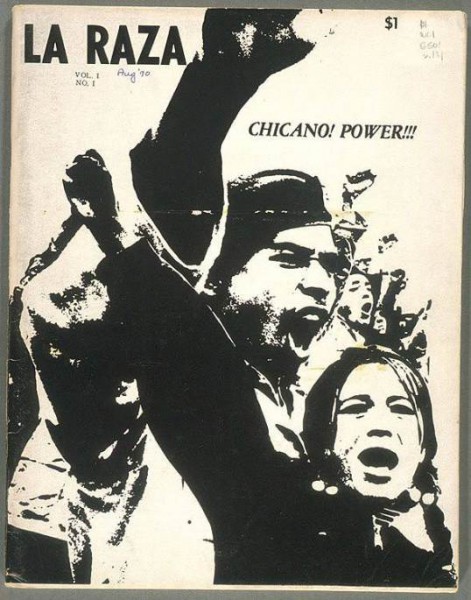 Oakland University Latin-American staff and students, in conjunction with the Admissions Office, sponsors the university's first "La Raza Day". La Raza Day is a campus visitation program, culturally oriented to Latino high school students. The goal of the program is to "promote cultural awareness and to explore the opportunities and facilities available in higher education for...Latino student[s]". The second annual La Raza Day is briefly mentioned in the
April 18, 1972 Oakland University Newsletter
.
Image: La Raza from Constitution Warrior
1974: 15th anniversary
Kresge Library participated in the 15
th
anniversary celebrations for Oakland University, including performances by various musical groups and showing movies.
1984: 25th Anniversary celebrations
October 22-23, 1984: As part of the university's 25
th
anniversary celebration, a special exhibit of OU faculty research was organized by the library, and included demonstrations by library faculty of new computer search services.
See timeline of ...
1988: Hispanic Heritage Month
On September 15th, Hispanic Heritage Week is expanded to a month long celebration (see information on the
Center for Multicultural Initiatives website
). A dance performance from the
2012 OU Hispanic Heritage Month
is featured above.
Image: Hispanic Celebration Month
1992: Origins of OU Center for Multicultural Initiatives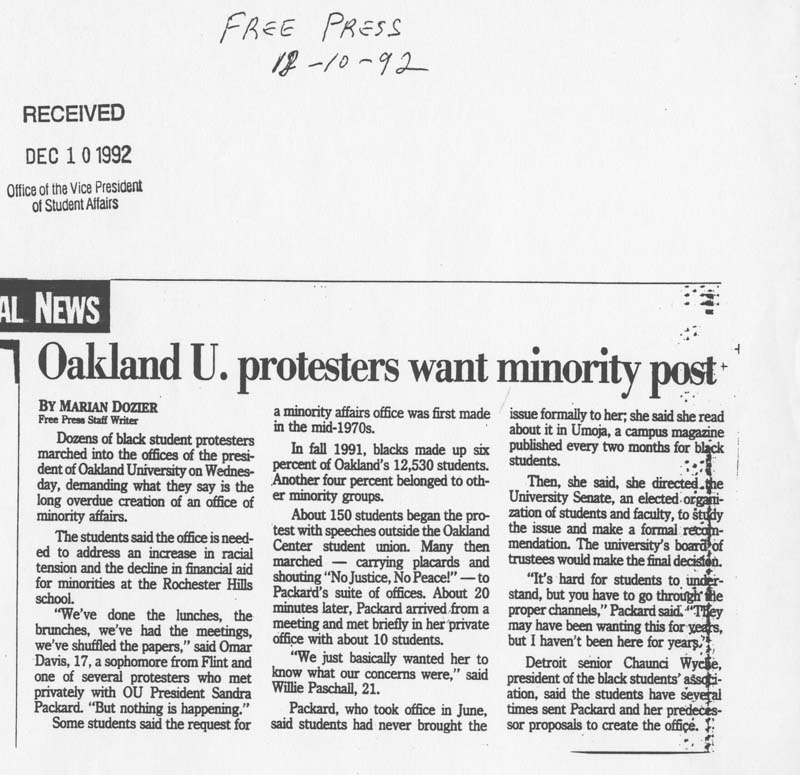 Approximately 150 African-American students conduct a sit-in at President Sandra Packard's office, in protest of lack of an office for minority affairs. This action results in the creation of an Office for Minority Equity a year later. Glenn McIntosh is appointed Director In January 1994 (
OU Senate Minutes, January 13, 1994
). OME is later renamed the Center for Multicultural Initiatives.
Image: OU Kresge Library Archives
See timeline of ...
1993: Keeper of the Dream Scholarship Award
In January, the OU Center for Multicultural Initiative establishes the
Keeper of the Dream Scholarship Award
. In honor of Dr. Martin Luther King, Jr., several scholarships are awarded annually to OU students "who have contributed to interracial understanding and good will".
Image: Andrew Young, Keynote Speaker, 2006 Keeper of the Dream Scholarship Banquet
See timeline of ...
2007: Poetry slam
OU Libraries began celebrating National Poetry Month (April) in 2007 with a poetry slam. The tradition continues to this day. This event is open to all. Competing poets bring two original poems for (potentially) two rounds of competition. Each contestant is given three-minutes to present a poem--if they go over the time limit, deductions in scoring are applied. Five judges are chosen at random from audience members. Judges hold up scorecards (similar to Olympic skating) and score each performance from zero to 10. The audience is there to have fun and sway the judges! First place winner receives $100 and runner-up, $50.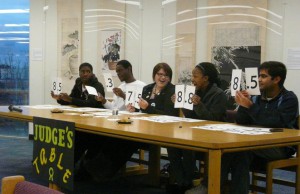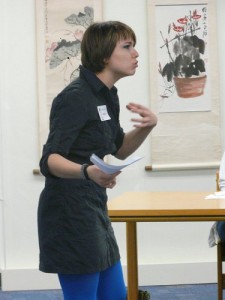 2009: Grand Opening of the Information Commons
On October 22, 2009, Kresge Library hosted the grand opening of the Technology Learning Center. The TLC features a brand new, state of the art
Information Commons
on the second floor of the library, the relocation of
e-Learning and Instructional Support
to the 4th floor of the library, and the UTS Help Desk's move to KL202.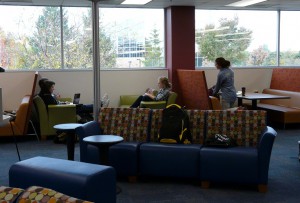 2009: Kym Worthy lecture at Kresge Library
On February 5, as part of Oakland University's African History Celebration month, Wayne County Prosecutor Kym Worthy came to Kresge Library to speak on "Economic and Spiritual Recovery in a Post-Kilpatrick Detroit."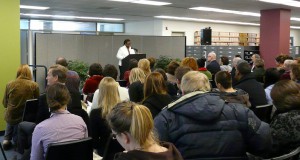 Photos courtesy of the Oakland University Archives.