OU Libraries Timeline: administration
1989: OU Affirmative Action
According to
May 10th Board of Trustees Meeting minutes
, Dr. John De Carlo, Vice President of Government Affairs, motioned the Board to approve an affirmative action policy that would facilitate diversity among the University's staff and faculty. The motion was approved.
See timeline of ...
1990: Mission: Unity
Mission: Unity
,
consisting of students, staff, and alumni, was formed to discuss racial issues. Marc Allen Payne, a senior, was its founding president. The organization was later renamed Cross-roads. (
11 July 1990 Board of Trustees minutes
).
See timeline of ...
1992: Origins of OU Center for Multicultural Initiatives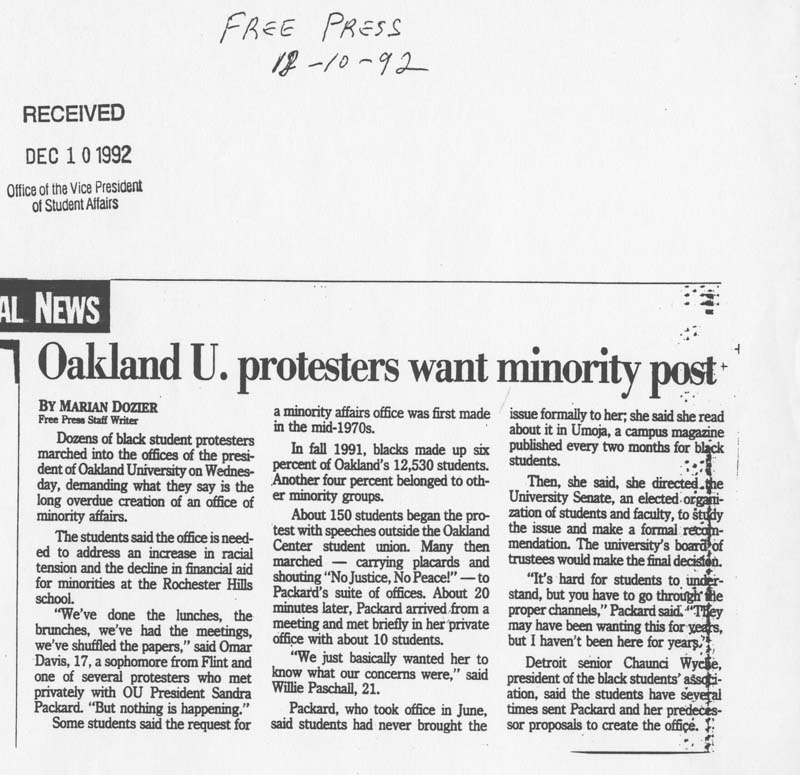 Approximately 150 African-American students conduct a sit-in at President Sandra Packard's office, in protest of lack of an office for minority affairs. This action results in the creation of an Office for Minority Equity a year later. Glenn McIntosh is appointed Director In January 1994 (
OU Senate Minutes, January 13, 1994
). OME is later renamed the Center for Multicultural Initiatives.
Image: OU Kresge Library Archives
See timeline of ...

Photos courtesy of the Oakland University Archives.