OU Libraries Timeline
1959: Temporary library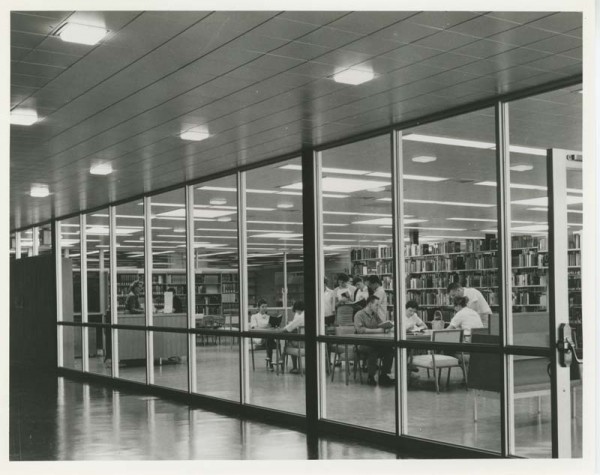 Temporary library quarters were set up at North Foundation Hall.  Books were available with 'complete freedom' (no restrictions on number that could be borrowed, no due dates, no fines, and, initially, 24 hour library access). Material was shelved alphabetically to make it available before it was catalogued. 
---
1960: Ground-breaking ceremony
On October 17, 1960 the ground-breaking ceremony for the Kresge Library was held.
View the program of the ground-breaking ceremony.
---
1961: Czetong Song
Mr. Czetong 'Tom' Song, a researcher with the Association for Asian Studies, UM, was named assistant librarian. Song, an American of Korean ancestry born in Tokyo, held a master's degree in philosophy from UM and received a Master's degree in library science from UM in 1962.  He was a graduate of Dartmouth College and spoke six languages.  He departed Kresge Library for a position at WSU in 1964.
---
1961: Kresge Library Opens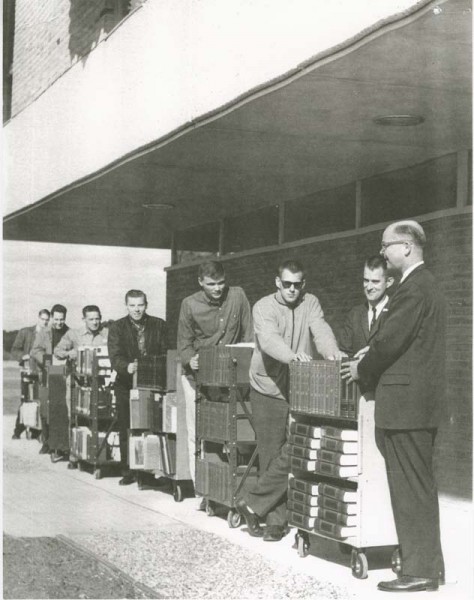 October 27, 1961: Library contents moved from North Foundation Hall to the new Kresge Library building.  Students helped by pushing books on book trucks over from the former library at North Foundation Hall, and by loading and unloading books.  All materials were moved in three and a half hours.   The building was officially dedicated the following spring.  View the program for the dedication.
---
1962: Curriculum Materials Center
The Curriculum Materials Center opened in an unfinished area of the basement of Kresge Library, providing resources for education students to use in teaching.
---
1963: First photocopier
The first photocopier was installed at Kresge Library.  Copies cost 10 cents a page, but the price was predicted to decrease.
---
1964: Government documents collection
The Government Documents collection was established at Kresge Library.
---
1964: Library broadcasting system
Kresge Library introduced a Library Broadcasting System, playing a variety of material including "Bach, Baez, and the Gemini Space Shot", which students could listen to using portable transistor headsets.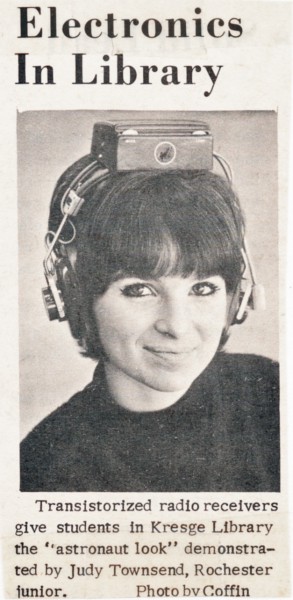 ---
1964: New security measures
A door check security system, due dates and fines for overdue books were introduced.
---
1965: IMB 357 computer
An IBM 357 data collection system (a punch-card based computer capable of sending and receiving material remotely) was installed in the technical processes department  to facilitate the ordering and cataloguing of library materials.
---
1965: Library learning
A library information test was taken by 1,000 Oakland University students during orientation week.  As a result, 230 students signed up for a short course to prepare them for learning at the library, which was taught two days a week for three weeks.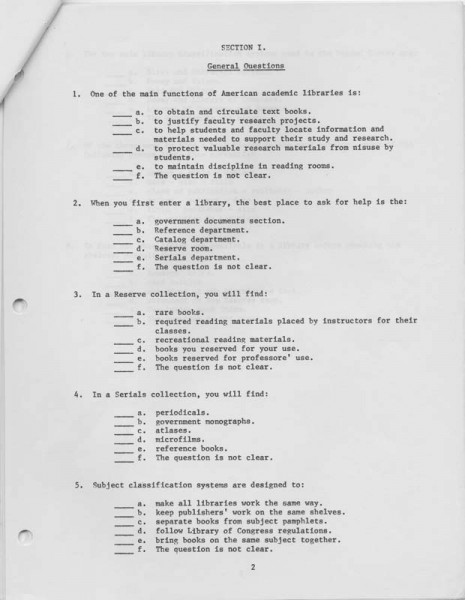 ---
1965: State documents
Oakland University became a depository for State documents.
---
1965: Student library committee
The Student Library Committee of the Kresge Library began operation.
---
1966: Computerized circulation system
A computerized circulation system was implemented, the first of its kind in Michigan.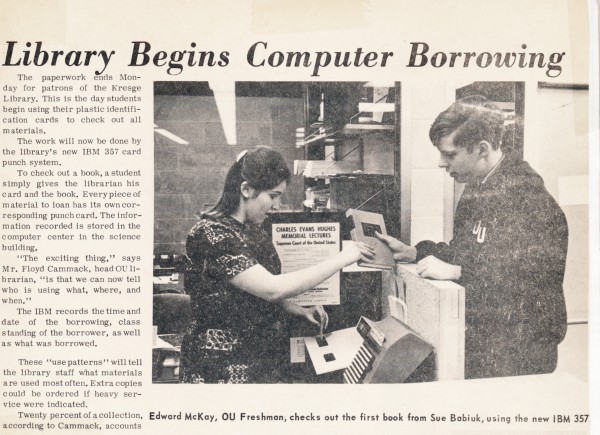 ---
1966: New floors open
The basement and top floor of the Kresge Library were opened for use.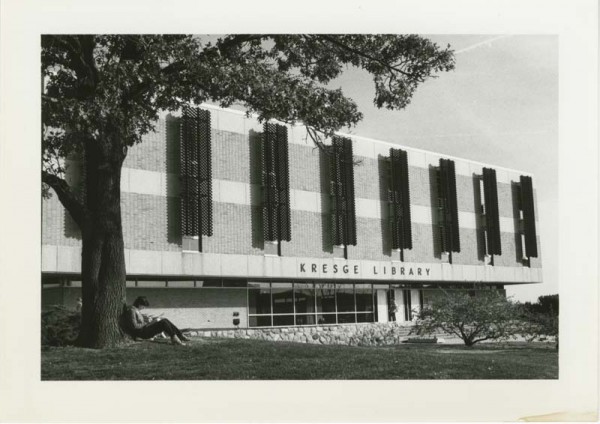 ---
1968: First Glyndebourne picnic
The first Glyndebourne picnic was held as a fund raiser by the Friends of the Library.  The theme was 'My Fair Lady'.  This year's picnic raised $2,117 for the library's collections, which went to fund the purchase of 16th and 17th century English literature.  The picnics continued as fundraisers from 1968-1976 and resumed for a time during the 1980s.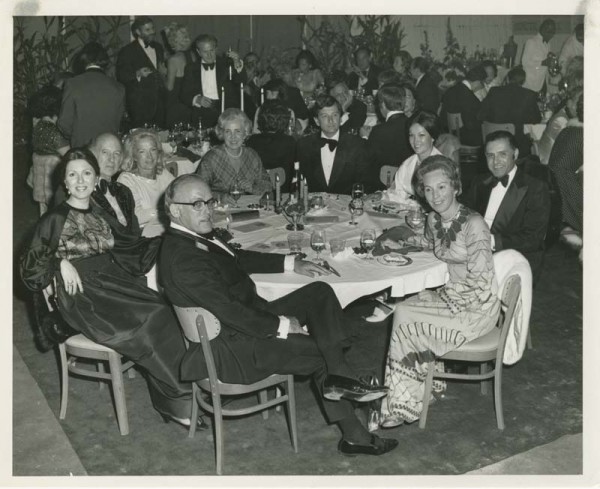 ---
1968: Lincoln and Civil War collection
The Lincoln and Civil War Collection of William Springer was acquired.   Mr. Springer was the editor of the New Center News published in Detroit and was an avid collector of Civil War materials.  The collection consists of 2000 volumes, original materials, artifacts, and the "Black Papers."  Mr. Black was an attorney that Mr. Henry Ford I hired to investigate the death of John Wilkes Booth.   This is one of the strongest collections on the Civil War in any Michigan library.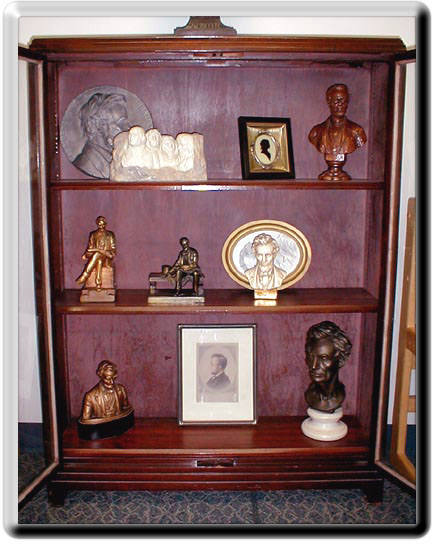 ---
1968: Matilda R. Wilson fund established
The Matilda R. Wilson Memorial Fund
for the purchase of reference and bibliographic works was established by the students of Oakland University.  Students agreed to a slight increase in fees in order to support the library's reference collection.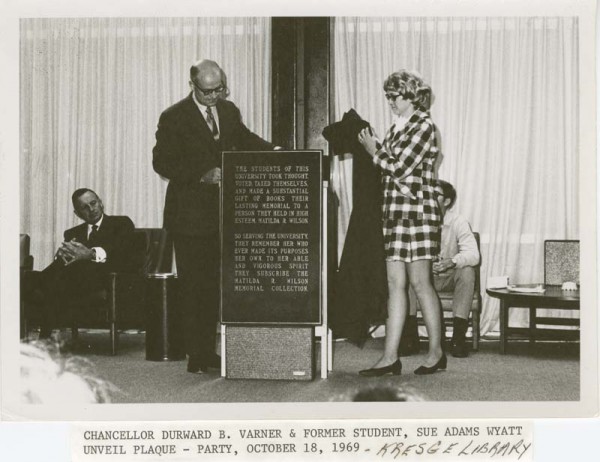 ---
1968: Science books move to Kresge Library
Science books and periodicals, previously housed in a reading room in the Science building, were centralized at Kresge Library.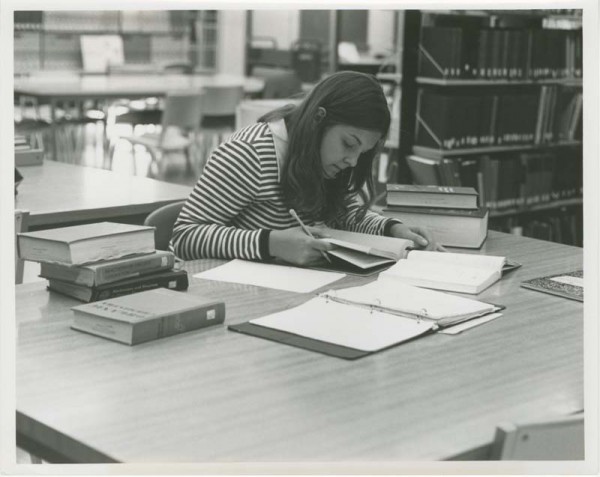 ---
1970: Student protest
A group of students, protesting university policies on gender issues, environmental concerns, and military recruitment on campus, took approximately 2500 books from the library and held them at the Oakland Center as a way of attracting attention to their causes.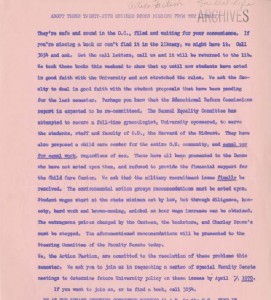 ---
1971: Librarians acquire faculty status
The Board of Trustees voted
to give librarians faculty status.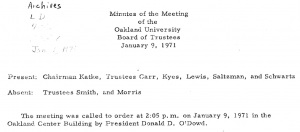 Minutes of the Meeting of the Oakland University Board of Trustees January 9, 1971
---
1971: Performing Arts Library
The Performing Arts Library opened in Varner Hall.
---
1972: George Gardiner
George Gardiner became Dean of the Library in 1972, and held the position until 1983.  He held an M.A. from the University of Chicago, and had previously served  on the staffs of the Fisk University Library in special collections, the University of Chicago Library in reference, the American Library Association in the Library Administration Division, Illinois State University in reference, and as director of the library of Central State University, Ohio.  He published articles in the areas of collective bargaining, Black studies, and reference services, among others.
---
1972: Telephone hotline
A telephone information hotline service was established, for county-wide use.  It provided "immediate reference, referral and photo-copy service when the resources of the local public libraries are unable to meet the needs of their patrons."
---
1974: 15th anniversary
Kresge Library participated in the 15
th
anniversary celebrations for Oakland University, including performances by various musical groups and showing movies.
---
1976: Indra David
Indra David became a librarian at Kresge Library, at the rank of assistant professor.  She held a B.A. from the University of Madras, India, and a Masters in Library Science from Syracuse, and had previously worked as a librarian at Queen's University.   She later earned her doctorate at Wayne State University in 1990.  She became Associate Dean of the library in 1985, and served as Interim Dean in 1998-99.
---
1976: Saints and Sinners sculpture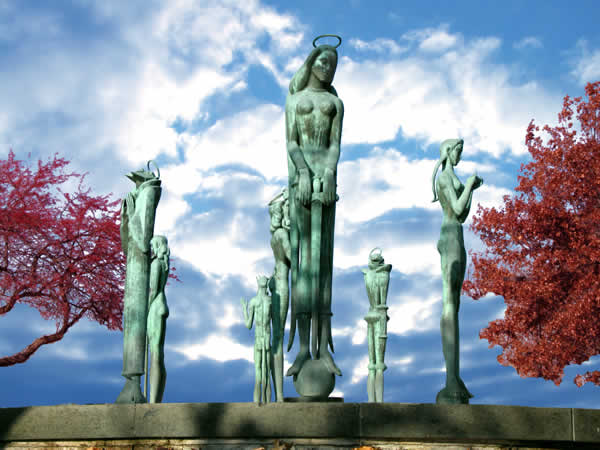 October 22, 1976:  dedication of the
Saints and Sinners
fountain - sculptures by Marshall Fredericks.
---
1977: Bibliographic Retrieval System
The library began to offer computer-assisted literature searching using the Bibliographic Retrieval System.   The databases which were available on BRS at that time provided bibliographic citations to the literature of medicine, agriculture, chemistry, physics, education, management and administration, electrical technology, electronics, computers and control engineering, environment and psychology.  Three librarians were initially trained to perform searches in these databases for students and faculty, a complex process which could take several hours, and cost an average of $25 per search.  In the first year, 41 such searches were performed.
---
1978: Calculators
The library purchased two hand-held calculators that students could borrow.  The annual report stated that "students have had occasion to borrow these calculators frequently and that the calculators have withstood moderately heavy use."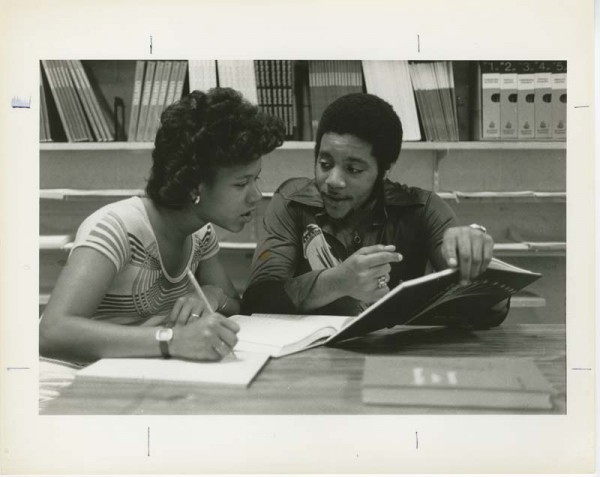 ---
1979: End of the door guards
The library's 'door guards' were replaced by an electronic scanner.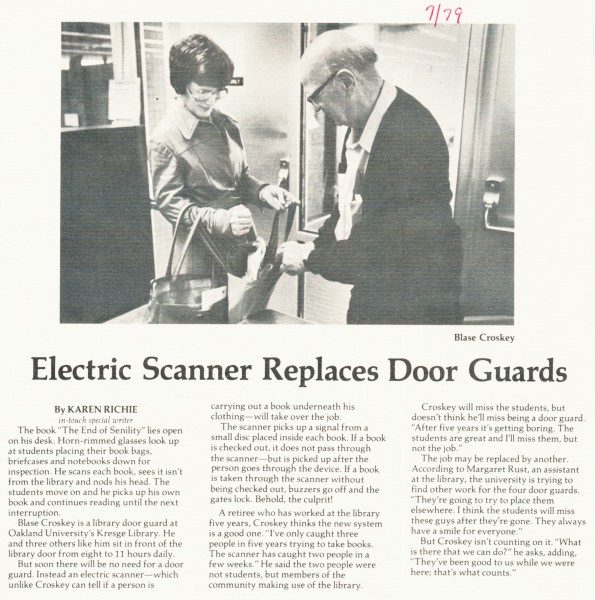 ---
1983: Instructional Technology Center
The Performing Arts Library was integrated to Kresge Library to make room for the Instructional Technology Center.
---
1983: OCLC terminal
The library's first OCLC computer terminal for public use was installed.
---
1984: 25th Anniversary celebrations
October 22-23, 1984: As part of the university's 25
th
anniversary celebration, a special exhibit of OU faculty research was organized by the library, and included demonstrations by library faculty of new computer search services.
---
1985: Term paper clinic
The library offered a 'Term Paper Clinic' (half-hour one-on-one meetings with a librarian) to assist undergraduates with their research and writing.
---
1986: Barcoding books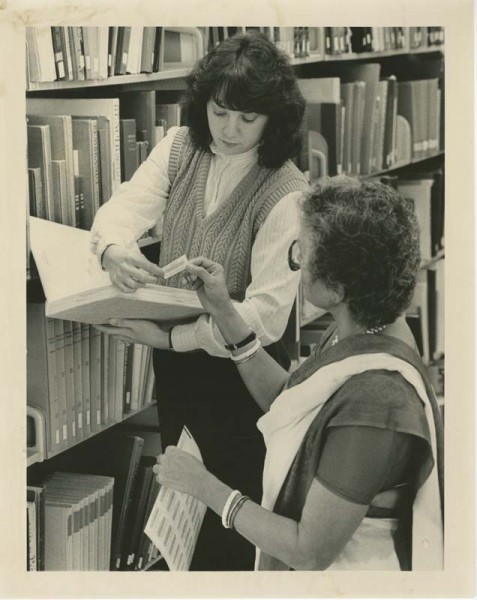 The library began barcoding all of its books.  The process was mostly complete by February of 1987.
---
1987: Card catalog ends
The Kresge Library discontinued its card catalog.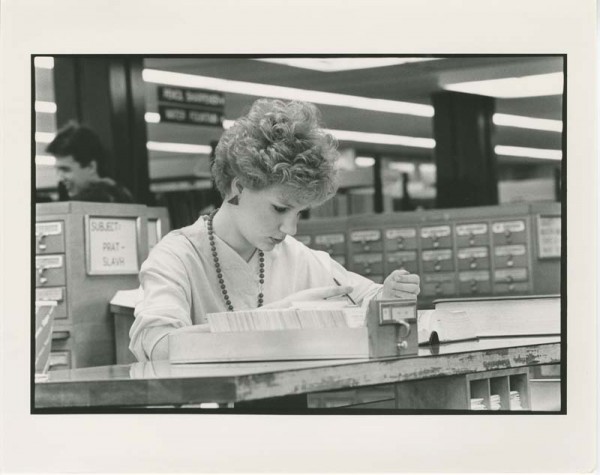 ---
1987: First online catalog
The online catalog LUIS (Library User Information System) was introduced to the public.  It allowed users to search the catalogs of Oakland University, Wayne State, the Detroit Public Library, and other local institutions.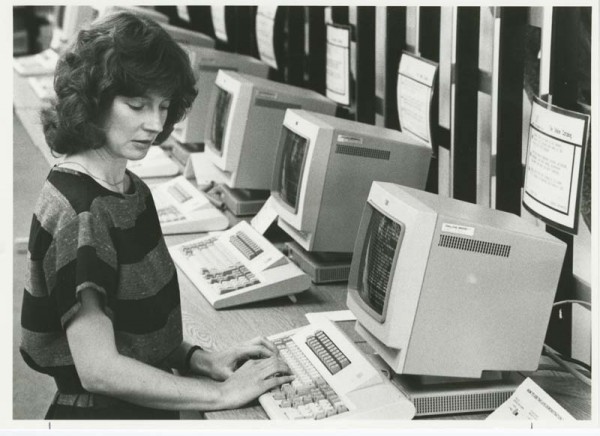 ---
1987: Library expansion begins
The ground-breaking ceremony for the long-awaited library expansion was held.  Board of Trustees member David Handleman, Dean of the Library Suzanne Frankie, and President Joseph Champagne participated in the ceremony.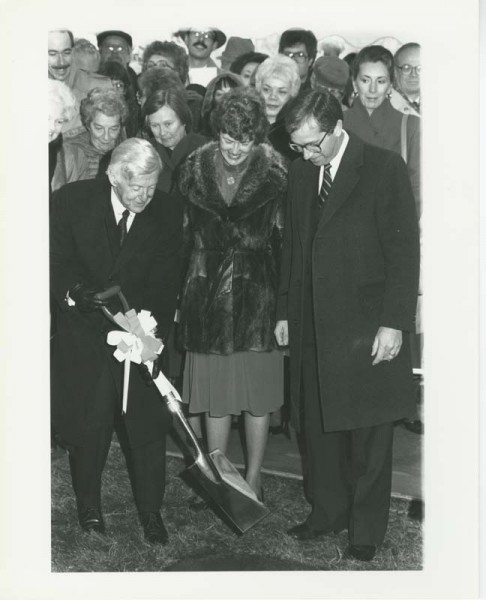 ---
1987: Library innovations recognized
The U.S. Education Department honored Oakland University for its innovative efforts in library services, particularly its reference hotline.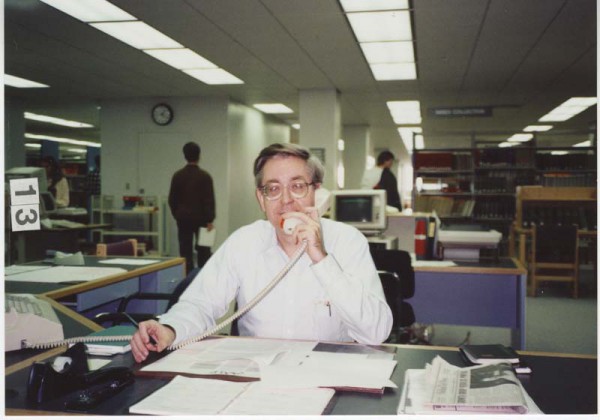 ---
1988: Remote access to online catalog
November 30, 1988: A demonstration of remote access to LUIS (Library User Information System) was held for OU faculty, showing how they could access the library's catalog from their offices or homes.
---
1989: Computers in the library
By this time, every department of the library had at least one personal computer for general office work.
---
1989: New wings added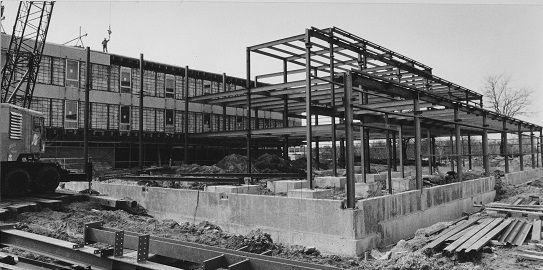 November 8, 1989: The library's renovation and expansion was celebrated. The two new wings were named the Alumni Wing and the McGregor Wing, after donors who had supported the expansion.  With the completion of the building project, Reference collections, staff, and services were able to move into their new location.  An air-conditioning unit behind the Reference desk provided some relief during the construction period over the summer months.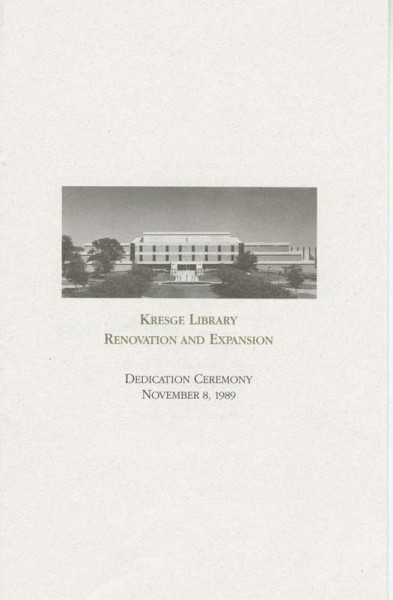 ---
1990: Copy cards
Copy card service began to replace coin-operated photocopiers.
---
1992: CALL System
The CALL online ordering system was introduced, allowing patrons to request books and articles to be inter-library loaned from Wayne State University without having to fill out paper forms.
---
1992: Gopher network
The Library Menu became an option on the OU Gopher network (a predecessor to the World Wide Web).  Within the Kresge Library main menu were such options as the Acquisitions List of New Books, CD-ROM Tutorials, and information about library services.
---
1993: Kevern and Bledsoe Donation
A gift of $1000 was made to the Kresge Library by Ron Kevern and Wilma Ray Bledsoe, to be used for the purchase of recent university press books about African-Americans.  Wilma Ray Bledsoe was the first African-American Vice President for Student Affairs at Oakland University, while Ron Kevern was an administrative professional at OU.
---
1994: Email reference service
Kresge Library began providing answers to reference questions via email.
---
1996: Computer labs
The first classes were taught in a new lab with state of the art instructional equipment, including 25 computer workstations, a CD tower and a file server. Total cost was $150,000, half being financed by a grant of the National Science Foundation. The room was named 'Statistics Classroom for Social Sciences and Business" as it was used to teach statistics as well as library research.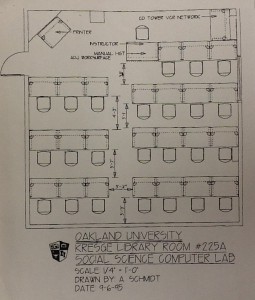 ---
1998: Voyager
The library's new online public access catalog, Voyager, was opened to the public.
---
2002: Bingham Collection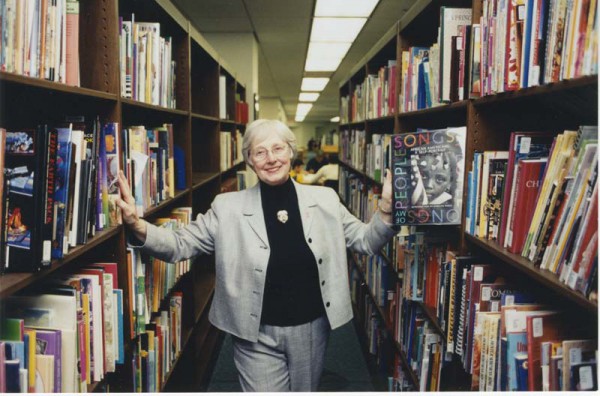 The Bingham Historical Children's Book Collection, donated by Dr. Jane Bingham, a retired education professor and expert on children's literature, was dedicated.
---
2002: Snack cart
A coffee and snack cart offered refreshments for sale in the library lobby, but closed after a year.
---
2003: Email notifications
The Kresge Library switched to notifying patrons of overdue books and fines exclusively by email.
---
2004: Ask A Librarian
Kresge Library instituted its popular '
Ask A Librarian
' online reference service.  Wireless network access becomes available throughout the library building.
---
2007: Gaylor Collection
The
Robert Gaylor Collection
, devoted to materials focusing on gay, lesbian, bisexual and transgender people and issues, was dedicated.   Mr. Gaylor, who retired from the Oakland University Library in 2003 after 37 years of service as a librarian, assembled this collection over a period of 40 years.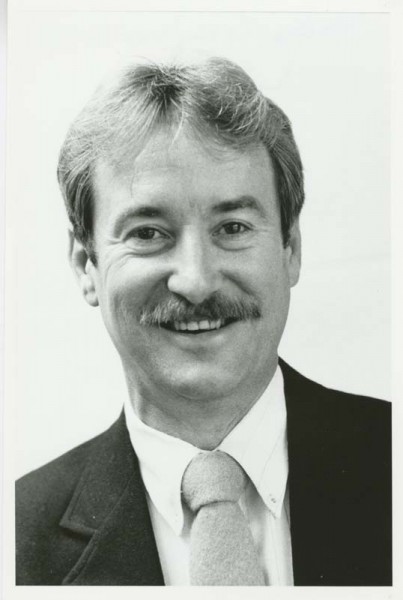 ---
2007: Poetry slam
OU Libraries began celebrating National Poetry Month (April) in 2007 with a poetry slam.  The tradition continues to this day. This event is open to all. Competing poets bring two original poems for (potentially) two rounds of competition. Each contestant is given three-minutes to present a poem--if they go over the time limit, deductions in scoring are applied. Five judges are chosen at random from audience members. Judges hold up scorecards (similar to Olympic skating) and score each performance from zero to 10. The audience is there to have fun and sway the judges! First place winner receives $100 and runner-up, $50.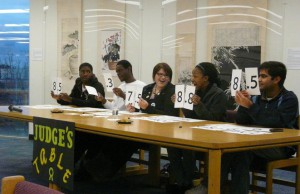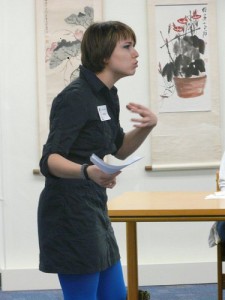 ---
2009: First credit library course
The library offered a 2-credit online course, 'Research in the Information Age'.
---
2009: Grand Opening of the Information Commons
On October 22, 2009, Kresge Library hosted the grand opening of the Technology Learning Center. The TLC features a  brand new, state of the art
Information Commons
on the second floor of the library, the relocation of
e-Learning and Instructional Support
to the 4th floor of the library, and the UTS Help Desk's move to KL202.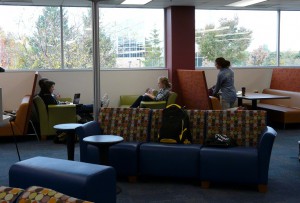 ---
2009: Kym Worthy lecture at Kresge Library
On February 5, as part of Oakland University's African History Celebration month, Wayne County Prosecutor Kym Worthy came to Kresge Library to speak on "Economic and Spiritual Recovery in a Post-Kilpatrick Detroit."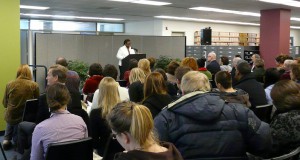 ---
2010: Cafe opens
The Frankie Cafe (named after former University Librarian Suzanne Frankie) opens in the library's 'fishbowl' area.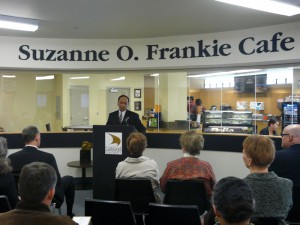 ---
2010: First four-credit library course
The library offered its first four-credit online class,
LIB 250 - Introduction to library research and technology in the information age
.
---
2011: 24-hour Access
Kresge Library began offering 24-hour access five days a week.  Eventually, due to the popularity of this service, it was expanded to
24/7 access
.
---
Photos courtesy of the Oakland University Archives.