Buildings @ Oakland University
Central Heating Plant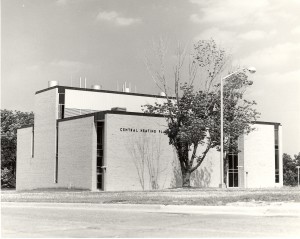 Quick Facts
Initial plan: 1966
Completion: 1971
Renovations: 1973
Cost: $4,500,000
Architect: Commonwealth Associates, Inc.
Construction: E.E. Powell General Contracting Co.
Funding: Joint Capital Outlay Committee, Michigan State Legislature; Oakland University Board of Trustees
Specifications: 16,883 sq.ft.
History
The heating plant was initially located in the basement of North Foundation Hall. The Central Heating Plant provides heating and cooling services to the entire campus community.  Its energy output for the climate control of individual buildings is scheduled during each building's peak hours of operation in order to better conserve energy.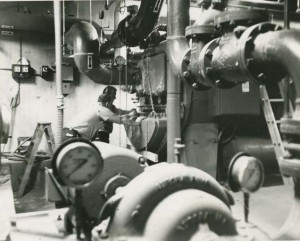 Inside the central heating plant, at its first location within North Foundation Hall
---
Photos courtesy of the Oakland University Archives.