Buildings @ Oakland University
Barn Theatre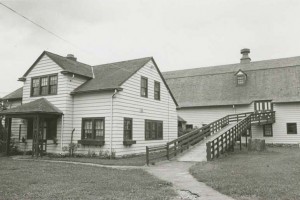 Quick Facts
Original construction: 1925
Renovation completion: September 1967
Construction: Wake-Pratt Construction Company
Specifications: 2,702 sq. ft.; featured 350 seats
Namesake: The Barn Theatre was originally part of a 14-unit dairy complex on the grounds of Meadow Brook Estate, which was gifted to the university by Alfred and Matilda Wilson in 1957.  Bearing its architecture and former purpose in mind, students rechristened it the Barn Theatre.
History
Once part of an agricultural complex on Meadow Brook Estate, the dairy barn was re-purposed as home to the Student Enterprise Theatre in 1967.  The Barn Theatre, as it came to be known, was the site of student theatre productions before its closure in 1983. It reopened briefly as a student coffee house and lounge before it was lost suddenly in a fire on August 17, 1987. While the ground flooring of the barn remained stable, the majority of the building sustained severe damages. Deemed too costly to repair, the Barn was razed shortly after.
---
Photos courtesy of the Oakland University Archives.