Buildings @ Oakland University
Wilson Hall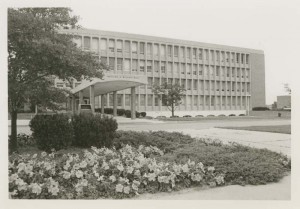 Quick Facts
Cornerstone Ceremony: October 19, 1965 - Matilda Wilson's 82nd birthday
Structure Completion: 1966
Cost: $2,282,534.87
Architect: O'Dell, Hewlett, and Luckenbach Associates
Construction: Shurrer Construction Co.
Funding: State of Michigan legislature
Specifications: 98,153 sq. ft.
Namesake: Matilda R. Wilson, wife of Alfred G. Wilson. Mrs. Wilson served as benefactress of Oakland University since its inception in 1956, donating $2,000,000 and the majority of her estate's grounds to the creation of the university campus.
History
Wilson Hall was the second structure built with state appropriated funds on the OU campu after Hannah Hall, out of a total of 12 buildings. It is named after Matilda R. Wilson, benefactress of the university from its inception in 1957 to her death in 1966.  The cornerstone was laid by Matilda Wilson herself, on the day of her 82nd birthday, October 19, 1965.
Wilson Hall originally housed the social sciences and some humanities departments. It was connected to a large auditorium designed to be the home of the Meadow Brook Theatre and a new art gallery.
In addition to its classrooms and study halls, Wilson Hall houses several departmental offices for faculty and staff as well as various administrative departments.  Wilson Hall still includes Oakland University's art gallery, which offers public viewing of standing and featured exhibits of works within a variety of artistic mediums.
For more information
"Observe Mrs. Wilson's Birthday," Oakland University News, January 1966
Program of the Cornerstone Ceremony, Matilda R. Wilson Hall, October 19, 1965
Oakland University Annual Report, 1964-1965, p. 28-29
---
Photos courtesy of the Oakland University Archives.