Buildings @ Oakland University
Varner House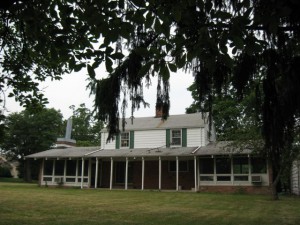 Quick Facts
Initial Construction: 1938
Renovation Completion: 1959
Cost: $15,000 for initial remodeling
Funding: $2,000 annually was allocated by Varner to cover this housing cost
Specifications: Original floor plan/construction of the house was 30'x48'; various additions were made over the years.
Namesake: Named with regard to the residence of Chancellor D.B. "Woody" Varner and his wife Paula, who moved into the home in 1959.
History
Erected in 1938, the structure which was eventually known as Varner House originally belonged to Meadow Brook Farms estate's poultry manager.  First chancellor D.B. "Woody" Varner remodeled and resided in the home throughout his service to Oakland University.
Following Varner's residency, the farmhouse was used by the Macomb-Oakland Residential Center and the Community Living Centers, Inc. in 1974 as a residential center for children and adolescents with cognitive and/or developmental disorders.
The residency over the years had fallen into a state of disrepair, and efforts to find new occupants were unsuccessful due to the amount of money it would have taken to bring the building back up to code. Despite student organizations' protests, the building was razed in 2010.
For more information
Mike Sandula, "Varner House 'Razes' its Roof Despite Effort to Save It," The Oakland Post, July 15, 2010
---
Photos courtesy of the Oakland University Archives.