Buildings @ Oakland University
Vandenberg Hall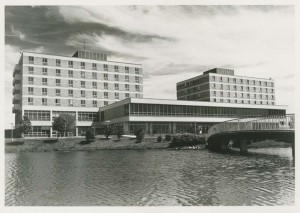 Quick Facts
Ground-Breaking Ceremony: 1965
Structure Completion: Fall 1966
Cost: $3,786,402.36
Architect: Ralph R. Calder Architect and Associates
Construction: J.A. Ferguson Construction Co.
Funding: A revenue bond-secured loan was used to finance the construction of the dining hall and dormitory.  This loan was reimbursed through student room and board fees.
Specifications: 77, 593 sq. ft.; seven floors available to accommodate approx. 572 students.
Namesake: Arthur Vandenberg, who served as Michigan's Republican Senator from 1928 to 1953.  Vandenberg, an integral participant in the creation of the United Nations, also served as the United States delegate during the first and second United Nations General Assemblies.
History
Vandenberg Hall serves as one of several student housing buildings, providing students with a variety of dining options in the dining hall as well as a picturesque view of Bear Lake to the south of the building, which was created in tandem with Vandenberg's construction.
Originally, the twin-towered seven-story hall was designed to be a co-educational residence with men in one tower and women in the other for a total of 572 students.  In its center it boasted lounges, study and seminar rooms, offices, head resident housing, recreation areas, laundry facilities and a machine-operated snack bar. A dining room was set up on the second floor, overlooking Bear Lake.
For more information
Oakland University Residence Halls.
"OU To Have a Scenic Lake," The Oakland Observer, May 27, 1966
"Oakland's Newest Dorm Named Vandenberg Hall," Oakland University Freshmen Newsletter, June 1966
---
Photos courtesy of the Oakland University Archives.