Buildings @ Oakland University
Van Wagoner House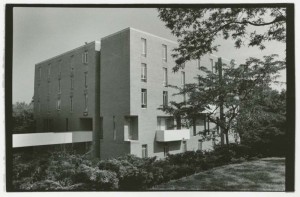 Quick Facts
Ground-Breaking Ceremony: 1961
Building Dedication: April 14, 1966
Cost: Between $767,930.65 and $900,000
Architect: Meathe, Kessler, and Associated, Inc.
Construction: A.Z. Shmina and Sons, Co.
Funding: Federal Housing and Home Finance Agency
Specifications: 43,350 sq. ft.; able to accommodate 200 students
Namesake: Murray D. Van Wagoner, Democratic Governor of Michigan, who was residing in Oakland County at the time. Van Wagoner, who graduated from the local Pontiac High School and received a degree in civil engineering from the University of Michigan, was an active member of the State Highway Commission.
History
The fifth installment in Oakland University's series of dormitories, Van Wagoner House underwent two possible name changes before its eventual naming after the Democratic Governor of Michigan at the time ("Unnamed Dormitory" and the student-selected "Dorm Phyve" were the other possible choices).
Over the years many stories happened in Van Wagoner House. Freshman Irwin Bruade was awarded the title of national number one inter-collegiate shower sitter in 1967, remaining seated in one of the stalls for an impressive 41 hours straight.
An early morning fire on October 25, 1973 erupted in the third floor student lounge, causing extensive building-wide smoke damage but no injuries to students or building personnel.
For more information
Oakland University Residence Halls
---
Photos courtesy of the Oakland University Archives.