Buildings @ Oakland University
Saints and Sinners Fountain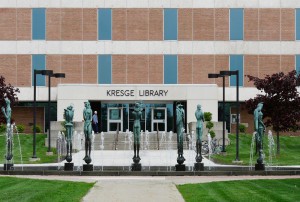 Quick Facts
Ground-Breaking Ceremony: April 19,1976
Dedication: October 22, 1976
Cost: $168,000 in total ($100,000 for sculptures; $68,000 for additional costs)
Sculptor: Marshall Fredericks, Royal Oak, MI
Construction: Wydan Construction, Inc.
Consultant: Johnson, Johnson, and Ray, Inc.
Funding: $100,000 was provided by the Josephine E. Gordon Foundation of Detroit, MI, the primary purpose of which was the commission of various sculptures. Further funding was provided through capital outlay funding, the Irene C. Wellock Trust fund, and Oakland University's President's Club.
Specifications: 25'x50' oval sunken base; 7 bronze pieces at 9'6'' high each.
Namesake: Commuter Council member Craig Redfern initiated a contest for the naming of the fountain - students were able to submit possible names for the sculpture. Ultimately, it was entitled the "Saints and Sinners" fountain.
History
Marshal Frederick's "Saints and Sinners" sculptures caught the eye of Dr. Warren B. Cooksey, a member of Oakland University's President's Club in the 1970s. These imposing but intriguing figures include representations of good, evil, temptation, the knowledge of good and evil, a heavenly saint, a mother with her child, and a saintly warrior.
Cooksey appealed to the sculptor and the Joseph E. Gordon Foundation to be given the permission and means to add the "Saints and Sinners" to the campus.  Fredericks, in agreement with Cooksey's vision, graciously allowed the statues to be installed in an elliptical fountain setting in front of Kresge Library.
Though an initial viewing of the statues may indicate a religious or philosophical message, Fredericks indicates that his intent for the figures was simply to provide the viewer with a whimsical piece of art upon which to feast their eyes.  Whatever the sculptor's or viewer's impressions, the fountain and its figures have captured the collective imaginations of students for many decades, and remain one of the best-known examples of fine architecture on campus.
For more information
University Archives - Saints and Sinners exhibit
---
Photos courtesy of the Oakland University Archives.