Buildings @ Oakland University
O'Dowd Hall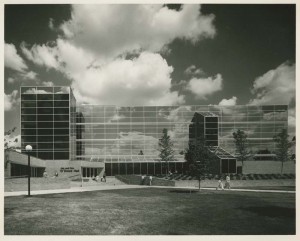 Quick Facts
Ground-Breaking Ceremony: November 2, 1978
Building Dedication: July 17, 1981
Cost: $8.5 million
Architect: Tarapata, MacMahon, Paulsen Associates, Inc.
Construction: Etkin, Johnson, and Korb, Inc.
Funding: $1,450,000 appropriation by the state of Michigan; the majority of construction costs was provided through the public sale of revenue bonds.
Specifications: 105,000 sq.ft.
Namesake: Donald O'Dowd and his wife Jan. O'Dowd was a member of the university's psychology faculty during the early years of MSUO.  He was appointed as dean of the University in 1961 and eventually replaced D.B. Varner as Oakland University's president, serving from 1970 to 1979.
History
Following a decade of little to no construction projects, O'Dowd Hall marked the creation of yet another important asset to Oakland University.  It precedes the Human Health Building in its attempts at energy conservation, running on a variable volume heating and cooling system through the Central Heating Plant.
O'Dowd currently houses offices for faculty and staff, the registar's office, and  Oakland University William Beaumont School of Medicine. It includes several large lecture halls. Its architecture corresponds to  the Oakland Center to the west and the Rec Center to the east, although distinguished by a mirrored window surface on several sides of the building.
This mirrored surface proved to be more delicate than anticipated, as several of the glass panels crumbled away or fell from their places during installation. Over the years O'Dowd Hall has undergone various interior and exterior architectural updates, and window complications have not plagued the campus since.
For more information
---
Photos courtesy of the Oakland University Archives.