Buildings @ Oakland University
Kettering Magnetics Test Laboratory
Quick Facts
Building Dedication: Spring 1964
Cost: $59,143
Construction: J.A. Fredman, Inc.
Funding: Two $60,000 grants provided by the Charles F. Kettering Foundation and General Motors Corporation
Specifications: 3,560 sq. ft.
Namesake: Charles F. Kettering, who donated $60,000 to the project. Kettering was a founder of Delco Dayton Electric Co. in 1910 and later served as director of General Motors Research Laboratory.
History
Charles F. Kettering was a voracious inventor, constantly creating and expanding personal projects in addition to his accomplishments as head of General Motor's Physics Research Laboratory.  His interest in magnetism led him to start a program at GM In 1934. Early experiments showed that they would have to be done in isolated areas, to eliminate magnetic interference. The first lab operated  in Milford, MI, from 1937 to 1940. After the war, the research resumed at another lab in Farmington until 1955. In 1957, the Kettering Foundation built a new lab near Dayton, Ohio.
Nearing his retirement, Kettering then sought to hand over the research his lab had generated to a responsible third party, which prompted Chancellor Varner to propose transferring the equipment from Kettering's Ohio lab to Oakland University's campus. The transfer was completed in late 1963. The isolated site at the southern end of campus was chosen so that future expansion of the university would not cause any magnetic interference. Like its predecessors, the lab was entirely built of non-ferromagnetic materials. The equipment that was installed was primarily designed to make gyromagnetic ratio measurements.
The University obtained a five-year funding agreement from the Kettering Foundation, after which the University took  full control.
For more information
"History in Hiding," The Oakland Post, September 24, 2014
"Kettering Magnetics Laboratory Installed at Oakland University," General Motors Engineering Journal 11 (1964) 66-69.
2 folders on the Kettering Magnetics Lab, Durward B. "Woody" Varner Papers, Oakland University Archives
Kettering Magnetics Lab, College of Arts and Sciences Records, Oakland University Archives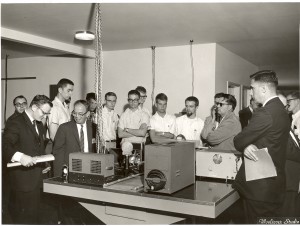 Students and faculty in one of the instructional laboratory spaces.
---
Photos courtesy of the Oakland University Archives.