Buildings @ Oakland University
John Dodge Clubhouse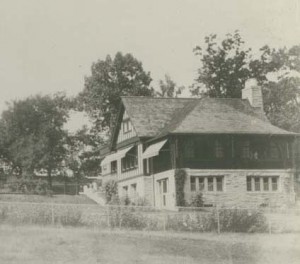 Quick Facts
Initial Structure Completion: 1915
Architect:  S.E. Wood, contractor
Construction: Smith, Hinchman, & Grylls
Funding: $110,000 in external gifts; $40,000 from the OU Foundation to be used for clubhouse renovations.
Specifications:  6,038 sq. ft.
Namesake: John F. Dodge
History
This two and one-half story Tudor Revival building was erected in 1915. It was initially designed as the clubhouse for John Dodge's personal golf course.   It contained tapestry wall covering, a fieldstone fireplace, Stickley furniture and Tiffany glass fixtures. After his death in 1920, Dodge's clubhouse became part of Meadow Brook Estate and was donated to OU.
In use from 1957 to 1978 as a student organization and faculty meeting place, Dodge Clubhouse  was reallocated to the R&S Sharf and Katke-Cousins golf courses, which were designed across the grounds of Oakland University's campus for scheduled public use.  Sections of the original structure have been re-purposed for more current usage: A one-story addition made in the 1970s includes the course's pro shop, and the roofing of this addition serves as the clubhouse's outdoor dining area.  An indoor pool in the clubhouse's lower level was filled in for the installation of storage and office spaces. Despite its various renovations over the years, Dodge Clubhouse's original interior and exterior architecture, as well as its woodwork, flooring, and fixtures,  have remained largely unchanged since the house's initial development.
---
Photos courtesy of the Oakland University Archives.