Buildings @ Oakland University
Human Health Building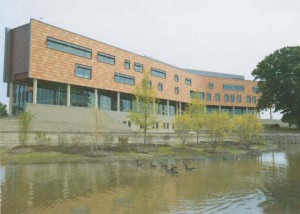 Quick Facts
Ground-Breaking Ceremony: April 12, 2010
Building Dedication/Structure Completion: September 21, 2012
Cost: $62,000,000
Architect: SmithGroup, Inc. (Detroit offices)
Construction: The Christman Co.
Funding: $40 million provided through the State of Michigan Capital Outlay Budget  for the 2008 fiscal year. A grant of over $2 million from the U.S. Department of Energy was used towards the installation of a geothermal heating pump, designed to provide climate control and water temperature throughout the building.  $75,000 of additional grant money was provided through the Kresge Foundation.  Remaining expenses were funded through bond proceeds and various private donations.
Specifications: 161,000 sq. ft. The five-story building includes state-of-the-art classrooms, seminar rooms, and lecture halls; distance learning labs, interactive media centers, and computer-simulated clinical labs; and an on-site clinic and physical therapy facility.
Namesake: The Human Health Building has served as the primary instruction site for the school of nursing and school of health sciences on the main campus.
History
The Human Health Building boasts of an environmentally-friendly design by virtue of its construction from renewable materials; advanced air quality and water conservation systems; and geothermal heating and cooling system, which aids in the reduction of carbon emissions and energy consumption and output.  Due to the success of these innovations, it was certified as Michigan's first Leadership in Energy and Environmental Design (LEED) Platinum University Building in 2013.  The HHB serves as the primary residence of Oakland University's School of Nursing and School of Health Sciences, and includes five stories of lecture, seminar, and lab-style classroom spaces designed to better facilitate the academic development of its tenants.
For more information
Human Health Building (Oakland University website)
SmithGroup, Oakland University, Human Health Building (SmithGroup website)
---
Photos courtesy of the Oakland University Archives.