Buildings @ Oakland University
Honor's College - Dr. Alvin R. Larson Hall

Quick Facts
Ground-Breaking Ceremony: April 11, 1996
Building Dedication: March 21, 1997
Cost: $347,000
Architecture and Construction: Straub Pettitt Yate
Funding: Grant funding was provided through the OU Foundation
Specifications:  1,860 sq. ft. addition to the ground floor of Vandenberg Hall
Namesake: Dr. Alvin R. Larson, longtime benefactor of Oakland University
History
While the Oakland University Honors College was established in the mid-1970s , it has only recently received its own structure.  In 1997, it moved from Varner Hall to the ground floor of student residence Vandenberg Hall. The curved glass design was intended to represent the innovation and ambition of its 200 students.  It included a reception area, a director's office, a meeting room, a student lounge,  classrooms and computer laboratory. Most recently, the Honors College has been relocated to Oakland's newest student residence, Oak View Hall.  In Fall 2014 , 900 students enrolled in the Honors College, approximately 5% of the overall campus community.
For more information, visit Oakland University Honors College.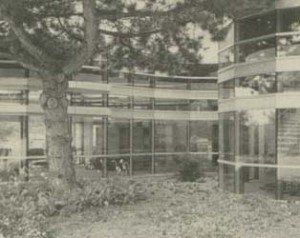 The Honors College, first located in Vandenberg Hall
---
Photos courtesy of the Oakland University Archives.