Buildings @ Oakland University
Hill House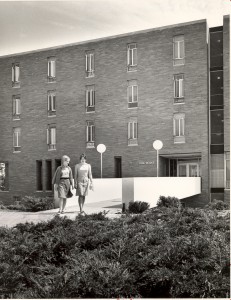 Quick Facts
Ground-Breaking Ceremony: December 1963
Structure Completion: 1964
Cost: $783,854
Architect: Meathe, Kessler, and Associates, Inc.
Construction: Alfred Smith, Inc.
Funding: $825,000 worth of bonds were donated by Ormond E. Hunt, executive vice president of General Motors Corporation.
Specifications: 42,555 sq. ft.; includes 100 double rooms capable of housing 200 students
History
One of Oakland University's original student residence buildings, Hill House stands six stories tall to accommodate approximately 200 undergraduate students. Because it is built on a slope it shows only four floors on the north side. It is a large square building contrasting with the L-shape of the older, smaller  dorms. A bridge from hillside provides entrance on the third floor. which contains a central lounge, the head resident's apartment, and study and recreational areas. It was the first dorm to include kitchenettes. It was air conditioned in 1990, when Hill was the residence for the Detroit Lions during summer training.  In 2014 the bridge was closed off for repairs but collapsed shortly thereafter and had to be rebuilt.
The donor, Ormond Hunt, bequeathed $825,000 in bonds to cover the costs of the dorm in 1967.  Hunt had purchased OU dorm revenue bonds in 1964, received interest during his lifetime, but stipulated that upon his death the bonds would be given to the university, thereby cancelling the indebtedness. Hunt was a GM vice-president in charge of engineering. also a charter member of the OU Foundation's Chancellors' club committee.
The dormitory has been the site of strange on-campus events since its construction in 1964. In 1965 a freshman girl and a classmate's mother were injured due to an exploding toilet: An incredible build-up of air pressure inside the toilet caused it to combust, sending both women to St. John's Hospital in Pontiac for treatment of minor injuries.  On a separate occasion, a playful group of undergraduates pulled a prank on the dormitory, painting "Fanny" on the bricks of Hill House and rechristening their residence "Fanny Hill House" as an homage to John Cleland's novel Fanny Hill: Memoirs of a Woman of Pleasure.
For more information:
"New Dorms Will Preserve Small Group Living," Oakland Observer, September 20, 1963
Oakland University Residence Halls.
---
Photos courtesy of the Oakland University Archives.