Buildings @ Oakland University
Hamlin Hall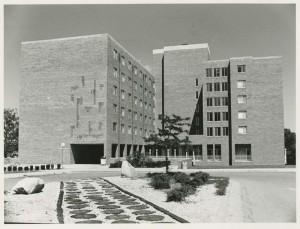 Quick Facts
Construction onset: 1968
Building Dedication: February 19, 1969
Cost: Between $3,113,045.01 and $4,000,000
Architect: L.G. Redstone Architect, Inc.; Louis G. Redstone and Associates of Detroit
Construction: Darin and Armstrong, Inc.
Funding: The Federal Department of Housing and Urban Development provided Oakland University with a self-liquidating sum, to be reimbursed through charges related to student room and board.
Specifications: 142,872 sq. ft, accommodating 676 students
Namesake: Delos Hamlin, member of the Oakland County Board of Supervisors for over 25 years. Hamlin had an impressive political career, beginning with election to the Farmington City Commission at age 25. He also served as Mayor of Farmington from 1939-1949, chairman of Oakland County Board of Public Works, Vice President/Director of the Metropolitan Fund, member of the Executive Committee of Southeastern Michigan Council of Governments, and President of the Michigan State Association of Supervisors.  Hamlin's contributions to Oakland University took the form of serving as a trustee of the MSUO Foundation.
History
One of six residential dormitories, Hamlin Hall stands a full nine stories, matching neighboring Vandenberg Hall in structural if not visual height (Hamlin was built at the bottom of a small ravine, thereby making it appear "shorter" than the surrounding buildings).  It is in use primarily by freshman students and features the most austere exterior and interior architecture of the dormitories.
Originally intended for completion in the spring of 1968 to accommodate student residents the following fall, the construction of Hamlin Hall was delayed due to a buildings trades strike.
For more information, visit Oakland University Residence Halls.
---
Photos courtesy of the Oakland University Archives.