Buildings @ Oakland University
Graham Health Center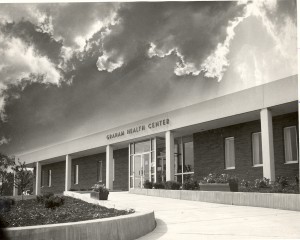 Quick Facts
Ground-Breaking Ceremony: July 1967
Building Dedication: June 3, 1969
Cost: $666,566
Architect: Denyes and Freeman Assoc.
Construction: Bundy Construction Co.
Funding: Loans from various benefactors, to be reimbursed over time through student health fees.
Specifications: 13,161 sq. ft.  Includes several offices for the use of on-staff physicians and medical director(s); living quarters for medical attendants; various examination rooms; a first-aid room; a therapy room; six hospital words; two isolation wards.
Namesake: Mr. and Mrs. Graham J. Graham, life-long members of the Chancellors Club, a donor-driven organization of individuals who served as benefactors to the University.  Both Mr. and Mrs. Graham served as trustees of the MSUO Foundation and provided continual monetary and promotional support to the university for many years.
History
Since its inception in 1967, the Graham Health Center has been the source of convenient, affordable on-campus health and wellness services.  With services such as immunizations, health screening services, counseling and mental health care, and pharmaceutical dispensation, the GHC promises to helps students achieve an optimal level of health and the tools necessary to continue living a healthy and productive lifestyle long after their time at Oakland University has ended.
For more information, visit Oakland University Health Services.
---
Photos courtesy of the Oakland University Archives.