Buildings @ Oakland University
Baldwin Pavilion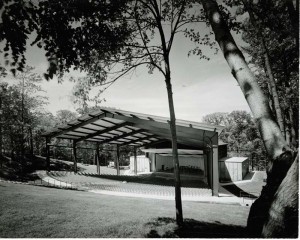 Quick Facts
Ground-Breaking Ceremony: February 19, 1964
Structure Completion: July 1964
Cost: $308,410.67
Funding: The S.S. Kresge Foundation provided a $76,000 grant towards the project.  An additional $10,000 was provided by Mr. and Mrs. Marvin C. Katke and the Ford Fund Educational Aid Program (dual amounts of $5,000 per donor).  $50,000 donations from the Kresge Foundation were used towards the purchase and installation of permanent seating within the Pavilion.
Architect: O'Dell, Hewlett, and Luckenbach
Construction: J.A. Fredman
Specifications: 24,010 sq. ft.
Namesake:  Howard C. Baldwin, vice president and trustee of the Kresge Foundation, as well as a leading member of various Detroit-based financial institutions
History
The Howard C. Baldwin Pavilion was crafted as the venue for what would become one of the most popular outdoor concert series in the country: The Meadow Brook Music Festival.  It was constructed near the bottom of a wooded ravine at the suggestion of Festival Committee Honorary Chairman Matilda Wilson, who lent her support and property to the project. Named in memory of Kresge Foundation former trustee and board member Howard C. Baldwin, whose Foundation funded the pavilion's construction, the Baldwin Pavilion was designed by Christopher Jaffe.  The engineering of Jaffe's design allowed for the shell to be pre-tuned and adjusted to accommodate the acoustics of any onstage performance. The Baldwin Pavilion was constructed in a mere five month's time and was reviewed as possessing the finest quality acoustical setup of any outdoor sound system in the country.
Fore more information, visit The Meadow Brook Music Festival.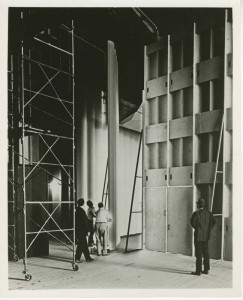 Jaffe's fiberglass shell during construction
---
Photos courtesy of the Oakland University Archives.