OU Libraries Timeline: 1970s
1970: Student protest
A group of students, protesting university policies on gender issues, environmental concerns, and military recruitment on campus, took approximately 2500 books from the library and held them at the Oakland Center as a way of attracting attention to their causes.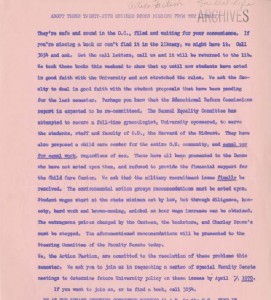 ---
1971: Librarians acquire faculty status
The Board of Trustees voted
to give librarians faculty status.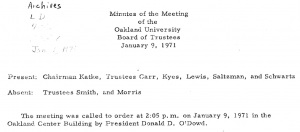 Minutes of the Meeting of the Oakland University Board of Trustees January 9, 1971
---
1971: Performing Arts Library
The Performing Arts Library opened in Varner Hall.
---
1972: George Gardiner
George Gardiner became Dean of the Library in 1972, and held the position until 1983.  He held an M.A. from the University of Chicago, and had previously served  on the staffs of the Fisk University Library in special collections, the University of Chicago Library in reference, the American Library Association in the Library Administration Division, Illinois State University in reference, and as director of the library of Central State University, Ohio.  He published articles in the areas of collective bargaining, Black studies, and reference services, among others.
---
1972: Telephone hotline
A telephone information hotline service was established, for county-wide use.  It provided "immediate reference, referral and photo-copy service when the resources of the local public libraries are unable to meet the needs of their patrons."
---
1974: 15th anniversary
Kresge Library participated in the 15
th
anniversary celebrations for Oakland University, including performances by various musical groups and showing movies.
---
1976: Indra David
Indra David became a librarian at Kresge Library, at the rank of assistant professor.  She held a B.A. from the University of Madras, India, and a Masters in Library Science from Syracuse, and had previously worked as a librarian at Queen's University.   She later earned her doctorate at Wayne State University in 1990.  She became Associate Dean of the library in 1985, and served as Interim Dean in 1998-99.
---
1976: Saints and Sinners sculpture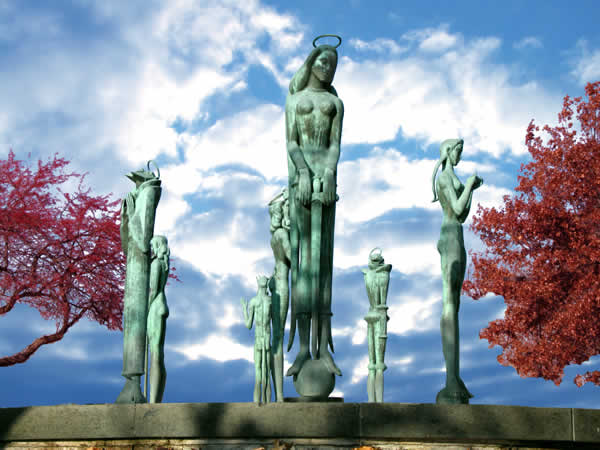 October 22, 1976:  dedication of the
Saints and Sinners
fountain - sculptures by Marshall Fredericks.
---
1977: Bibliographic Retrieval System
The library began to offer computer-assisted literature searching using the Bibliographic Retrieval System.   The databases which were available on BRS at that time provided bibliographic citations to the literature of medicine, agriculture, chemistry, physics, education, management and administration, electrical technology, electronics, computers and control engineering, environment and psychology.  Three librarians were initially trained to perform searches in these databases for students and faculty, a complex process which could take several hours, and cost an average of $25 per search.  In the first year, 41 such searches were performed.
---
1978: Calculators
The library purchased two hand-held calculators that students could borrow.  The annual report stated that "students have had occasion to borrow these calculators frequently and that the calculators have withstood moderately heavy use."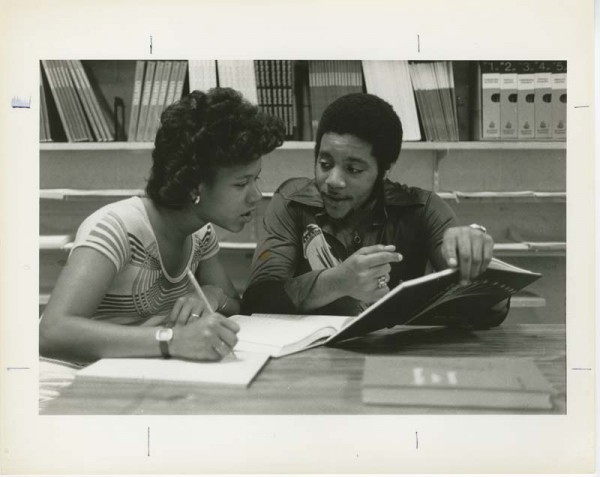 ---
1979: End of the door guards
The library's 'door guards' were replaced by an electronic scanner.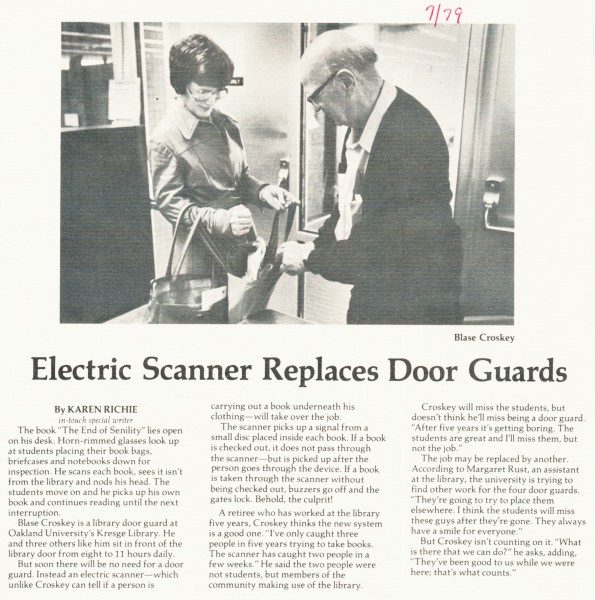 ---
Photos courtesy of the Oakland University Archives.