Makerspace
The Makerspace in Kresge Library is for use by all students, faculty, and staff at Oakland University. This learning environment and collaboration space facilitates hands-on learning about new technologies. The space is cross discipline and encourages creativity, experimentation, design, and even fun.
Hours and Location
The space is currently open from 10:30am - 5:30pm, Monday through Friday. It is located in room 234 on the main floor of the library.
Usage Policy
All usage of the makerspace is governed by the Makerspace Usage Policy.
Featured Technology
3D Printing
Things to know:
We use FDM type 3D printers that lay down extruded plastic filament in layers to create objects. We currently only use PLA plastic which is derived from corn and considered much safer than ABS plastic which is derived from petroleum. We have 2 printers currently. To print an object, bring your file (.stl files preferred) to the makerspace and talk to one of our friendly assistants.
Cost
The cost to print is $.15 per gram of plastic used. Payments are made at the service desk.
What it looks like: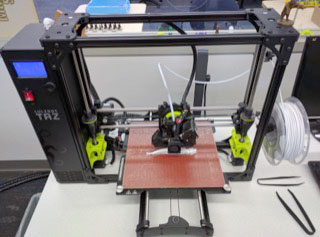 Laser Cutter/Engraver
Things to know:
The Laser can cut and engrave various materials -- though all those materials must be approved by the makerspace staff. It has a cutting surface of 20" x 12". Simply bring an image, pdf, or even word file to one of our assistants to get started on your laser cutter project.
Cost
Free, though you have to supply your own materials, and materials have to be approved by makerspace staff (this is for everyone's safety).
What it looks like: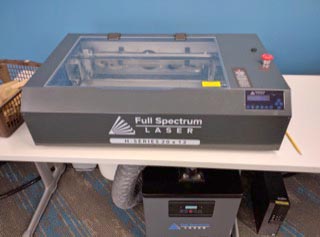 Vinyl Cutter
Things to know:
We have a Silhouette Cameo vinyl cutter. Despite the name it can cut over 100 different types of material including: card stock, vinyl, fabric, foamboard, paper, etc.
Cost
We currently have sticker vinyl ($2 for a 12"x12" sheet) and heat transfer vinyl ($5 for a 12"x12" sheet) available for purchase. You can also bring your own materials and use them subject to makerspace staff approval.
What it looks like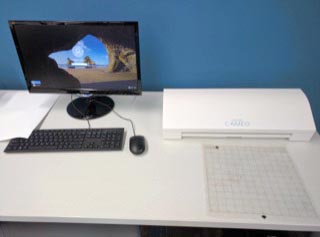 3D Scanner
Things to know:
The scanner is a Shining 3D EinScan-SE scanner. Scan objects and create 3D models for 3D printing, animating, or other 3D modeling project. Talk to a makerspace staff member to get started on your project.
Cost
Cheap as in free.
What it looks like: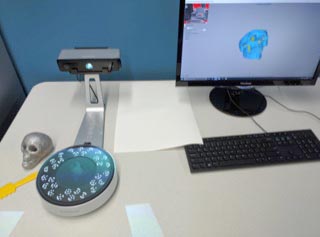 Electronics
Things to know
We have a variety of electronics kits available for fun and projects. They include:
Sparkfun Inventor's Kit - An arduino based kit designed to get users started with programming and hardware interaction.
Makey Makey Kit - allows users to turn everyday objects into inputs for computers (think banana keyboards).
Raspberry Pi - tiny computers that can be used in all sorts of projects.
What they look like: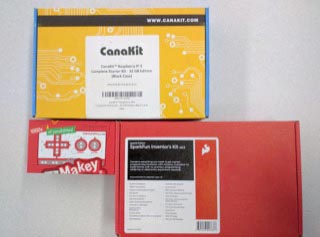 Fun Stuff
Things to know:
A variety of fun, creative materials are available to use inside the Makerspace. They include:
3D Pens - pens that write in 3D!
Playdoh - sculpt something and scan it in 3D with our scanner.
Legos - a classic, creativity stimulating set of interlocking blocks.
Quibits - they're like Legos but different.
Kinetic Sand - you'll have to see it to believe it.
What they look like: