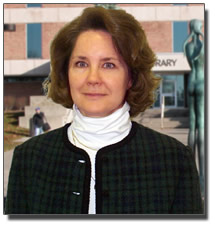 Please join Oakland University in welcoming Dr. Linz to campus Thursday, April 3, 2003 at 3:00 P.M. in 242 Elliott Hall (campus map). This event is open to the public at no charge.
What are some of the barriers to investment by Russian firms?
What are the prospects that these barriers will be overcome in the near term?
To what extent do high inflation, high interest rates, and falling GDP explain low investment by firms?
What roles are played by confiscatory taxes, excessive regulations, and an underdeveloped legal system?
Are fears of expropriation or destruction of assets major deterrents to investment?
In which sectors of the economy are Russian firms investing the greatest share of profits?
Have you wondered about these questions? Now you have a first-hand opportunity to hear an international expert's analysis of these and other issues.
Dr. Susan J. Linz is Professor of Economics at Michigan State University and is a Research Fellow of the William Davidson Institute at the University of Michigan. She earned her Ph.D. from the University of Illinois and B.A. from Albion College. She is the editor of three books: The Impact of World War II on the Soviet Union (1985), Reorganization and Reform in the Soviet Economy (1988), and The Soviet Economic Experiment: Essays by James R. Millar (1990). She regularly presents conference papers and has published many articles in professional journals, including the Journal of Economic History, Journal of Comparative Economics, and Explorations in Economic History.
Online full text articles* by Susan Linz:
Restructuring with what success? A case study of Russian firms. Comparative Economic Studies 43, no. 1 (Spring 2001): p. 75-99.
Who is shouldering the burden of transition? An analysis of depreciation rates in Russian industry. Comparative Economic Studies 41, no. 2/3 (Summer 1999): p. 1-44.
Job rights in Russian firms: Endangered or extinct institution? Comparative Economic Studies v40n4, (Winter 1998): p.1-32.
Enterprise restructuring in Russia's transition economy: Formal and informal mechanisms. (with Gary Krueger) Comparative Economic Studies v40n2, (Summer 1998): p.5-52.
Russian firms in transition: Champions, challengers and chaff . Comparative Economic Studies v39n2, (Summer 1997): p.1-36.
Shock therapy and the market for foreign exchange in Russia: Whither currency convertibility? (with Corinne Krupp) Comparative Economic Studies v39n1, (Spring 1997): p.43-81.
Gender differences in the Russian labor market. Journal of Economic Issues v30n1, (Mar 1996): p.161-185.
Production and employment in privatized firms in Russia. Comparative Economic Studies v36n3, (Fall 1994): p.105-114.
Survey article: An evaluation of the CIA's analysis of Soviet economic performance, 1970-90. (with Berkowitz, Berliner, Gregory, et al) Comparative Economic Studies v35n2, (Summer 1993): p.33-57.
Articles by Susan Linz available in print in the Kresge Library:
---