presents
Mohan Tanniru
Professor of MIS, Interim Dean, School of Business Administration
How the Role of MIS Has Changed over Three Decades?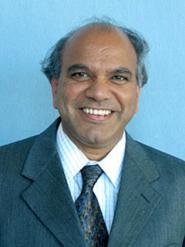 Date: March 14, 2008
Time: 11:00am – 1:00 pm
Location: 234 EH

Lunch will be served
RSVP by Tuesday, February 6th
shafer@oakland.edu or 248-370-4288
Information technology (IT) has come a long way: back office operations in the 70's, desktop support in the 80's, enterprise process integration in the 90's; and inter-organizational interaction in the 00's. We are only just scratching the surface, as web (1.0, 2.0, 3.0,) is expected to alter the way organizations, future generations of work-force and societies will interact. Given that IT is expected to transform the way organizations operate, IS professionals have a responsibility to ensure that they continue to add to the organization and the society. Specifically, the IS community has to make sure they are not just implementing a-priori made management decisions but take the lead and help shape decisions that are a part of organizational fabric: its strategic thinking and cultural make-up. At the same time, IS community has to guard against becoming a zealot for technology but a wise steward of its value to the organization and the society as a whole. This presentation takes a retrospective look of MIS evolution over 4 decades and poses some challenges for the MIS profession in the future.
Dr. Mohan Tanniru
Education
1975-78 Ph.D. in MIS, Northwestern University, Evanston, Illinois
1972-75 MBA in Production and Operations Management, U. of WI- Oshkosh,Wisconsin
1970-72 MS in Electrical Engineering with Control Systems and Computer Logic, U. of WI- Milwaukee, Wisconsin
1964-69 BS in Electrical Engineering, Regional Engineering College, Warangal, Andhra Predesh, India.
Selected recent publications
Book Chapter
M. Tanniru, "A Framework for Supporting Decisions in a Global Context – The Case of a Global DSS (gDSS) for financial planning,"
In Handbook on Decision Support Systems 2. Springer, 2008. pp.239-257 - View chapter summary
Articles
Agarwal, R., De, P., Sinha, A. P., & Tanniru, M. (2000). On the usability of OO representations. Association for Computing Machinery.Communications of the ACM, 43(10), 83.
Aigebo, H., & Tanniru, M. (2004). Electronic markets in support of procurement processes along the automotive supply chain. Production Planning & Control, 15(7), 688.
Mukherji, N., Rajagopalan, B., & Tanniru, M. (2006). A decision support model for optimal timing of investments in information technology upgrades. Decision Support Systems, 42(3), 1684.
Peacock, E., & Tanniru, M. (2005). Activity-based justification of IT investments. Information & Management, 42(3), 415.
Sugumaran, V., Tanniru, M., & Storey, V. C. (2008). A knowledge-based framework for extracting components in agile systems development. Information Technology and Management, 9(1), 37.
Therani, M., & Tanniru, M. (2005). Knowledge partitioning: A strategic approach to product lifecycle management. International Journal of Product Development, 2(1,2), 85.
Zhao, J. L., Tanniru, M., & Zhang, L. (2007). Services computing as the foundation of enterprise agility: Overview of recent advances and introduction to the special issue. Information Systems Frontiers, 9(1), 1.