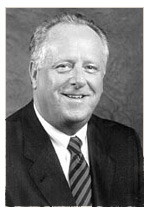 Please join Oakland University in welcoming Dennis K. Pawley to our campus Friday, November 8 from 3:00pm - 4:30pm in room 201 of the Dodge Hall of Engineering (campus map).

Dennis Pawley is the former Executive Vice President of Worldwide Manufacturing and Corporate Labor Relations for DaimlerChrysler Corporation. Mr. Pawley developed a flexible, teamwork-based system of standard procedures and problem solving approaches that underpinned Chrysler's turnaround. In addition, he was Chrysler's top negotiator with the UAW. Prior to Chrysler, Mr. Pawley worked at United Technologies, Mazda Motor Corp.and General Motors, where he had a 20-year career in manufacturing management. He is the part owner and Chief Operating Officer of Performance Learning, Inc., and also one of the founders of the Lean Learning Center.1 Mr. Pawley also owns an independent consulting firm, Pawley Enterprises LLC. He is a long-time supporter and benefactor of Oakland University. Read more about Mr. Pawley's contributions to OU.

What is Lean Manufacturing?
"Lean manufacturing was developed as an alternative to traditional mass production. Mass production is based on producing large volumes of limited items at low cost in an environment where workers perform minute task in repetitive fashions and a separation of powers exists between management and labor. On the other hand, lean manufacturing is aimed at producing large varieties of high-quality items very quickly in a flexible and continuously learning organization with multiskilled workers at all levels of the organization" [from Technology Management Handbook (Boca Raton CRC Press, 2000) pgs 80-81].

Books about Lean Manufacturing at the Oakland University Library


Online full text articles on Lean Manufacturing:

Allen, John H. Make Lean Manufacturing Work for You. Manufacturing Engineering 124 (June 2000), 54-64.
Lathin, Drew and Ron Mitchell. Learning From Mistakes. Quality Progress 34 (June 2001), 39-45.
Sahin, Funda. Manufacturing Competitiveness: Different Systems to Achieve the Same Results. Production & Inventory Management Journal 41 (First Quarter 2000), 56-65.
---
1 Excerpted from Mr. Pawley's bio page at DaimlerChrysler